Results and Scorers:
RESULTS: 2018 Sydney Shield Round 5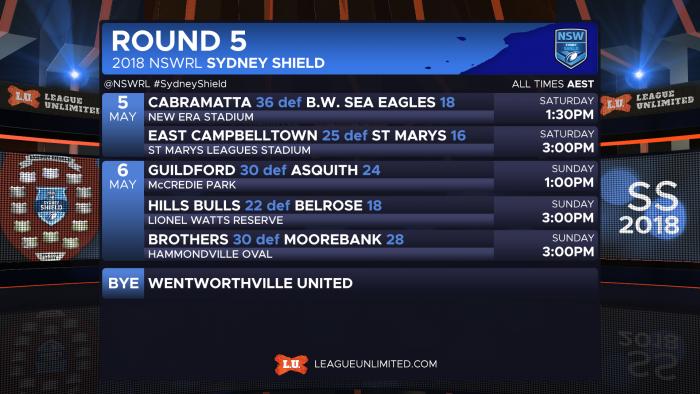 All the results and scorers from the fifth round of the NSWRL Sydney Shield.
All listed times are AEST (NSW/QLD/VIC/ACT).
---
RELATED: See the full list of 2018 Sydney Shield Draw and Results.
---
Cabramatta Two Blues 36 Blacktown Workers Sea Eagles 18
Venue: New Era Stadium
Date: Saturday 5 May 2018 at 1:30pm
Cabramatta Two Blues (36)
Tries: Jamon Wormleaton 2, Liam O'Brien, Tom Grealy, Cameron Davis, Jayden Yates
Goals: Liam O'Brien 6
Blacktown Workers Sea Eagles (18)
Tries: Jackson Whitby, Rhys Sciglitano, Joseph Ma'u
Goals: Jackson Whitby 3
---
St Marys 16 East Campbelltown Eagles 25
Venue: St Marys Stadium
Date: Saturday 5 May 2018 at 3:00pm
St Marys (16)
Tries: John Tuliatu, Alex Myles, Ben Ernst
Goals: Isaac Thompson 2
East Campbelltown Eagles (25)
Tries: Shannon Gallant 2, Grant Lahey, Brett Lahey
Goals: Edwin Connor 4
Field Goals: Edwin Connor 1
---
Guildford Owls 30 Asquith Magpies 34
Venue: McCredie Park
Date: Sunday 6 May 2018 at 1:00pm
Guildford Owls (30)
Tries: Alec Bush 2, John Leapai, Shane Hunt, Nathan Masima, Josh Delailoa
Goals: Mason McCarthy 3
Asquith Magpies (34)
Tries: Kyle Tukapua 2, Ngangarra Barker, Jayden Griffin, Jale Seninawanawa, Corey Browne-Higginbotham
Goals: Kyle Tukapua 2, Gibson Popoali'i 2, Treymaine Brown 1
---
Moorebank Rams 28 Brothers Penrith 30
Venue: Hammondville Oval
Date: Sunday 6 May 2018 at 3:00pm
Moorebank Rams (28)
Tries: Jacob Winterstein 2, Alvin Maungaati, Matt Hanna, Brad Nolland
Goals: Cameron Clark 3, Christian Tarabey 1
Brothers Penrith (30)
Tries: Brendan Hands, Michael Tuavao, Wiki Tuavao, Ibudoc Solomona 2
Goals: Brendan Hands 5
---
Belrose Eagles 18 Hills Bulls 22
Venue: Lionel Watts Reserve
Date: Sunday 6 May 2018 at 3:00pm
Belrose Eagles (18)
Tries: Beau Abrahams 2, Richie Goodwin, Isaac Kassis
Goals: Nick Ferris 1
Hills Bulls (22)
Tries: Liam Walker 2, Brock Pelligra, Joel Bradford
Goals: Brock Pelligra 3
---
Wentworthville United had a bye this round.
---
RELATED: Click here to view the current Sydney Shield ladder.