Results and Scorers:
RESULTS: 2018 Sydney Shield Round 7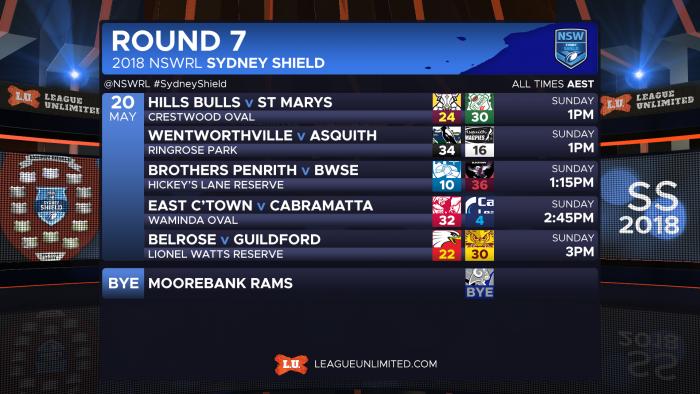 All the results and scorers from the seventh round of the NSWRL Sydney Shield.
All listed times are AEST (NSW/QLD/VIC/ACT).
---
RELATED: See the full list of 2018 Sydney Shield Draw and Results.
---
Hills Bulls 24 St Marys 30
Venue: Crestwood Oval
Date: Sunday 20 May 2018 at 1:00pm
Hills Bulls (24)
Tries: Doug Dean, Brock Pelligra, Will Butler, Isaac Gorman
Goals: Kyle Ekstrom 3, Andres Rossini 1
St Marys (30)
Tries: Etu Qionimacawa 2, Shane Coppins, Alan Niulesa, Allan Fitzgibbon, John Tuilatu
Goals: Isaac Thompson 3
---
Wentworthville United 34 Asquith Magpies 16
Venue: Ringrose Park
Date: Sunday 20 May 2018 at 1:00pm
Wentworthville United (34)
Tries: Eparama Navale 2, Siaosi Sisifa, Andrew Pritchard, Jermaine Mati-Leifi, Troy Black
Goals: Brendon Newtown 5
Asquith Magpies (16)
Tries: Alex Nicholls-O'Neill, Gibson Popoali'i, Evander Waitoa
Goals: Gibson Popoali'i 2
---
Brothers Penrith 10 Blacktown Workers Sea Eagles 36
Venue: Hickeys Lane Reserve
Date: Sunday 20 May 2018 at 1:15pm
Brothers Penrith (10)
Tries: Reece Manning, Hamasolo Alone
Goals: Michael Tuavao 1
Blacktown Workers Sea Eagles (36)
Tries: Tom Menzies 2, Jermayne Cook 2, Peter Scanlan, Lomano Lufe, Mark Griffiths
Goals: Jackson Whitby 4
---
East Campbelltown Eagles 32 Cabramatta Two Blues 4
Venue: Waminda Oval
Date: Sunday 20 May 2018 at 2:45pm
East Campbelltown Eagles (32)
Tries: Alapati Potifara 2, Chris Standing, Jarryd Eggleton, Mason Talolua, Daniel Muir
Goals: Edwin Connor 4
Cabramatta Two Blues (4)
Tries: Auzzie Tuwhangai
---
Belrose Eagles 22 Guildford Owls 30
Venue: Lionel Watts Reserve
Date: Sunday 20 May 2018 at 3:00pm
Belrose Eagles (22)
Tries: Andrew Layton, Tulsa Saumamao, Beau Abrahams, James Morgan
Goals: Daniel Martin 2, Nick Bilsborough 1
Guildford Owls (30)
Tries: Robert Longbottom 2, Sam Eisenhuth 2, Tyrone Faulkner
Goals: Mason McCarthy 5
---
Moorebank Rams had a bye this round.
---
RELATED: Click here to view the current Sydney Shield ladder.