Results and Scorers:
RESULTS: 2018 Intrust Super Cup Round 11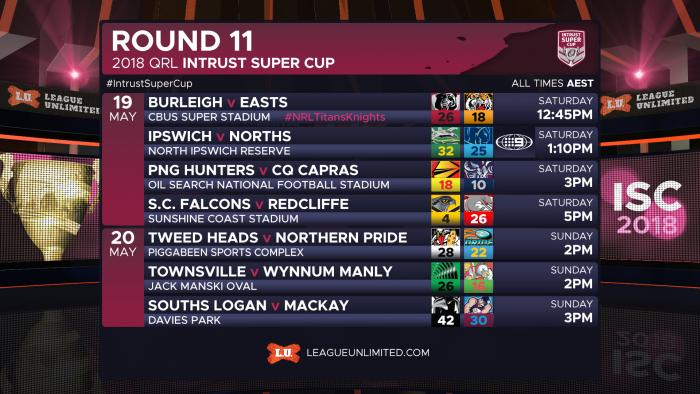 All the results and scorers from the eleventh round of the QRL Intrust Super Cup.
All listed times are AEST (NSW/QLD/VIC/ACT).
---
RELATED: See the full list of 2018 Intrust Super Cup Draw and Results.
---
Burleigh Bears 26 Easts Tigers 18
Venue: Cbus Super Stadium
Date: Saturday 19 May 2018 at 12:45pm
Burleigh Bears (26)
Tries: Jamal Fogarty 2, Blake Leary, Toby McIntosh, Troy Leo
Goals: Tyrone Roberts-Davis 3
Easts Tigers (18)
Tries: Billy Walters, Linc Port, Scott Drinkwater
Goals: Brayden Torpy 3
---
Ipswich Jets 32 Norths Devils 25
Venue: North Ipswich Reserve
Date: Saturday 19 May 2018 at 1:10pm
Ipswich Jets (32)
Tries: Nat Neale 2, Ben Shea, Julian Christian
Goals: Wes Conlon 8

Norths Devils (25)
Tries: Iain Riccardi, Namila Davui, Gehamat Shibasaki, Troy Dargan
Goals: Todd Murphy 4
Field Goals: Troy Dargan 1
---
PNG Hunters 18 Central Queensland Capras 10
Venue: National Football Stadium
Date: Saturday 19 May 2018 at 3:00pm
PNG Hunters (18)
Tries: Rahdly Brawa, Edene Gebbie, Junior Rau, Watson Boas
Goals: Ase Boas 1
Central Queensland Capras (10)
Tries: Junior Kirisome, Maipele Morseau
Goals: Connor Broadhurst 1
---
Sunshine Coast Falcons 4 Redcliffe Dolphins 26
Venue: Sunshine Coast Stadium
Date: Saturday 19 May 2018 at 5:00pm
Sunshine Coast Falcons (4)
Tries: Jye Ballinger
Redcliffe Dolphins (26)
Tries: Jonus Pearson, Nathan Watts, Tony Tumusa, Jeremy Hawkins
Goals: Bryce Donovan 5
---
Tweed Heads Seagulls 28 Northern Pride 22
Venue: Piggabeen Sports
Date: Sunday 20 May 2018 at 2:00pm
Tweed Heads Seagulls (28)
Tries: Leilani Latu, Brayden McGrady, Kane Elgey, Kiah Cooper, Jack Cook
Goals: Lindon McGrady 4
Northern Pride (22)
Tries: Nathan Wales, Troy Kapea, Murray Taulagi, Tom Hancock
Goals: Jake Clifford 3
---
Townsville Blackhawks 26 Wynnum Manly Seagulls 16
Venue: Jack Manski Oval
Date: Sunday 20 May 2018 at 2:00pm
Townsville Blackhawks (26)
Tries: Temone Power, Ty Carruci, Zach Dockar-Clay, Kalifa Faifai-Loa, Krys Freeman
Goals: Levi Dodd 3
Wynnum Manly Seagulls (16)
Tries: Daniel Ogden, Junior Pita, Ed Burns
Goals: Shaun Nona 2
---
Souths Logan Magpies 42 Mackay Cutters 30
Venue: Davies Park
Date: Sunday 20 May 2018 at 3:00pm
Souths Logan Magpies (42)
Tries: Corey Allan 3, George Fai, Daniel Tamou, Sam Lavea, Marion Seve
Goals: Guy Hamilton 7
Mackay Cutters (30)
Tries: Lachlan Coote, Yamba Bowie, Tom Murphy, Kurt Wiltshire, Nicho Hynes, Johnny Faletagoa'i
Goals: Nicho Hynes 3
---
RELATED: Click here to view the current Intrust Super Cup ladder.