Results and Scorers:
RESULTS: 2018 Hastings Deering Colts Round 11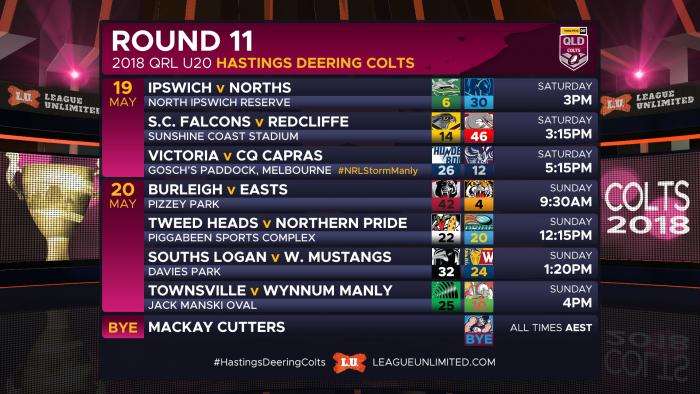 All the results and scorers from the eleventh round of the QRL U20 Hastings Deering Colts.
All listed times are AEST (NSW/QLD/VIC/ACT).
---
RELATED: See the full list of 2018 Hastings Deering Colts Draw and Results.
---
Ipswich Jets 6 Norths Devils 30
Venue: North Ipswich Reserve
Date: Saturday 19 May 2018 at 3:00pm
Ipswich Jets (6)
Tries: Lochlan Turnbull
Goals: Lochlan Turnbull 1
Norths Devils (30)
Tries: Nesta Watene, Kegan Tuhega, Jordan Riki, Fruean Easthope, Eliott Vincent, Joe McGuire
Goals: Cory Paix 3
---
Sunshine Coast Falcons 14 Redcliffe Dolphins 46
Venue: Sunshine Coast Stadium
Date: Saturday 19 May 2018 at 3:15pm
Sunshine Coast Falcons (14)
Tries: Hayden Lewis-Boyer, Riley Moore, Rueben Olive
Goals: Augie Rangihuna 1
Redcliffe Dolphins (46)
Tries: Tyson Smoothy 3, Jedi Simbiken, Owen Jones, Sam Armstrong, Oscar Carter, Bailey Butler
Goals: Oscar Carter 6, Tyson Smoothy 1
---
Victoria Thunderbolts 26 CQ Capras 12
Venue: Goschs Paddock
Date: Saturday 19 May 2018 at 5:15pm
Victoria Thunderbolts (26)
Tries: Kayleb Milne, Derek Maota, Trent Toelau, Iliesa Ratuva, Kelma Tuilagi
Goals: Matt Stimson 3
CQ Capras (12)
Tries: Zantanamad Tupuono-Pomare, Wes Sisifa
Goals: Blake Moore 2
---
Burleigh Bears 42 Easts Tigers 4
Venue: Pizzey Park
Date: Sunday 20 May 2018 at 9:30am
Burleigh Bears (42)
Tries: Reece Tapine 2, Harley Wood, Ben Valeni, Kai O'Donnell, Darius Farmer, Harry Fitzhugh
Goals: Callum Boomer 7
Easts Tigers (4)
Tries: Tyrone Titasey
---
Tweed Heads Seagulls 22 Northern Pride 20
Venue: Piggabeen Sports
Date: Sunday 20 May 2018 at 12:15pm
Tweed Heads Seagulls (22)
Tries: Curtis Dansey-Smaller 2, Jack Peacock, Will Woolley
Goals: Bayley Gill 3
Northern Pride (20)
Tries: Evan Child 2, Mark Rosendale, Quinlyn Cannon
Goals: Jack Campagnolo 2
---
Souths Logan Magpies 32 Western Mustangs 24
Venue: Davies Park
Date: Sunday 20 May 2018 at 1:20pm
Souths Logan Magpies (32)
Tries: Tanah Boyd 2, Clayton Mack, Tommy Sa'u, Thane Kellermeyer, Sam Tolu
Goals: Kye Oates 4
Western Mustangs (24)
Tries: Dylan Quinn 2, Blake Cullen, Zac Butler
Goals: Zac Butler 4
---
Townsville Blackhawks 25 Wynnum Manly Seagulls 10
Venue: Jack Manski Oval
Date: Sunday 20 May 2018 at 4:00pm
Townsville Blackhawks (25)
Tries: Jake Riley 2, Adam Cook, Lachlan La Rosa
Goals: Adam Cook 4
Field Goals: Adam Cook 1
Wynnum Manly Seagulls (10)
Tries: Ryan O'Keefe, Shannon Gardiner
Goals: Shannon Gardiner 1
---
Mackay Cutters had a bye this round.
---
RELATED: Click here to view the current Hastings Deering Colts ladder.