Results and Scorers:
RESULTS: 2018 Sydney Shield Round 8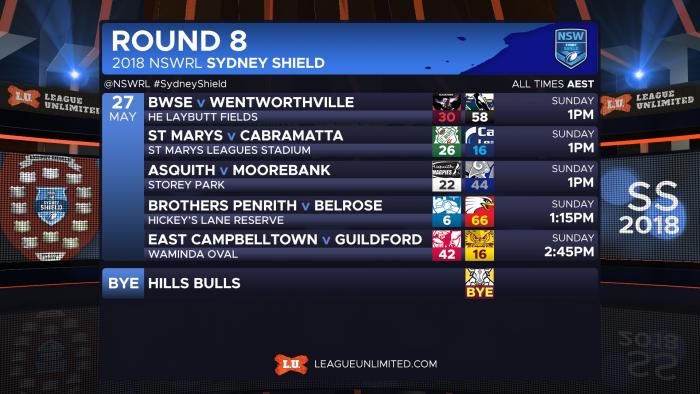 All the results and scorers from the eighth round of the NSWRL Sydney Shield.
All listed times are AEST (NSW/QLD/VIC/ACT).
---
RELATED: See the full list of 2018 Sydney Shield Draw and Results.
---
Blacktown Workers Sea Eagles 30 Wentworthville United 58
Venue: HE Laybutt Sporting Complex
Date: Sunday 27 May 2018 at 1:00pm
Blacktown Workers Sea Eagles (30)
Tries: Boneventura Litara 2, Tekaiatia Taia, Jackson Whitby, Debraska Rikiriki
Goals: Jackson Whitby 5
Wentworthville United (58)
Tries: Eparama Navale, Rameses Tuipulotu, Jermaine Mati-Leifi, Zach Nicholls, Inoke Vunipola, Josese RIka, Andrew Pritchard, Muli Lasalo, Troy Black, James Boustani
Goals: Brendon Newton 9
---
Asquith Magpies 22 Moorebank Rams 44
Venue: Storey Park
Date: Sunday 27 May 2018 at 1:00pm
Asquith Magpies (22)
Tries: Jake Maizen, Vinnie Ngaro, Ngangarra Baker, Alex Nicholls-O'Neill
Goals: Gibson Popoali'i 3

Moorebank Rams (44)
Tries: Jake Horton, Brad Nolland, Alvin Maungaati, Kytak Chan, Malachi Morgan, Spike Teio, John Salatielu, Zac Saddler
Goals: Jake Horton 6
---
St Marys 26 Cabramatta Two Blues 16
Venue: St Marys Stadium
Date: Sunday 27 May 2018 at 1:00pm
St Marys (26)
Tries: Meni Luke, John Tuliatu 2, Marlon Ritchie, Robbie Graham, Alan Niulesa
Goals: Meni Luke 1
Cabramatta Two Blues (16)
Tries: Liam O'Brien, Emosi Alamoti, Ryan Monaghan, Lachlan Hughes
---
Brothers Penrith 6 Belrose Eagles 66
Venue: Hickeys Lane Reserve
Date: Sunday 27 May 2018 at 1:15pm
Brothers Penrith (6)
Tries: Eddie Ene
Goals: Jason Cookson 1
Belrose Eagles (66)
Tries: Alex Zarounas 2, Beau Abrahams 2, Keia Maino 2, James Morgan 2, Andrew Halstead, Marvin Slavin, Isaac Kassis, Daniel Martin
Goals: Andrew Layton 9
---
East Campbelltown Eagles 42 Guildford Owls 16
Venue: Waminda Oval
Date: Sunday 27 May 2018 at 2:45pm
East Campbelltown Eagles (42)
Tries: Dan Muir 2, Jarryd Eggleton, Grant Lahey, Kobe Chamberlain, Shannon Gallant, Chris Standing
Goals: Shannon Gallant 7
Guildford Owls (16)
Tries: Julian King, Josh Delailoa, Tevita Masima
Goals: Tevita Masima 2
---
Hills Bulls had a bye this round.
---
RELATED: Click here to view the current Sydney Shield ladder.