Results and Scorers:
RESULTS: 2018 Intrust Super Cup Round 12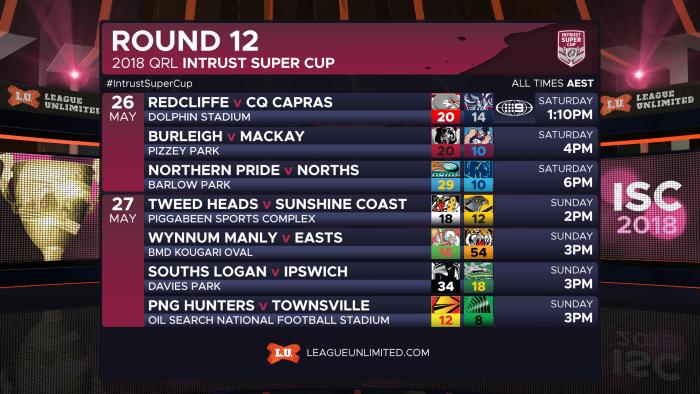 All the results and scorers from the twelfth round of the QRL Intrust Super Cup.
All listed times are AEST (NSW/QLD/VIC/ACT).
---
RELATED: See the full list of 2018 Intrust Super Cup Draw and Results.
---
Redcliffe Dolphins 20 Central Queensland Capras 14
Venue: Dolphin Stadium
Date: Saturday 26 May 2018 at 1:10pm
Redcliffe Dolphins (20)
Tries: Jonus Pearson 2, Tony Tumusa, Sam Anderson
Goals: Bryce Donovan 2
Central Queensland Capras (14)
Tries: Junior Kirisome 2, Jerry Key
Goals: Connor Broadhurst 1
---
Burleigh Bears 20 Mackay Cutters 10
Venue: Pizzey Park
Date: Saturday 26 May 2018 at 4:00pm
Burleigh Bears (20)
Tries: Tyrone Roberts-Davies 2, Troy Leo, Dallas Wells
Goals: Jamal Fogarty 2
Mackay Cutters (10)
Tries: Cooper Bambling, Nick Brown
Goals: Nicho Hynes 1
---
Northern Pride 29 Norths Devils 10
Venue: Barlow Park
Date: Saturday 26 May 2018 at 6:00pm
Northern Pride (29)
Tries: Jake Clifford, Will Bugden, Graham Clark, Gideon Gela-Mosby, Murray Taulagi
Goals: Jake Clifford 4
Field Goals: Jake Clifford 1
Norths Devils (10)
Tries: Iain Riccardi, Jack Ahearn
Goals: Todd Murphy 1
---
Tweed Heads Seagulls 18 Sunshine Coast Falcons 12
Venue: Piggabeen Sports
Date: Sunday 27 May 2018 at 2:00pm
Tweed Heads Seagulls (18)
Tries: Brendan Elliot 2, Shaun Carney, Lamar Liolevave
Goals: Lindon McGrady 1
Sunshine Coast Falcons (12)
Tries: Justin Olam 2
Goals: Ryan Papenhuyzen 2
---
Wynnum Manly Seagulls 16 Easts Tigers 54
Venue: BMD Kougari Oval
Date: Sunday 27 May 2018 at 3:00pm
Wynnum Manly Seagulls (16)
Tries: Dan Ogden, Pat Templeman, Alex Barr
Goals: Shaun Nona 2
Easts Tigers (54)
Tries: Conor Carey 2, Billy Walters 2, Scott Drinkwater, Harley Aiono, Linc Port, Brett Greinke, Jarrod McInally, Brodie Croft
Goals: Brodie Croft 7
---
PNG Hunters 12 Townsville Blackhawks 8
Venue: National Football Stadium
Date: Sunday 27 May 2018 at 3:00pm
PNG Hunters (12)
Tries: Junior Rau, Stanton Albert
Goals: Watson Boas 2
Townsville Blackhawks (8)
Tries: Ty Carucci, Kalifa Faifai-Loa
---
Souths Logan Magpies 34 Ipswich Jets 18
Venue: Davies Park
Date: Sunday 27 May 2018 at 3:00pm
Souths Logan Magpies (34)
Tries: Guy Hamilton, David Fifita, Lenny Magey, Brendon Gibb, Paul Rokolati
Goals: Guy Hamilton 6, Dan Russell 1
Ipswich Jets (18)
Tries: Kierran Moseley, Ben White, Wes Conlon
Goals: Wes Conlon 2, Dane Phillips 1
---
RELATED: Click here to view the current Intrust Super Cup ladder.