Results and Scorers:
RESULTS: 2018 Hastings Deering Colts Round 14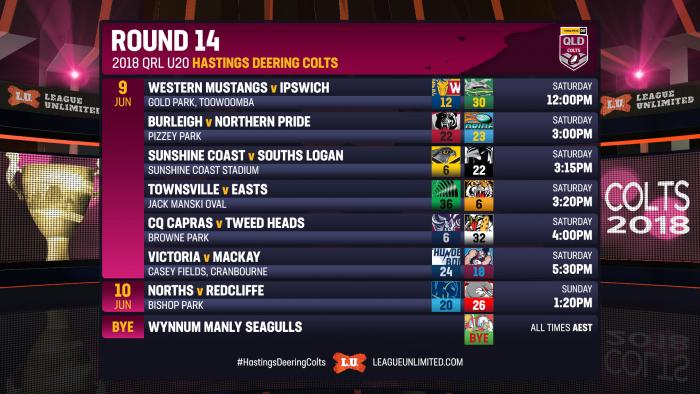 All the results and scorers from the fourteenth round of the QRL U20 Hastings Deering Colts.
All listed times are AEST (NSW/QLD/VIC/ACT).
---
RELATED: See the full list of 2018 Hastings Deering Colts Draw and Results.
---
Western Mustangs 12 Ipswich Jets 30
Venue: Gold Park
Date: Saturday 9 June 2018 at 12:00pm
Western Mustangs (12)
Tries: Paul Christensen, Luke Maiden
Goals: Paul Christensen 2
Ipswich Jets (30)
Tries: Josh Williams 2, Liam Mullins, Blake Lenehan, Josh Johnson, Brad Zampech
Goals: Lochlan Turnbull 2, Sam Langbein 1
---
Burleigh Bears 22 Northern Pride 23
Venue: Pizzey Park
Date: Saturday 9 June 2018 at 3:00pm
Burleigh Bears (22)
Tries: Allan Lockwood 2, Taine Tuaupiki, Jaxson Paulo
Goals: Callum Boomer 3
Northern Pride (23)
Tries: Evan Child, Quinlyn Cannon, Brandon Jackonia, Marc Naleba
Goals: Jack Campagnolo 3
Field Goals: Jack Campagnolo 1
---
Sunshine Coast Falcons 6 Souths Logan Magpies 22
Venue: Sunshine Coast Stadium
Date: Saturday 9 June 2018 at 3:15pm
Sunshine Coast Falcons (6)
Tries: Hayden Lewis-Boyer
Goals: Augie Rangihuna 1
Souths Logan Magpies (22)
Tries: Ashton Watson, Iizaya Ranga Iti, Clayton Uia, Ioane Seiuli
Goals: Tanah Boyd 3
---
Townsville Blackhawks 36 Easts Tigers 6
Venue: Jack Manski Oval
Date: Saturday 9 June 2018 at 3:20pm
Townsville Blackhawks (36)
Tries: Jake Riley 2, Campbell Duffy 2, Lance Folbigg, Ben Condon, Marshall Hudson
Goals: Adam Cook 4
Easts Tigers (6)
Tries: Unga Wolske
Goals: Nathan Brown 1
---
Tweed Heads Seagulls 32 CQ Capras 6
Venue: Browne Park
Date: Saturday 9 June 2018 at 4:00pm
Tweed Heads Seagulls (32)
Tries: Glenn McGrady 2, Charlie Gee, Jack Peacock 2, Jaman Rio
Goals: Toby Sexton 4
CQ Capras (6)
Tries: Riley Shadlow
Goals: Blake Moore 1
---
Victoria Thunderbolts 24 Mackay Cutters 18
Venue: Casey Fields
Date: Saturday 9 June 2018 at 5:30pm
Victoria Thunderbolts (24)
Tries: Trent Toelau, Jordin Leiu, Tino Fa'asuamaleaui, Mali Lepou, Sale Finau
Goals: Cooper Johns 2
Mackay Cutters (18)
Tries: Taine Browne, Darcy Head, Matt Vessey, Walter Lauenstein
Goals: Brendan White 1
---
Norths Devils 20 Redcliffe Dolphins 26
Venue: Bishop Park
Date: Sunday 10 June 2018 at 1:20pm
Norths Devils (20)
Tries: Jack Paterson, David Fauid, Eliott Vincent, Brock Diment
Goals: Cory Paix 2
Redcliffe Dolphins (26)
Tries: Sam Armstrong 2, Kyle Foxwell, Justice Utatao
Goals: Oscar Carter 5
---
Wynnum Manly Seagulls had a bye this round.
---
RELATED: Click here to view the current Hastings Deering Colts ladder.