Results and Scorers:
RESULTS: 2018 Ron Massey Cup Round 9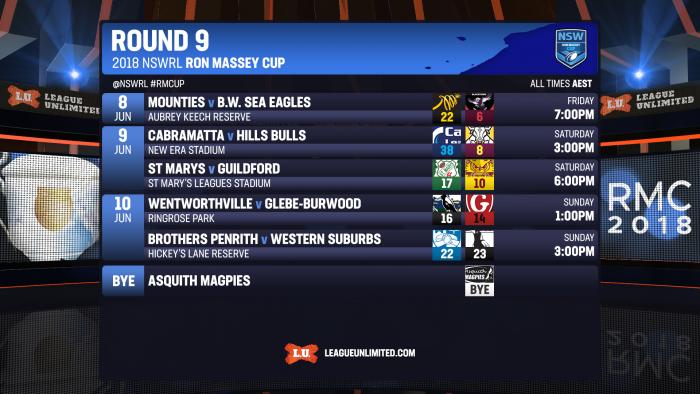 All the results and scorers from the ninth round of the NSWRL Ron Massey Cup.
All listed times are AEST (NSW/QLD/VIC/ACT).
---
RELATED: See the full list of 2018 Ron Massey Cup Draw and Results.
---
Mounties 22 Blacktown Workers Sea Eagles 6
Venue: Aubrey Keech Reserve
Date: Friday 8 June 2018 at 7:00pm
Mounties (22)
Tries: Jordan Martin 2, Rusty Bristow, Tony Satini
Goals: Maurice Kennedy 3
Blacktown Workers Sea Eagles (6)
Tries: Denzal Tonise
Goals: Kamren Cryer 1
---
Cabramatta Two Blues 38 Hills Bulls 8
Venue: New Era Stadium
Date: Saturday 9 June 2018 at 3:00pm
Cabramatta Two Blues (38)
Tries: Isaiah Tass 2, Moses Manu 2, Frank Pritchard, Tom Harris, Jamon Wormleaton
Goals: Jake Rafferty-Butfield 5
Hills Bulls (8)
Tries: Aaron Weston, Ben Falcone
---
St Marys 17 Guildford Owls 10
Venue: St Marys Stadium
Date: Saturday 9 June 2018 at 6:00pm
St Marys (17)
Tries: Tom Romer, Siosifa Talakai, Ethan McPherson
Goals: Robert Vai 2
Field Goals: Shanan Wood 1
Guildford Owls (10)
Tries: Dan Lotu, Dom Reardon
Goals: Josh Lewis 1
---
Wentworthville Magpies 16 Glebe Burwood Wolves 14
Venue: Ringrose Park
Date: Sunday 10 June 2018 at 1:00pm
Wentworthville Magpies (16)
Tries: Jack Miller, Jordan Latham, Eparama Navale
Goals: Beau Henry 2
Glebe Burwood Wolves (14)
Tries: Lachlan Stein 2, Ryan King
Goals: Addison Demetriou 1
---
Brothers Penrith 22 Western Suburbs Magpies 23
Venue: Hickeys Lane Reserve
Date: Sunday 10 June 2018 at 3:00pm
Brothers Penrith (22)
Tries: Kurt Falls, Geofrey Duku, Quinn Ma'aelopa, Alec Leitch
Goals: Kurt Falls 3
Western Suburbs Magpies (23)
Tries: Kelsey Coakes 2, Brendan Waters, Jesse Allan
Goals: Kurt Aldridge 3
Field Goals: Brendan Waters 1
---
Asquith Magpies had a bye this round.
---
RELATED: Click here to view the current Ron Massey Cup ladder.