Results and Scorers:
RESULTS: 2018 Sydney Shield Round 11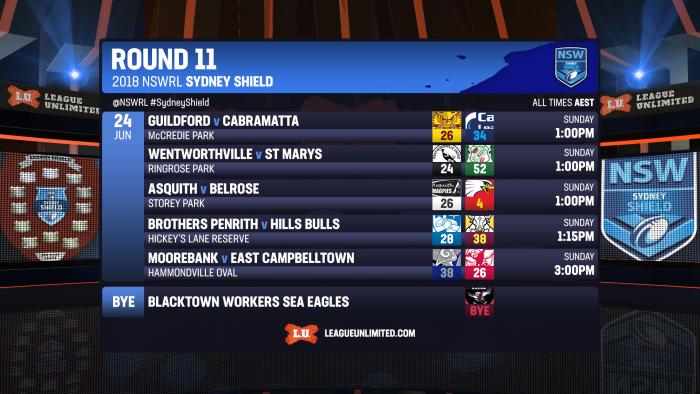 All the results and scorers from the eleventh round of the NSWRL Sydney Shield.
All listed times are AEST (NSW/QLD/VIC/ACT).
---
RELATED: See the full list of 2018 Sydney Shield Draw and Results.
---
Asquith Magpies 26 Belrose Eagles 4
Venue: Storey Park
Date: Sunday 24 June 2018 at 1:00pm
Asquith Magpies (26)
Tries: Vinnie Ngaro 2, Kane Allan, Kyle Tukapua, Ngangarra Baker
Goals: Kyle Tukapua 3
Belrose Eagles (4)
Tries: Alex Zarounas
---
Guildford Owls 26 Cabramatta Two Blues 34
Venue: McCredie Park
Date: Sunday 24 June 2018 at 1:00pm
Guildford Owls (26)
Tries: Leslie Ngaluafe, Alec Bush, Austin Dias, Mohamad Soultan, Tangirere Hokai
Goals: Nathan Masima 2, Savani Ratu 1
Cabramatta Two Blues (34)
Tries: Jahvis Moke 2, Jason Jana 3, Emosi Alamoti
Goals: Jayden Yates 5
---
Wentworthville United 24 St Marys 52
Venue: Ringrose Park
Date: Sunday 24 June 2018 at 1:00pm
Wentworthville United (24)
Tries: Dayne Vette-Welsh, Muli Lasalo, Nick Kassis, Solomone Lasalo
Goals: Brendon Newton 4
St Marys (52)
Tries: John Tuilatu 2, Allan Fitzgibbon 2, Robbie Graham 2, Jake Toby, Etu Qionimacawa, Isaac Thompson
Goals: Isaac Thompson 8
---
Brothers Penrith 28 Hills Bulls 38
Venue: Hickeys Lane Reserve
Date: Sunday 24 June 2018 at 1:15pm
Brothers Penrith (28)
Tries: Roland Hunter, Regan Wood, Nathan Hamilton, WIki Tuavao, Masi Paulo Fidow
Goals: Masi Paulo Fidow 4
Hills Bulls (38)
Tries: JP Hannawe 2, John Dunn 2, Rory Brownlie, Joel Bradford, Isaac Gorman
Goals: Jacob Curran 3, Andres Rossini 2
---
Moorebank Rams 38 East Campbelltown Eagles 26
Venue: Hammondville Oval
Date: Sunday 24 June 2018 at 3:00pm
Moorebank Rams (28)
Tries: Tommy Talau 2, Jake Kamire, Christian Tarabey, Kytak Chan, Jake Horton, Jonty Timoti
Goals: Jake Horton 5
East Campbelltown Eagles (26)
Tries: Vince Ripepi, Theo Leato, Alapati Potifara, Daniel Muir, Craig Moustakas
Goals: Edwin Connor 3
---
Blacktown Workers Sea Eagles had a bye this round.
---
RELATED: Click here to view the current Sydney Shield ladder.