Results and Scorers:
RESULTS: 2018 Ron Massey Cup Round 14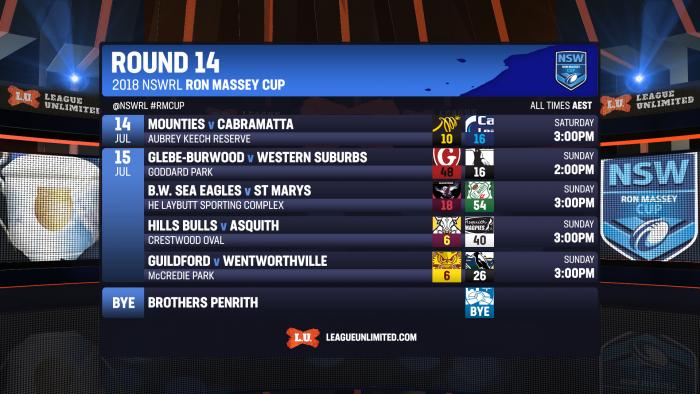 All the results and scorers from the fourteenth round of the NSWRL Ron Massey Cup.
All listed times are AEST (NSW/QLD/VIC/ACT).
---
RELATED: See the full list of 2018 Ron Massey Cup Draw and Results.
---
Mounties 10 Cabramatta Two Blues 16
Venue: Aubrey Keech Reserve
Date: Saturday 14 July 2018 at 3:00pm
Mounties (10)
Tries: Shannon Chapman, Dee Ioapo
Goals: John Kennedy 1
Cabramatta Two Blues (16)
Tries: Jake Steadman 2, Tala Mapesone
Goals: Zach Mackay 2
---
Glebe Burwood Wolves 48 Western Suburbs Magpies 16
Venue: Goddard Park
Date: Sunday 15 July 2018 at 2:00pm
Glebe Burwood Wolves (48)
Tries: Samiu Latu 2, Penani Manumalealii, Ben Marschke, Ben Mathiou, Bessie Aufaga-Toomaga, Jordan Topai-Aveai, Tyla Tamou, Malakai Houma
Goals: Jesse Marschke 5, Bessie Aufaga-Toomaga 1
Western Suburbs Magpies (16)
Tries: Jesse Allan, Brandan Su'A, Luke Williams
Goals: Kelsey Coakes 2
---
Blacktown Workers Sea Eagles 18 St Marys 54
Venue: HE Laybutt Sporting Complex
Date: Sunday 15 July 2018 at 3:00pm
Blacktown Workers Sea Eagles (18)
Tries: Jake Pickering 2, Jordan Hall
Goals: Jake Pickering 3
St Marys (54)
Tries: Blake McDermott 3, Joe Vaegaau 3, Veta Seumanu 2, Dylan Fuad, Chris Aunese-Scanlan
Goals: Robert Vai 7
---
Hills Bulls 6 Asquith Magpies 40
Venue: Crestwood Oval
Date: Sunday 15 July 2018 at 3:00pm
Hills Bulls (6)
Tries: William Butler
Goals: Nick Holliday 1

Asquith Magpies (40)
Tries: Jake Attard 2, Kurt Horton, Jake Maizen, Jackson Williams, Josh Fraser, Jacob Samoa
Goals: Matt Place 5, Will Solway 1
---
Guildford Owls 6 Wentworthville Magpies 26
Venue: McCredie Park
Date: Sunday 15 July 2018 at 3:00pm
Guildford Owls (6)
Tries: Nick Okladnikov
Goals: Josh Lewis 1
Wentworthville Magpies (26)
Tries: Atini Gafa, Mana Aonga, Zach Nicholls, Beau Henry
Goals: Beau Henry 4
---
Brothers Penrith had a bye this round.
---
RELATED: Click here to view the current Ron Massey Cup ladder.