Results and Scorers:
RESULTS: 2018 Intrust Super Cup Round 19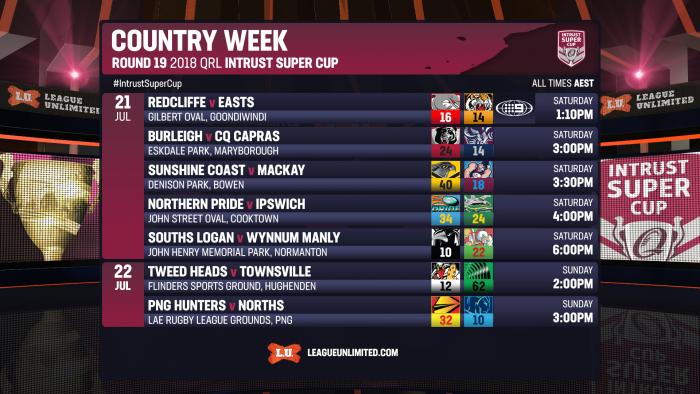 All the results and scorers from the nineteenth round of the QRL Intrust Super Cup - country week!
All listed times are AEST (NSW/QLD/VIC/ACT).
---
RELATED: See the full list of 2018 Intrust Super Cup Draw and Results.
---
Redcliffe Dolphins 16 Easts Tigers 14
Venue: Gilbert Oval, Goondwindi
Date: Saturday 21 July 2018 at 1:10pm
Redcliffe Dolphins (16)
Tries: Scott Schulte 2, Jonus Pearson
Goals: Bryce Donovan 2
Easts Tigers (14)
Tries: Albert Vete, Scott Drinkwater, Jarrod McInally
Goals: Brodie Croft 1
---
Burleigh Bears 24 Central Queensland Capras 14
Venue: Eskdale Park, Maryborough
Date: Saturday 21 July 2018 at 3:00pm
Burleigh Bears (24)
Tries: Sami Sauiluma 2, Hayden Schwass, Troy Leo
Goals: Jamal Fogarty 4
Central Queensland Capras (14)
Tries: Luke George, Connor Broadhurst, Maipele Morseau
Goals: Connor Broadhurst 1
---
Sunshine Coast Falcons 40 Mackay Cutters 18
Venue: Denison Park, Bowen
Date: Saturday 21 July 2018 at 3:30pm
Sunshine Coast Falcons (40)
Tries: Matt Soper-Lawler 2, Harry Grant, Justin Olam, Ryley Jacks, Lachlan Roe, Ryan Papenhuyzen
Goals: Ryan Papenhuyzen 6
Mackay Cutters (18)
Tries: Blake Atherton, Nathan Saumalu, Nick Brown
Goals: Nicho Hynes 3

---
Northern Pride 34 Ipswich Jets 24
Venue: John Street Oval, Cooktown
Date: Saturday 21 July 2018 at 4:00pm
Northern Pride (34)
Tries: Jonico Hardwick 2, Gideon Gela-Mosby, Jordan Biondi-Odo, Darryn Schonig, Shawn Bowen
Goals: Jack Campagnolo 5
Ipswich Jets (24)
Tries: Michael Purcell 2, Marmin Barba, Julian Christian
Goals: Marmin Barba 3, Wes Conlon 1
---
Souths Logan Magpies 10 Wynnum Manly Seagulls 22
Venue: John Henry Memorial Park, Normanton
Date: Saturday 21 July 2018 at 6:00pm
Souths Logan Magpies (10)
Tries: Benaiah Bowie 2
Goals: Guy Hamilton 1
Wynnum Manly Seagulls (22)
Tries: Daniel Ogden, Ed Burns, Jack Goodsell, Pat Templeman
Goals: Pat Templeman 3
---
Tweed Heads Seagulls 12 Townsville Blackhawks 62
Venue: Flinders Sports Ground, Hughenden
Date: Sunday 22 July 2018 at 2:00pm
Tweed Heads Seagulls (12)
Tries: Kane Elgey, Talor Walters
Goals: Lindon McGrady 2
Townsville Blackhawks (62)
Tries: Jaelen Feeney 2, Jonathon Reuben 2, Kalifa Faifai-Loa 2, Krys Freeman, Temone Power, Carlin Anderson, Shaun Hudson, Sione Lousi, Andrew Davey
Goals: Zach Dockar-Clay 7
---
PNG Hunters 32 Norths Devils 10
Venue: Lae Rugby League Ground, PNG
Date: Sunday 22 July 2018 at 3:00pm
PNG Hunters (32)
Tries: Edene Gebbie 2, Charlie Simon 2, Moses Meninga
Goals: Ase Boas 6
Norths Devils (10)
Tries: Jack Miers, Luke Pollock
Goals: Herbie Farnworth 1
---
RELATED: Click here to view the current Intrust Super Cup ladder.