Results and Scorers:
RESULTS: 2018 Sydney Shield Round 19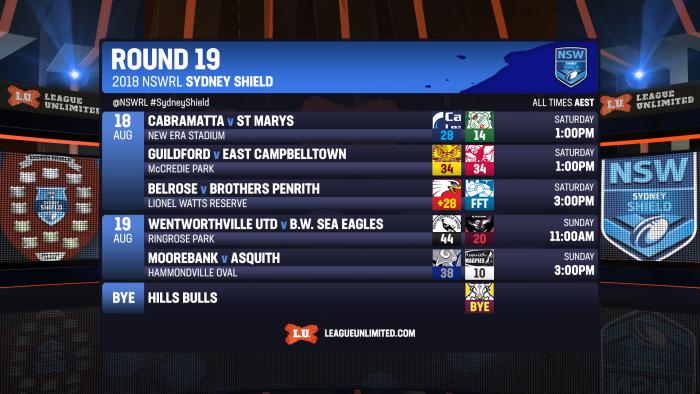 All the results and scorers from the penultimate round of the NSWRL Sydney Shield - Round 19.
All listed times are AEST (NSW/QLD/VIC/ACT).
---
RELATED: See the full list of 2018 Sydney Shield Draw and Results.
---
Cabramatta Two Blues 28 St Marys 14
Venue: New Era Stadium
Date: Saturday 18 August 2018 at 1:00pm
Cabramatta Two Blues (28)
Tries: Anthony Raheb 2, Jamon Wormleaton, Kisi Taulani, Ben Wheelhouse
Goals: Barry Rutley 4
St Marys (14)
Tries: Etu Qionimacawa 2, Ryan Pritchard
Goals: Isaac Thompson 1
---
Guildford Owls 34 East Campbelltown Eagles 34
Venue: McCredie Park
Date: Saturday 18 August 2018 at 1:00pm
Guildford Owls (34)
Tries: Saimone Lasalo 2, Jaydn Field 2, Josh Delailoa 2
Goals: Troy Errington 5
East Campbelltown Eagles (34)
Tries: Alapati Potifara, Craig Moustakas, Grant Lahey, Daniel Muir, Chris Standing, Edwin Connor, Theo Leato
Goals: Edwin Connor 3
---
Belrose Eagles def Brothers Penrith on forfeit
Venue: Lionel Watts Reserve
Date: Saturday 18 August 2018 at 3:00pm
Belrose Eagles
Won on forfeit - awarded +28
Brothers Penrith
Lost on forfeit - awarded -28
---
Wentworthville United 44 Blacktown Workers Sea Eagles 20
Venue: Ringrose Park
Date: Sunday 19 August 2018 at 11:00am
Wentworthville United (44)
Tries: Brendon Newton 3, Piki Rogers, Sam McGregor, Jermaine Mati-Leifi, Eparama Navale, Andrew Pritchard
Goals: Brendon Newton 6
Blacktown Workers Sea Eagles (20)
Tries: Shaun Fitzgerald, Pattyloma Aupaau, Richard Amone, Thomas Menzies
Goals: Caibryn Keating 2
---
Moorebank Rams 38 Asquith Magpies 10
Venue: Hammondville Oval
Date: Sunday 19 August 2018 at 3:00pm
Moorebank Rams (38)
Tries: Giordan Patea 2, Joel Barry, Muong Dut, Jake Horton, Amosa Manu, Brad Nolland
Goals: Christian Tarabey 5
Asquith Magpies (10)
Tries: Caleb Campbell, Andrew Oughtred
Goals: Ryley Angles-Corke 1
---
Hills Bulls had a bye this round.
---
RELATED: Click here to view the current Sydney Shield ladder.