Results and Scorers:
RESULTS: 2019 UNE SG Ball Cup Round 2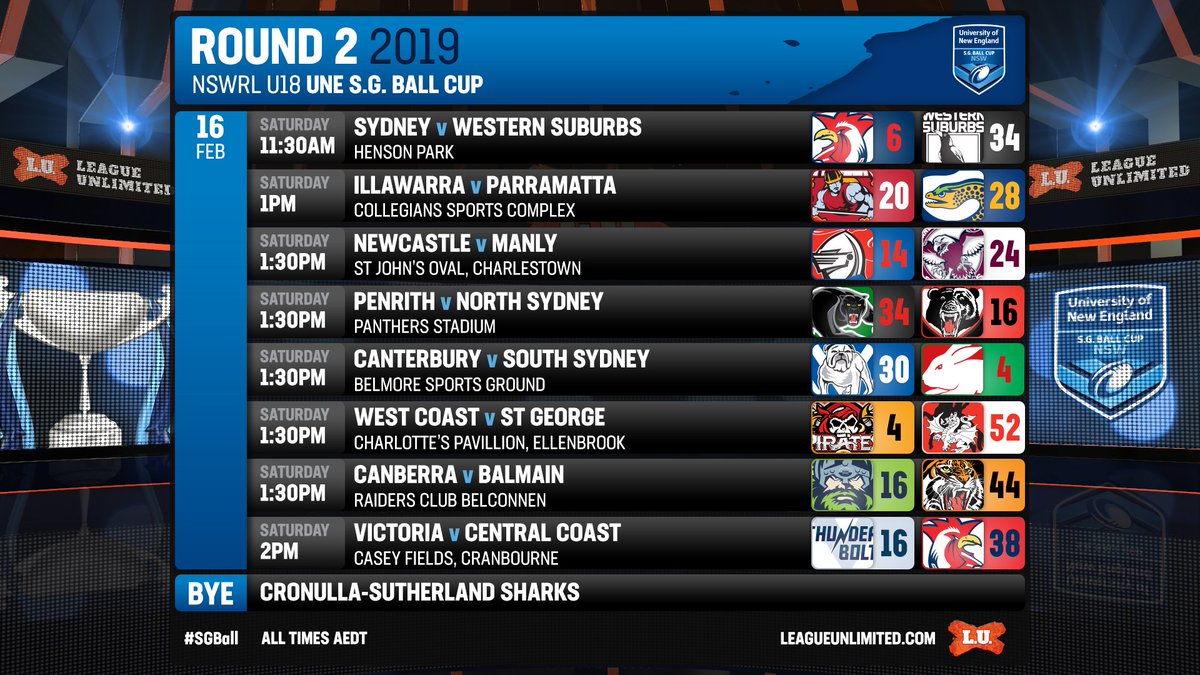 All the results and scorers from the second round of the U16 NSWRL UNE SG Ball Cup.
All listed times are AEDT (NSW/VIC/ACT).
---
RELATED: See the full list of 2019 UNE SG Ball Cup Draw and Results.
---
Sydney Roosters 6 Western Suburbs Magpies 34
Venue: Henson Park
Date: Saturday 16 February 2019 at 11:30am
Sydney Roosters (6)
Tries: Zac Brooks
Goals: Jahoiyakira Afoa 1
Western Suburbs Magpies (34)
Tries: Piliaau Togamaga 3, Jayke Lealuga-Puhotau 2, Eti Tavui
Goals: Luke Rouland 5
---
Illawarra Steelers 20 Parramatta Eels 28
Venue: Collegians Sports Complex
Date: Saturday 16 February 2019 at 1:00pm
Illawarra Steelers (20)
Tries: Treigh Stewart, Mathew Feagai, Jack Walsh, Blake Dowel
Goals: Aaron Schoupp 2
Parramatta Eels (28)
Tries: Viliami Penisini 2, David Tui 2, David Hollis
Goals: Samuel Loizou 4
---
Newcastle Knights 14 Manly-Warringah Sea Eagles 24
Venue: St John Oval
Date: Saturday 16 February 2019 at 1:30pm
Newcastle Knights (14)
Tries: Christian Ma'anaima, Kodi Crowther, Patrick Achurch
Goals: Logan Radzievic 1
Manly-Warringah Sea Eagles (24)
Tries: Simon Tito, Sione Fainu, Josh Schuster, Viliami Fifita
Goals: Jack Birt 4
---
Penrith Panthers 34 North Sydney Bears 16
Venue: Panthers Stadium
Date: Saturday 16 February 2019 at 1:30pm
Penrith Panthers (34)
Tries: Jeremy Stowers 3, Ezra Coulston 2, Taylan May, Sadee Sub Laban
Goals: Bailey Hughes 3
North Sydney Bears (16)
Tries: Luke Butfield, Ryan Weatherall, Ali Chrara
Goals: Luke Butfield 2
---
West Coast Pirates 4 St George Dragons 52
Venue: Charlotte's Pavillion
Date: Saturday 16 February 2019 at 1:30pm
West Coast Pirates (4)
Tries: Brenton Scott
St George Dragons (52)
Tries: Stevenson Upulasi 2, Braxton Wallace 2, Spiro Psiroukis 2, Laken Caldwell, Jacob Kiraz, Rahim Mundine
Goals: Spiro Psiroukis 8
---
Canberra Raiders 16 Balmain Tigers 44
Venue: Raiders Club Belconnen
Date: Saturday 16 February 2019 at 1:30pm
Canberra Raiders (16)
Tries: Cooper O'Connor, Harry Fitzpatrick, Jack Williams
Goals: Jackson Owen 2
Balmain Tigers (44)
Tries: Henry O'Kane 2, Livai Saukuru, Oskar Enasio, Jason Smyth, Flynn Angles-Corke, Harley Sanchez
Goals: Zane Camroux 6
---
Canterbury-Bankstown Bulldogs 30 South Sydney Rabbitohs 4
Venue: Belmore Sports Ground
Date: Saturday 16 February 2019 at 1:30pm
Canterbury-Bankstown Bulldogs (30)
Tries: Isaam Merhi 2, Compton Fuatimau, Khaled Rajab, Aufaga Autagavaia, Manoa Veikoso
Goals: Khaled Rajab 3
South Sydney Rabbitohs (4)
Tries: Brad Zampech
---
Victoria Thunderbolts 16 Central Coast Roosters 38
Venue: Casey Fields
Date: Saturday 16 February 2019 at 2:00pm
Victoria Thunderbolts (16)
Tries: Dean Ieremia, Brandon Pritchard, Derek Iva
Goals: Pita-Will Purcell 2
Central Coast Roosters (38)
Tries: Adam Riding 3, Luke Knight, Sandon Smith, Riley Meyn, Levi Kasun
Goals: Reece Pipers 3, Levi Kasun 2
---
Cronulla-Sutherland Sharks had a bye this round.
---
RELATED: Click here to view the current UNE SG Ball Cup ladder.