Results and Scorers:
RESULTS: 2019 Sydney Shield Round 12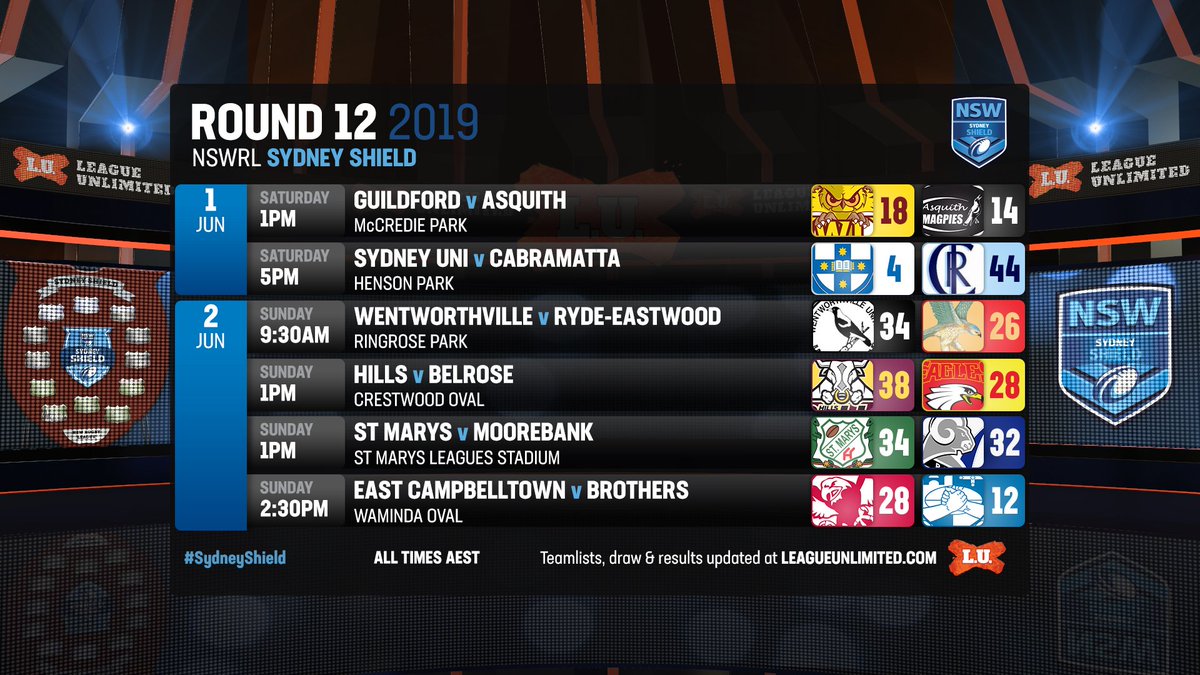 All the results and scorers from the twelfth round of the NSWRL Sydney Shield.
All listed times are AEST (NSW/QLD/VIC/ACT).
---
RELATED: See the full list of 2019 Sydney Shield Draw and Results.
---
Guildford Owls 18 Asquith Magpies 14
Venue: McCredie Park
Date: Saturday 1 June 2019 at 1:00pm
Guildford Owls (18)
Tries: Shane Faaui, Jarred Petero, Julian King, Ashley Brown
Goals: Lachlan Camroux

Asquith Magpies (14)
Tries: Josh Hall, Jermayne Cook, Bill Benjamin
Goals: Hayden McWilliam

---
Sydney University 4 Cabramatta Two Blues 44
Venue: Henson Park
Date: Saturday 1 June 2019 at 5:00pm
Sydney University (4)
Tries: Jaz Flavell
Cabramatta Two Blues (44)
Tries: Arthor Tupou 2, Isiah Panuve, Toa Mata'afa, Kaylen Miller, Ayden Carling, Brock Ilett, Ilaitia Nitiva
Goals: Brandon Finnegan 6
---
Wentworthville United 34 Ryde Eastwood Hawks 26
Venue: Ringrose Park
Date: Sunday 2 June 2019 at 9:30am
Wentworthville United (34)
Tries: Daniel Petralia 2, Solomone Lasalo, Dennis Mataia, Tyrone Shelley, Josh Tuitupou
Goals: Brendon Newton 5
Ryde Eastwood Hawks (26)
Tries: Mitch Gray 2, Tristan Evans-Tsoi, Tyler Seymour
Goals: Josh Rizk 3
---
Hills District Bulls 38 Belrose Eagles 28
Venue: Crestwood Oval
Date: Sunday 2 June 2019 at 1:00pm
Hills District Bulls (38)
Tries: Luke McDonald, Mitch Zampetides, Dean Kammel, Ezra Gibson, David Baumann, Rhys Walpole, Dion Mooney
Goals: Mitch Hyde 5
Belrose Eagles (28)
Tries: Alec Panetta 2, Warren Butler, William O'Toole, Issac Treml
Goals: Rhys Wolloghan 4
---
St Marys 34 Moorebank Rams 32
Venue: St Marys Leagues Stadium
Date: Sunday 2 June 2019 at 1:00pm
St Marys (34)
Tries: Luke Geary 2, Mose Feilo, Isaac Kennedy, Daniel Brown, Chris Aunese-Scanlon
Goals: Dylan White 5
Moorebank Rams (32)
Tries: Justin Filo 3, Jake Kamire 2, Billy Mozer
Goals: Jake Horton 4
---
East Campbelltown Eagles 28 Penrith Brothers 12
Venue: Waminda Oval
Date: Sunday 2 June 2019 at 2:30pm
East Campbelltown Eagles (28)
Tries: Craig Moustakas 2, Grant Lahey 2, Theo Leato, Mason Talolua
Goals: Shannon Gallant 1, Brett Lahey 1
Penrith Brothers (12)
Tries: Nicholas Betar, Penita Tuavao
Goals: Bailey Hughes 1, Jason Cookson 1
---
RELATED: Click here to view the current Sydney Shield ladder.