Results and Scorers:
RESULTS: 2019 Jersey Flegg Cup Round 14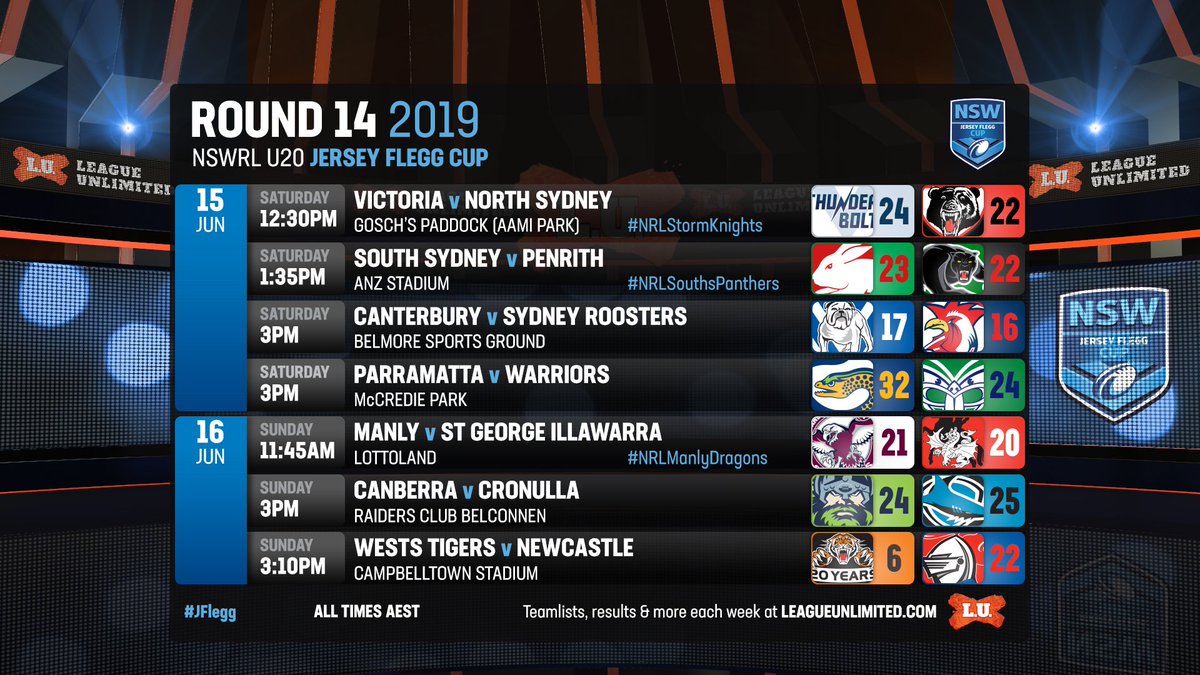 All the results and scorers from the 14th round of the NSWRL U20 Jersey Flegg Cup.
All listed times are AEST (NSW/QLD/VIC/ACT).
---
RELATED: See the full list of 2019 Jersey Flegg Cup Draw and Results.
---
Victoria Thunderbolts 24 North Sydney Bears 22
Venue: Goschs Paddock
Date: Saturday 15 June 2019 at 12:30pm
Victoria Thunderbolts (24)
Tries: Josese Waqalevu 3, Matt Stimson, Haele Uha Finau
Goals: Matt Stimson 2
North Sydney Bears (22)
Tries: Sean Sabutey 2, Ali Saad, Lennox Whittaker
Goals: Connor Garetty 3
---
South Sydney Rabbitohs 23 Penrith Panthers 22
Venue: ANZ Stadium
Date: Saturday 15 June 2019 at 1:35pm
South Sydney Rabbitohs (23)
Tries: James Tautaiolefua, Lachlan Ilias, Jack Frasca, Augustine Stowers
Goals: Lachlan Ilias 3
Field Goals: Lachlan Ilias 1
Penrith Panthers (22)
Tries: Alex Myles, Terrell May, Jake Tago, Adam Fearnley
Goals: Brendan Hands 3
---
Parramatta Eels 32 Warriors 24
Venue: McCredie Park
Date: Saturday 15 June 2019 at 3:00pm
Parramatta Eels (32)
Tries: Jesse Cronin 2, Taufa Afu, Sione Fonua, Turaganivalu Nabetelevu, Lufusi Vea Tapaatoutai
Goals: Bailey Biondi-Odo 3, Kyle Schneider 1
Warriors (24)
Tries: Eliesa Katoa, Penehuro Toai, Kayal Iro, Selestino Ravutaumada, Wesley Veikoso
Goals: Sione Moala 1, Brody Tamarua 1
---
Canterbury-Bankstown Bulldogs 17 Sydney Roosters 16
Venue: Belmore Sports Ground
Date: Saturday 15 June 2019 at 3:00pm
Canterbury-Bankstown Bulldogs (17)
Tries: Blake Clayton, Frank Kuresa, Lachlan Talau
Goals: Jake Averillo 2
Field Goals: Alex Seve 1
Sydney Roosters (16)
Tries: Ethan Quai-Ward, Elih Jackson, Stanley Malae
Goals: Zane Harris 2
---
Manly-Warringah Sea Eagles 21 St George Illawarra Dragons 20
Venue: Lottoland
Date: Sunday 16 June 2019 at 11:45am
Manly-Warringah Sea Eagles (21)
Tries: Simon Tito, Sione Fainu, Ben Trbojevic, Jamie Lawler
Goals: Ben Trbojevic 1, Sione Fainu 1
Field Goals: Hyrum Wichmann 1
St George Illawarra Dragons (20)
Tries: Sam McCann, Jayden Sullivan, Bailey Dickinson
Goals: Blair Grant 4
---
Canberra Raiders 24 Cronulla-Sutherland Sharks 25
Venue: Raiders Club Belconnen
Date: Sunday 16 June 2019 at 3:00pm
Canberra Raiders (24)
Tries: Harley Smith-Shields, Semi Valemei, Matthew Timoko, Kai O'Donnell
Goals: Tobias Westcott 4
Cronulla-Sutherland Sharks (25)
Tries: Vito Tevaga, Monty Raper 2, Isaac Longmuir
Goals: Jonaiah Lualua 4
Field Goals: Kai Broadhurst 1
---
Wests Tigers 6 Newcastle Knights 22
Venue: Campbelltown Stadium
Date: Sunday 16 June 2019 at 3:10pm
Wests Tigers (6)
Tries: Logen Dillon
Goals: Ben Stevanovic 1
Newcastle Knights (22)
Tries: Ben Talty 2, Daniel Ticehurst, Matt Moon
Goals: Bayden Searle 3
---
RELATED: Click here to view the current Jersey Flegg Cup ladder.