Results and Scorers:
RESULTS: 2019 Intrust Super Cup Round 14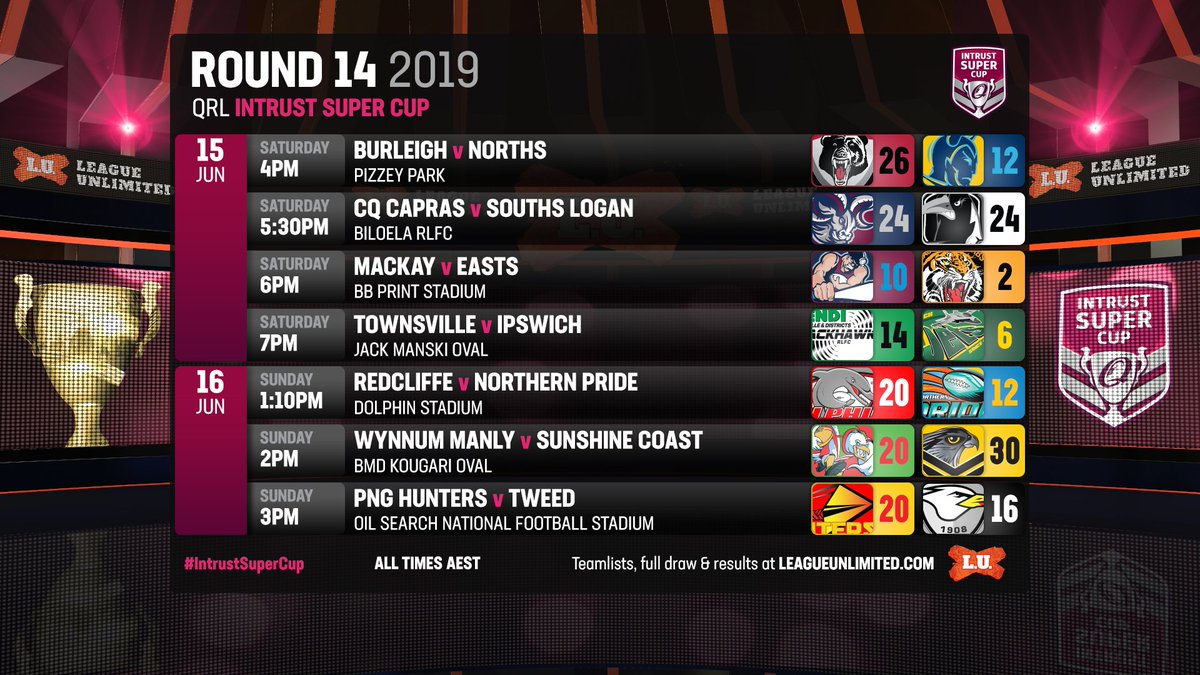 All the results and scorers from the 14th round of the QRL Intrust Super Cup.
All listed times are AEST (NSW/QLD/VIC/ACT).
---
RELATED: See the full list of 2019 Intrust Super Cup Draw and Results.
---
Burleigh Bears 26 Norths Devils 12
Venue: Pizzey Park
Date: Saturday 15 June 2019 at 4:00pm
Burleigh Bears (26)
Tries: Jacob Hind, Sami Sauiluma, Josh Rogers, Oliver Percy
Goals: Jamal Fogarty 5
Norths Devils (12)
Tries: Troy Dargan, Paul Ulberg
Goals: Connor Broadhurst 2
---
Central Queensland Capras 24 Souths Logan Magpies 24
Venue: Biloela RLFC
Date: Saturday 15 June 2019 at 5:30pm
Central Queensland Capras (24)
Tries: BJ Aufaga-Toomaga 2, Ryan Jeffery, Aaron Pene
Goals: BJ Aufaga-Toomaga 4
Souths Logan Magpies (24)
Tries: Lachlan Cooper, Matt Soper-Lawler, George Fai, Sam Tagataese
Goals: Guy Hamilton 4
---
Mackay Cutters 10 Easts Tigers 22
Venue: BB Print Stadium Mackay
Date: Saturday 15 June 2019 at 6:00pm
Mackay Cutters (10)
Tries: Yamba Bowie, Jordan Kenworthy
Goals: Carlin Anderson 1
Easts Tigers (22)
Tries: Matt Cooper, Billy Walters, Bennett Leslie, Jarrod McInally, Tom Hughes
Goals: Scott Drinkwater 1
---
Townsville Blackhawks 14 Ipswich Jets 6
Venue: Jack Manski Oval
Date: Saturday 15 June 2019 at 7:00pm
Townsville Blackhawks (14)
Tries: Michael Carroll, Joe Boyce
Goals: Shaun Nona 3
Ipswich Jets (6)
Tries: Kierran Moseley
Goals: Michael Purcell 1
---
Redcliffe Dolphins 20 Northern Pride 12
Venue: Dolphin Stadium
Date: Sunday 16 June 2019 at 1:10pm
Redcliffe Dolphins (20)
Tries: Cory Paix 2, Josh Beehag, Trai Fuller
Goals: Bryce Donovan 2
Northern Pride (12)
Tries: Jack Campagnolo, Quinlyn Cannon
Goals: Jordan Biondi-Odo 2
---
Wynnum Manly Seagulls 20 Sunshine Coast Falcons 30
Venue: BMD Kougari Oval
Date: Sunday 16 June 2019 at 2:00pm
Wynnum Manly Seagulls (20)
Tries: Alex Barr 2, Edene Gebbie, Pat Templeman
Goals: Pat Templeman 2
Sunshine Coast Falcons (30)
Tries: Sitiveni Moceidreke, Harry Grant, Nicho Hynes, Lachlan Roe, Chris Lewis
Goals: Todd Murphy 5
---
PNG Hunters 20 Tweed Seagulls 16
Venue: Oil Search National Football Stadium
Date: Sunday 16 June 2019 at 3:00pm
PNG Hunters (20)
Tries: Moses Meninga, Rau Junior Kobale, Terry Wapi, Brandon Nima
Goals: Nick Hasu 2
Tweed Seagulls (16)
Tries: Cheyne Whitelaw, Treymain Spry
Goals: Lindon McGrady 4
---
RELATED: Click here to view the current Intrust Super Cup ladder.