Results and Scorers:
RESULTS: 2019 Jersey Flegg Cup Round 15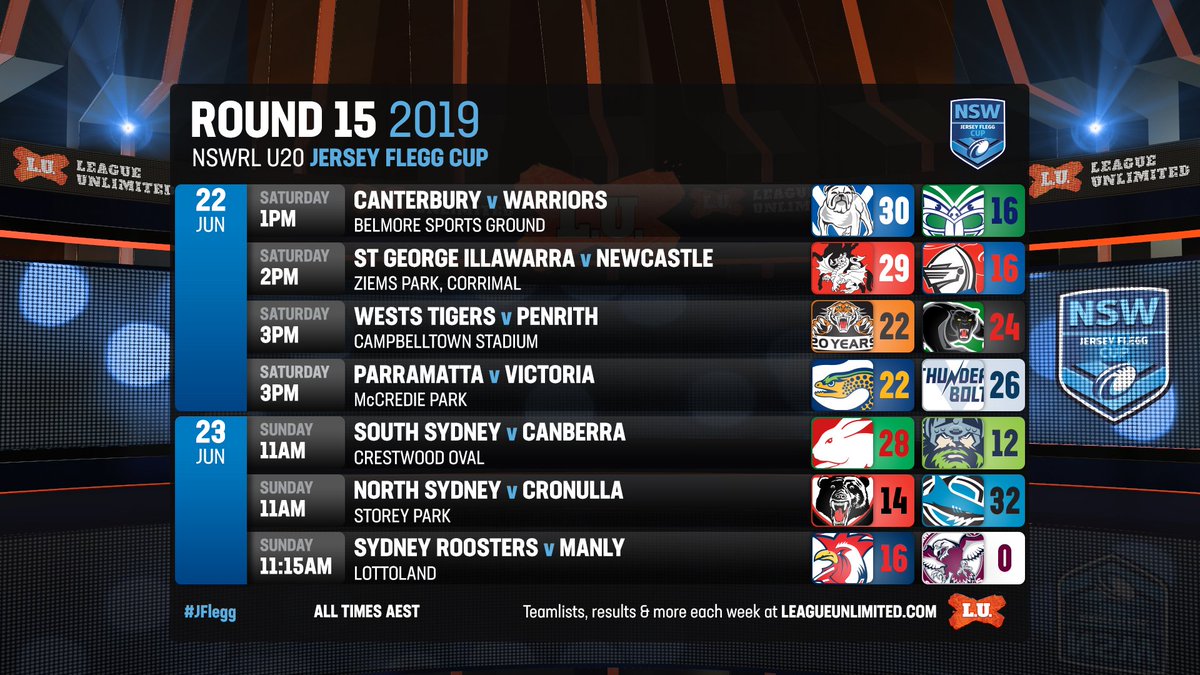 All the results and scorers from the 15th round of the NSWRL U20 Jersey Flegg Cup.
All listed times are AEST (NSW/QLD/VIC/ACT).
---
RELATED: See the full list of 2019 Jersey Flegg Cup Draw and Results.
---
Canterbury-Bankstown Bulldogs 30 Warriors 16
Venue: Belmore Sports Ground
Date: Saturday 22 June 2019 at 1:00pm
Canterbury-Bankstown Bulldogs (30)
Tries: Jackson Topine, Devontai Seumanutafa, Frank Kuresa, Matt Doorey, Isaiah Tass, Tyrone Harding
Goals: Jake Averillo 3
Warriors (16)
Tries: Penehuro Toai, Brody Tamarua, Phillip Makatoa
Goals: Emanuel Tuimavave-Gerrard 2
---
St George Illawarra Dragons 29 Newcastle Knights 16
Venue: Ziems Park
Date: Saturday 22 June 2019 at 2:00pm
St George Illawarra Dragons (29)
Tries: Cody Ramsey 2, Blair Grant, Simeone Taateo, Dante Lusio
Goals: Blair Grant 4
Field Goals: Blair Grant 1
Newcastle Knights (16)
Tries: Jack Cameron, Grant Anderson, Ben Talty
Goals: Bayden Searle 2
---
Parramatta Eels 22 Victoria Thunderbolts 26
Venue: McCredie Park
Date: Saturday 22 June 2019 at 3:00pm
Parramatta Eels (22)
Tries: Arron Shelford, Jesse Cronin, Solomone Naiduki, Joseph Taipari
Goals: Kyle Schneider 2, Bailey Biondi-Odo 1
Victoria Thunderbolts (26)
Tries: Trent Toelau, Mali Lepou, Matt Stimson, Jordin Leiu
Goals: Matt Stimson 2, Trent Toelau 1
---
Wests Tigers 22 Penrith Panthers 24
Venue: Campbelltown Stadium
Date: Saturday 22 June 2019 at 3:00pm
Wests Tigers (22)
Tries: Zac Cini 2, Ben Seufale, Max Burey
Goals: Ben Stevanovic 3
Penrith Panthers (24)
Tries: Charlie Staines 2, Justin Jones, Shannon Harris, Matt Burton
Goals: Brendan Hands 2
---
South Sydney Rabbitohs 28 Canberra Raiders 12
Venue: Crestwood Oval
Date: Sunday 23 June 2019 at 11:00am
South Sydney Rabbitohs (28)
Tries: Tallis Angianga 2, Lachlan Gale, Jack Frasca, Jaxson Paulo
Goals: Lachlan Ilias 2, Blake Taaffe 2
Canberra Raiders (12)
Tries: Lachlan Lewis, Jarrett Subloo
Goals: Tobias Westcott 2
---
North Sydney Bears 14 Cronulla-Sutherland Sharks 32
Venue: Storey Park
Date: Sunday 23 June 2019 at 11:00am
North Sydney Bears (14)
Tries: Max Altus, Tom Steadman, Johnny Mitsias
Goals: Corey Fenning 1
Cronulla-Sutherland Sharks (32)
Tries: Josh Delailoa 2, Jonaiah Lualua 2, Vito Tevaga, Tom Caughlan
Goals: Jonaiah Lualu 2, Jonah Ngaronoa 2
---
Sydney Roosters 16 Manly-Warringah Sea Eagles 0
Venue: Lottoland
Date: Sunday 23 June 2019 at 11:15am
Sydney Roosters (16)
Tries: McKenzie Baker, Ethan O'Neill, Tyrell Neiufi
Goals: Zane Harris 2
Manly-Warringah Sea Eagles (0)
---
RELATED: Click here to view the current Jersey Flegg Cup ladder.