Results and Scorers:
RESULTS: 2019 Intrust Super Cup Round 16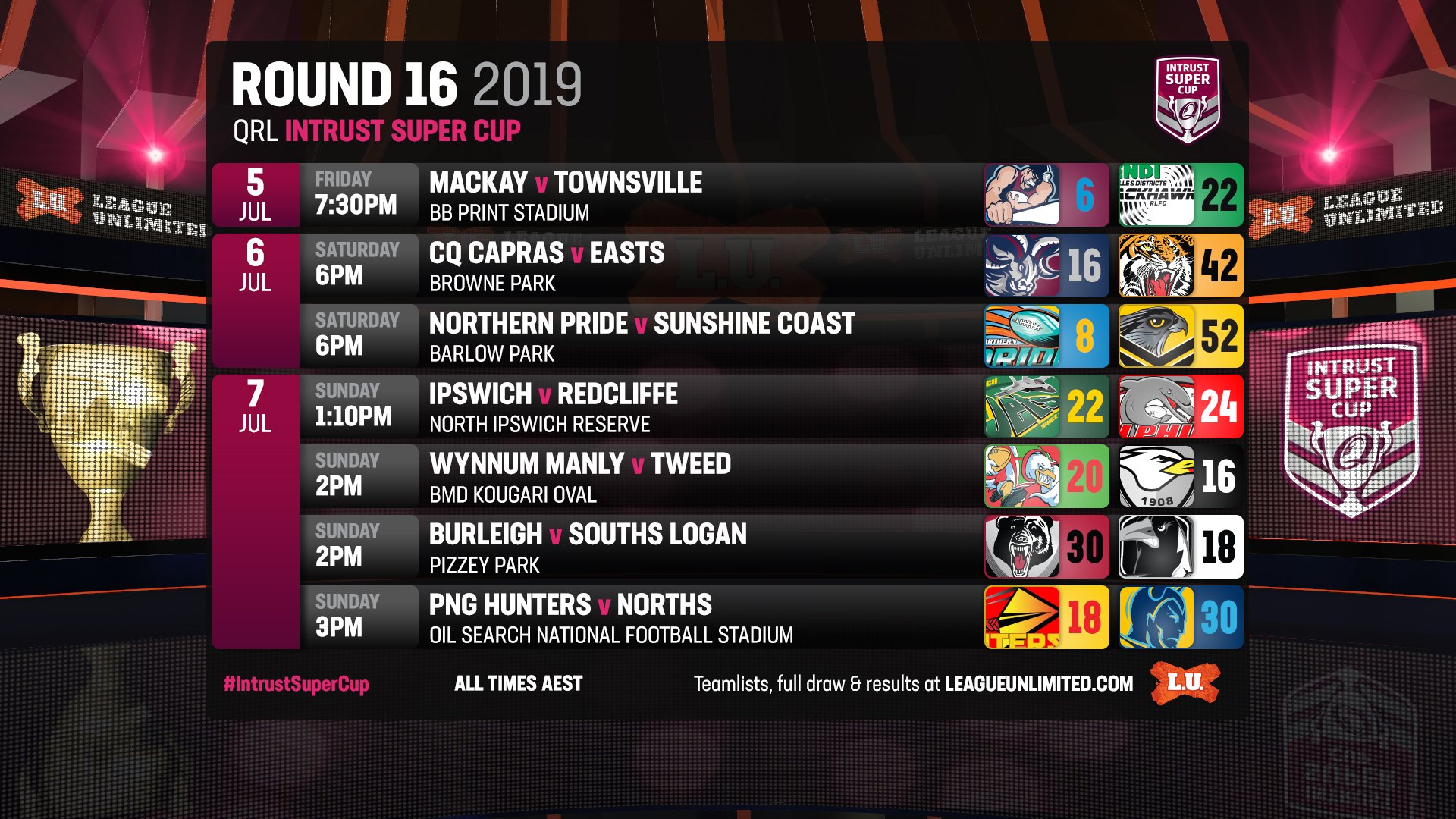 All the results and scorers from the sixteenth round of the QRL Intrust Super Cup.
All listed times are AEST (NSW/QLD/VIC/ACT).
---
RELATED: See the full list of 2019 Intrust Super Cup Draw and Results.
---
Mackay Cutters 6 Townsville Blackhawks 22
Venue: BB Print Stadium Mackay
Date: Friday 5 July 2019 at 7:30pm
Mackay Cutters (6)
Tries: Jack Brock
Goals: Carlin Anderson 1
Townsville Blackhawks (22)
Tries: Bacho Salam 2, Shaun Nona, Temone Power
Goals: Shaun Nona 3
---
Northern Pride 8 Sunshine Coast Falcons 52
Venue: Barlow Park
Date: Saturday 6 July 2019 at 6:00pm
Northern Pride (8)
Tries: Tom Hancock
Goals: Jordan Biondi-Odo 2
Sunshine Coast Falcons (52)
Tries: Jon Reuben 3, Harry Grant 2, Lachlan Roe, Nathanael McGavin, Darryn Schonig, Dane Hogan
Goals: Todd Murphy 8
---
Central Queensland Capras 16 Easts Tigers 42
Venue: Browne Park
Date: Saturday 6 July 2019 at 6:00pm
Central Queensland Capras (16)
Tries: Shaun Ezzy, BJ Aufaga-Toomaga, George Grant
Goals: BJ Aufaga-Toomaga 2
Easts Tigers (42)
Tries: Jarrod McInally 3, Solomone Kata 2, Sam Foster, Isaac Lumelume, Dray Ngatuere-Wroe
Goals: Dray Ngatuere-Wroe 5
---
Ipswich Jets 22 Redcliffe Dolphins 24
Venue: North Ipswich Reserve
Date: Sunday 7 July 2019 at 1:10pm
Ipswich Jets (22)
Tries: Isimeeli Hafoka, Shar Walden, Rogan Dean, Jacob Teevan
Goals: Michael Purcell 3
Redcliffe Dolphins (24)
Tries: Justice Utatao 3, Nick Brown
Goals: Tyson Gamble 4
---
Burleigh Bears 30 Souths Logan Magpies 18
Venue: Pizzey Park
Date: Sunday 7 July 2019 at 2:00pm
Burleigh Bears (30)
Tries: Troy Leo 2, Kurtis Rowe, Sami Sauiluma, Sam Stone, Tyronne Roberts-Davis
Goals: Jamal Fogarty 3
Souths Logan Magpies (18)
Tries: Matt Soper-Lawler, Linc Port
Goals: Guy Hamilton 3
---
Wynnum Manly Seagulls 20 Tweed Seagulls 16
Venue: BMD Kougari Oval
Date: Sunday 7 July 2019 at 2:00pm
Wynnum Manly Seagulls (20)
Tries: Jordan Drew 2, Pat Templeman
Goals: Pat Templeman 4
Tweed Seagulls (16)
Tries: Luke Jurd, Ryland Jacobs, Jack Cook
Goals: Lindon McGrady 2
---
PNG Hunters 18 Norths Devils 30
Venue: Oil Search National Football Stadium
Date: Sunday 7 July 2019 at 3:00pm
PNG Hunters (18)
Tries: Rau Junior Kobale, Nick Hasu, Brandon Nima
Goals: Ase Boas 2, Nick Hasu 1
Norths Devils (30)
Tries: Jamayne Taunoa-Brown 2, Jack Ahearn 2, Riley Leota Nixon Putt
Goals: Connor Broadhurst 3
---
RELATED: Click here to view the current Intrust Super Cup ladder.