Results and Scorers:
RESULTS: 2019 Ron Massey Cup Round 16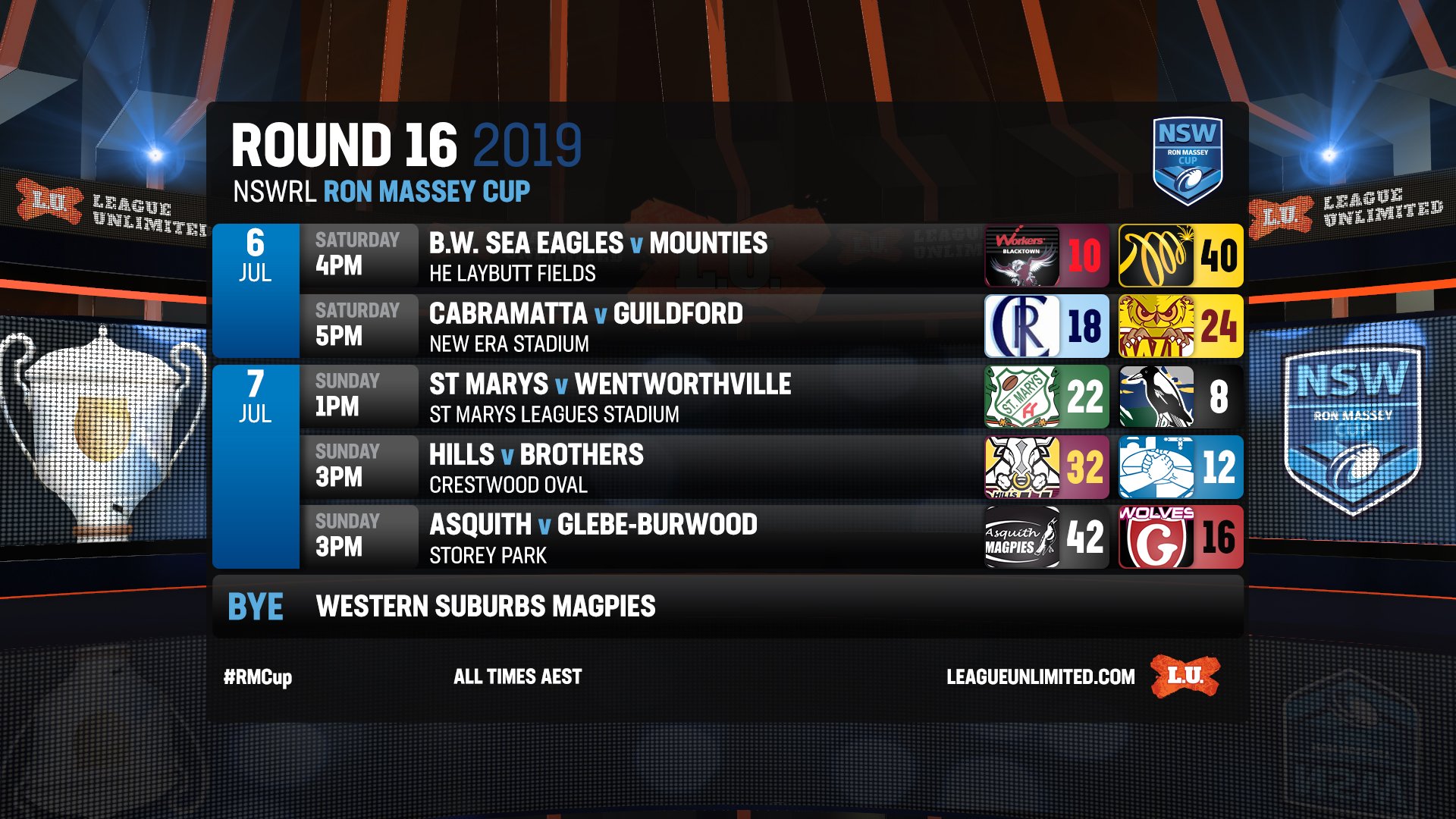 All the results and scorers from the sixteenth round of the NSWRL Ron Massey Cup.
All listed times are AEST (NSW/QLD/VIC/ACT).
---
RELATED: See the full list of 2019 Ron Massey Cup Draw and Results.
---
Blacktown Workers Sea Eagles 10 Mounties RLFC 40
Venue: HE Laybutt Sporting Complex
Date: Saturday 6 July 2019 at 4:00pm
Blacktown Workers Sea Eagles (10)
Tries: Leva Li, Shaun Fitzgerald
Goals: Kamren Cryer 1
Mounties RLFC (40)
Tries: Eddie Aiono 2, Daniel Roberts, Atini Gafa, Giordan Patea, Anthony Layoun, Jack Payne
Goals: Sam Duggan 4, Daniel Roberts 2
---
Cabramatta Two Blues 18 Guildford Owls 24
Venue: New Era Stadium
Date: Saturday 6 July 2019 at 5:00pm
Cabramatta Two Blues (18)
Tries: Jesse Martin, Isaac Montgomery, Kobi Hookey
Goals: Brandon Finnegan 3
Guildford Owls (24)
Tries: Dom Reardon, Taniela Lasalo, Mason Farrell, Josh Camroux, Daniel Lotu
Goals: Josh Lewis 2
---
St Marys 22 Wentworthville Magpies 8
Venue: St Marys Leagues Stadium
Date: Sunday 7 July 2019 at 1:00pm
St Marys (22)
Tries: Jake Toby 2, Jake Maizen 2
Goals: Kurt Falls 3
Wentworthville Magpies (8)
Tries: Piki Rogers
Goals: Beau Henry 2
---
Hills District Bulls 32 Penrith Brothers 12
Venue: Crestwood Oval
Date: Sunday 7 July 2019 at 3:00pm
Hills District Bulls (32)
Tries: Chris McCoy 2, Joel Bradford 2, Lachlan Walmsley, Pio Nakubuwai
Goals: Lachlan Walmsley 4
Penrith Brothers (12)
Tries: Geofrey Duku, Brodie Christopherson
Goals: Geofrey Duku 1, Brendan Waters 1
---
Asquith Magpies 42 Glebe Burwood Wolves 16
Venue: Storey Park
Date: Sunday 7 July 2019 at 3:00pm
Asquith Magpies (42)
Tries: Mike Pearsall 3, Sione Hopoate 2, Jordan Remfrey, Zach Nicholls, Matt Place
Goals: Matt Place 5
Glebe Burwood Wolves (16)
Tries: Lachlan Stein, Paul Rokolati, Chris Tupou
Goals: Benjamin Jackson 2
---
Western Suburbs Magpies had a bye this round.
---
RELATED: Click here to view the current Ron Massey Cup ladder.