Results and Scorers:
RESULTS: 2019 Hastings Deering Colts Round 17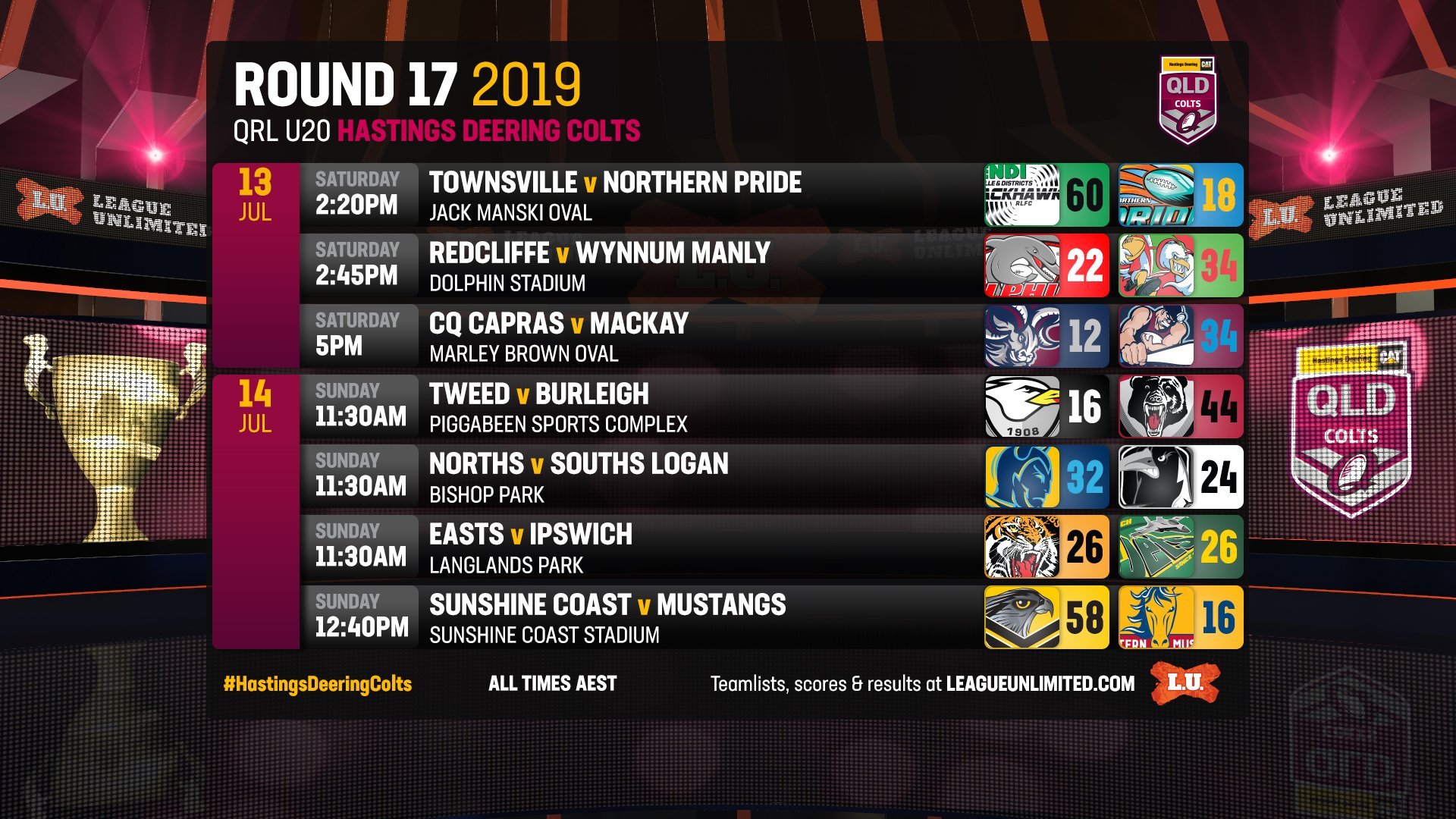 All the results and scorers from the seventeenth round of the QRL U20 Hastings Deering Colts.
All listed times are AEST (NSW/QLD/VIC/ACT).
---
RELATED: See the full list of 2019 Hastings Deering Colts Draw and Results.
---
Townsville Blackhawks 60 Northern Pride 18
Venue: Jack Manski Oval
Date: Saturday 13 July 2019 at 2:20pm
Townsville Blackhawks (60)
Tries: Keanu Wainohu-Kemp 2, Nathan Barrett 2, Griffin Nearne, Enemarki Shibasaki, Tom McCagh, Ben Condon, Adam Cook, Brodie Chaffey, Jack Althaus
Goals: Adam Cook 8
Northern Pride (18)
Tries: Tazmon McRobbie, Beau Berg 2
Goals: Jai Doherty 3
---
Redcliffe Dolphins 22 Wynnum Manly Seagulls 34
Venue: Dolphin Stadium
Date: Saturday 13 July 2019 at 2:45pm
Redcliffe Dolphins (22)
Tries: Dylan Briggs 2, Isaiah Lealiiee, Nick Ingram
Goals: Dylan Briggs 3
Wynnum Manly Seagulls (34)
Tries: Ryan O'Keefe 2, Reece Hoffman 2, David Quinlin, Jake Simpkin, Harrison Graham
Goals: Reece Hoffman 3
---
CQ Capras 12 Mackay Cutters 34
Venue: Marley Brown Oval
Date: Saturday 13 July 2019 at 5:00pm
CQ Capras (12)
Tries: Riley Shadlow, Harrison McIndoe
Goals: Christian Smith 2
Mackay Cutters (34)
Tries: Garrett Smith 2, Brendan White, Josh Smith, Jye Andersen, Rayden Burns
Goals: Brendan White 5
---
Norths Devils 32 Souths Logan Magpies 24
Venue: Bishop Park
Date: Sunday 14 July 2019 at 11:30am
Norths Devils (32)
Tries: Michael McGrath 3, Jared Chambers, Jack Paterson, Zane Jones, Lorenzo Leapai
Goals: Matt Fletcher 2
Souths Logan Magpies (24)
Tries: Lance Bagon, Liam Su'a, Vahai Finau, Cruise Ten
Goals: Vahai Finau 4
---
Easts Tigers 26 Ipswich Jets 26
Venue: Langlands Park
Date: Sunday 14 July 2019 at 11:30am
Easts Tigers (26)
Tries: Solomona Faataape 2, Izeah English, Luke Self, Zachary Croft, Bailey Bartley
Goals: Joel Hughes 1
Ipswich Jets (26)
Tries: Josh Johnson 2, Sam Langbein, Kyle Petersen, Sione Foueti
Goals: Josh McCarroll 3
---
Tweed Seagulls 16 Burleigh Bears 44
Venue: Piggabeen Sports
Date: Sunday 14 July 2019 at 11:30am
Tweed Seagulls (16)
Tries: Jaman Rio, Gerard Ah-Nau, Juwan Compain
Goals: Jaman Rio 2
Burleigh Bears (44)
Tries: Lochlyn Sheldon, Alofiana Khan-Pereira, Luke Maiden, Will Evans, Jayden Campbell, Cameron Brown, Latrell Howe, Lochlan Turnbull
Goals: Lochlan Turnbull 3, Jayden Campbell 3
---
Sunshine Coast Falcons 58 Western Mustangs 16
Venue: Sunshine Coast Stadium
Date: Sunday 14 July 2019 at 12:50pm
Sunshine Coast Falcons (58)
Tries: Tom Dwan 4, Gian Largiader, Kane Jackson, Luke Murtagh, Jack Wright, Trent Loiero, Nick Ellems, Blake Wilson
Goals: Jack Wright 7
Western Mustangs (16)
Tries: Kavaua Neliman, Thomas Springate, Austin Jennings
Goals: Sam Thompson 2
---
RELATED: Click here to view the current Hastings Deering Colts ladder.