Results and Scorers:
RESULTS: 2019 Intrust Super Cup Round 17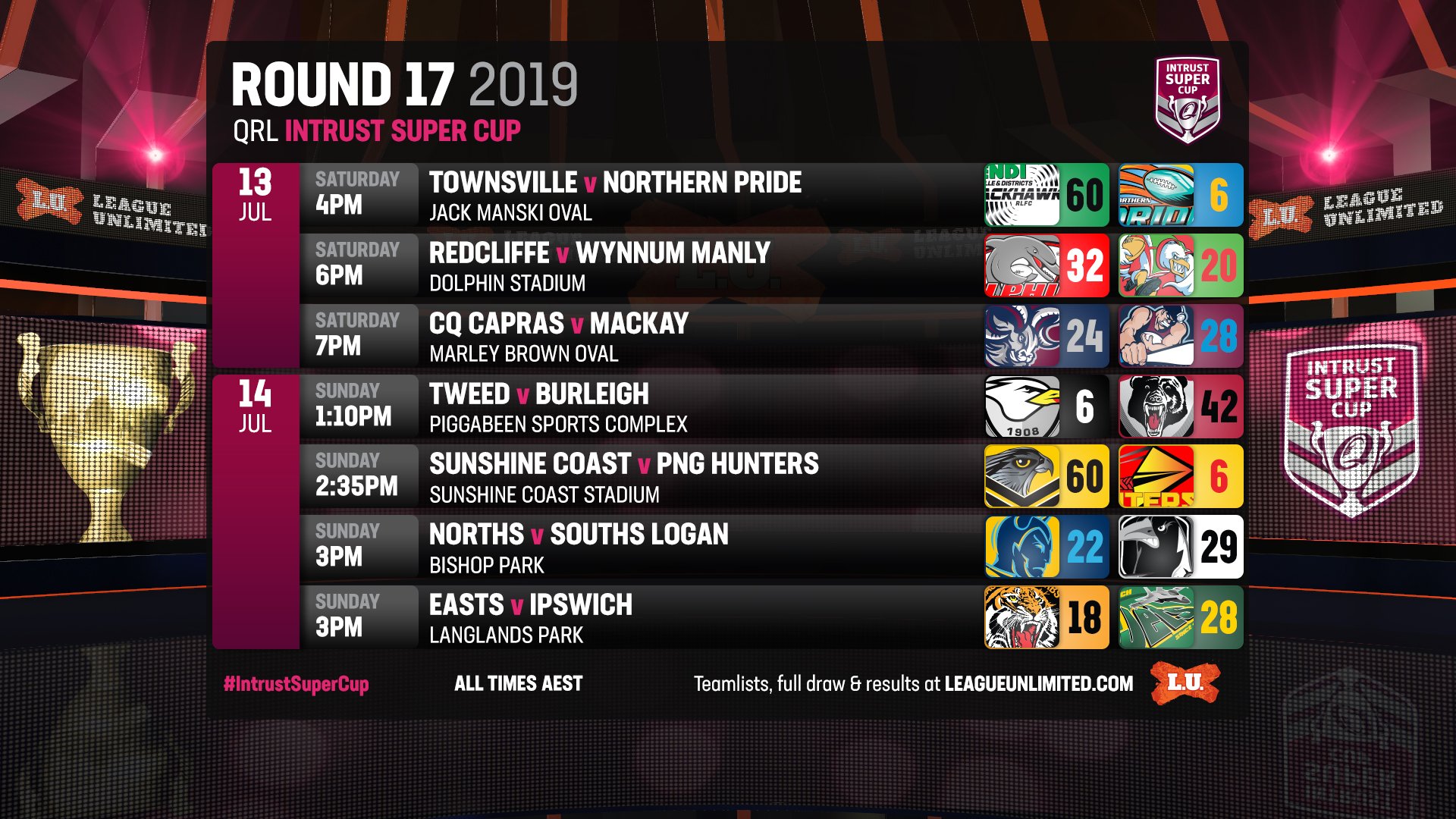 All the results and scorers from the seventeenth round of the QRL Intrust Super Cup.
All listed times are AEST (NSW/QLD/VIC/ACT).
---
RELATED: See the full list of 2019 Intrust Super Cup Draw and Results.
---
Townsville Blackhawks 60 Northern Pride 6
Venue: Jack Manski Oval
Date: Saturday 13 July 2019 at 4:00pm
Townsville Blackhawks (60)
Tries: Josh Chudleigh 2, Michael Bell 2, Temone Power 2, Kalifa Faifai Loa 2, Jaelen Feeney, Bacho Salem, Jake Marketo
Goals: Shaun Nona 7, Kyle Laybutt 1
Northern Pride (6)
Tries: Jordan Biondi-Odo
Goals: Jordan Biondi-Odo 1
---
Redcliffe Dolphins 32 Wynnum Manly Seagulls 20
Venue: Dolphin Stadium
Date: Saturday 13 July 2019 at 6:00pm
Redcliffe Dolphins (32)
Tries: Jeremy Hawkins 2, Izaia Perese, Jamil Hopoate, Sheldon Pitama
Goals: Tyson Gamble 6
Wynnum Manly Seagulls (20)
Tries: Jordan Drew, Matt Milson, Kalolo Saitaua, Jack Goodsell
Goals: Pat Templeman 2
---
Central Queensland Capras 24 Mackay Cutters 28
Venue: Marley Brown Oval
Date: Saturday 13 July 2019 at 7:00pm
Central Queensland Capras (24)
Tries: BJ Aufaga-Toomaga 2, Luke George, Blake Moore
Goals: BJ Aufaga-Toomaga 4
Mackay Cutters (28)
Tries: Carlin Anderson 2, Sam Cook, Lloyd White, Jayden Hodges
Goals: Carlin Anderson 4
---
Tweed Seagulls 6 Burleigh Bears 42
Venue: Piggabeen Sports
Date: Sunday 14 July 2019 at 1:10pm
Tweed Seagulls (6)
Tries: Leilani Latu
Goals: Lindon McGrady 1
Burleigh Bears (42)
Tries: Sam Coster 2, Sami Sauiluma 2, Jacob Hind, Pat Politoni, Troy Leo, Luke Page
Goals: Jamal Fogarty 5
---
Sunshine Coast Falcons 60 PNG Hunters 6
Venue: Sunshine Coast Stadium
Date: Sunday 14 July 2019 at 2:35pm
Sunshine Coast Falcons (60)
Tries: Harry Grant 2, Jon Reuben 3, Sam Burns, Jordin Leiu, Nathan Saumalu, Caleb Daunt, Tom Rafter
Goals: Todd Murphy 9
PNG Hunters (6)
Tries: Brandon Nima
Goals: Ase Boas 1
---
Easts Tigers 18 Ipswich Jets 28
Venue: Langlands Park
Date: Sunday 14 July 2019 at 3:00pm
Easts Tigers (18)
Tries: Billy Walters, Kelma Tuilagi, Solomone Kata
Goals: Dray Ngatuere-Wroe 3
Ipswich Jets (28)
Tries: Kierran Moseley, Marmin Barba, Huskie Teutau, Michael Purcell, Blake Lenehan
Goals: Marmin Barba 3, Michael Purcell 3
---
Norths Devils 22 Souths Logan Magpies 29
Venue: Bishop Park
Date: Sunday 14 July 2019 at 3:00pm
Norths Devils (22)
Tries: Luke Pollock, Moses Noovao-McGreal, Jamayne Taunoa-Brown, Jack Ahearn
Goals: Connor Broadhurst 2, Jack Miers 1
Souths Logan Magpies (29)
Tries: Matt Soper-Lawler 4, Sam Tagataese
Goals: Guy Hamilton 3, Sam Tagataese 1
Field Goals: Guy Hamilton 1
---
RELATED: Click here to view the current Intrust Super Cup ladder.