Results and Scorers:
RESULTS: 2019 Hastings Deering Colts Round 19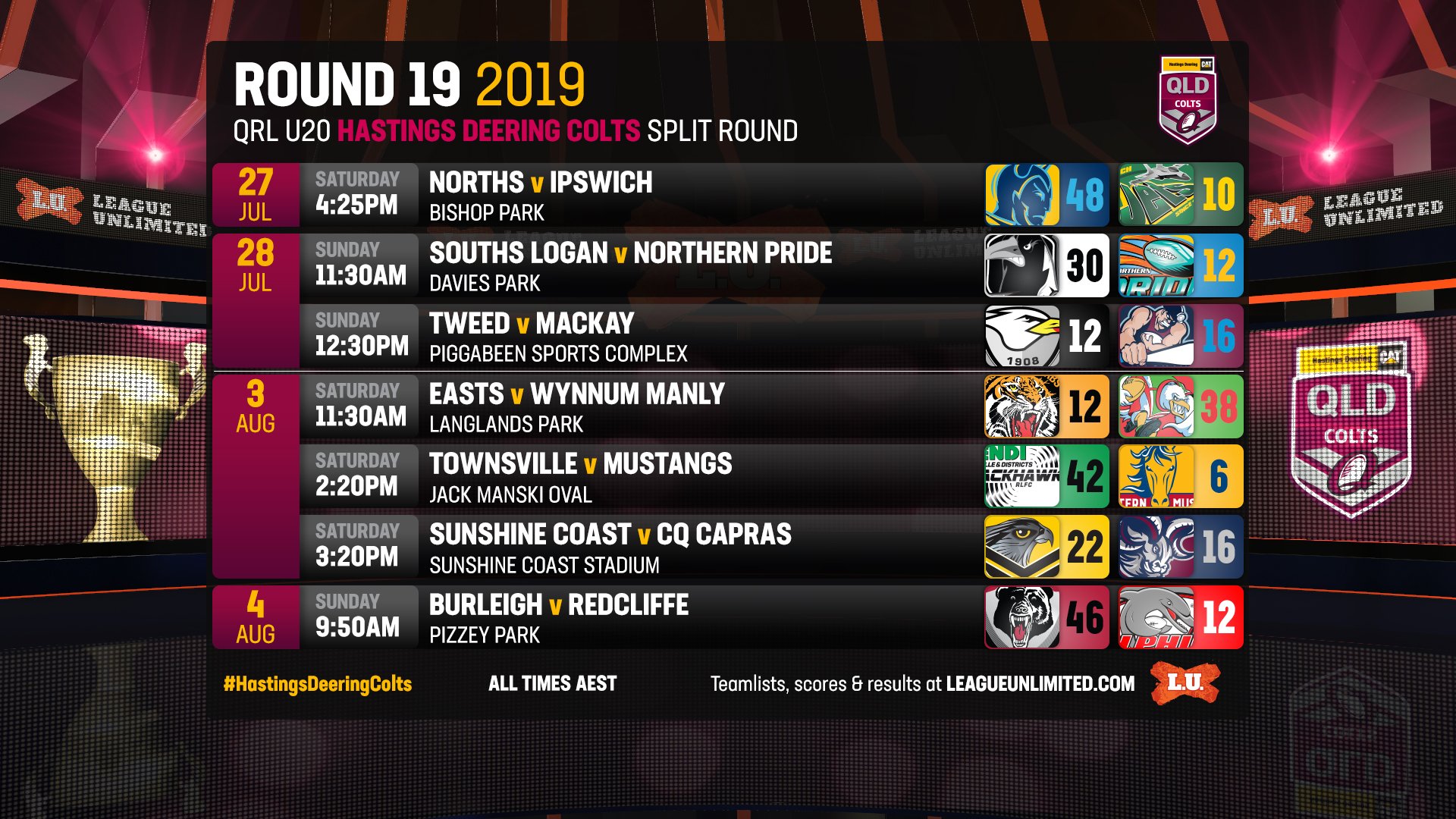 All the results and scorers from the 19th round of the QRL U20 Hastings Deering Colts.
All listed times are AEST (NSW/QLD/VIC/ACT).
---
RELATED: See the full list of 2019 Hastings Deering Colts Draw and Results.
---
Norths Devils 48 Ipswich Jets 10
Venue: Bishop Park
Date: Saturday 27 July 2019 at 4:25pm
Norths Devils (48)
Tries: Blaid Pakura 2, Zane Jones, Josh James, Terrell Sala, Michael McGrath, Zakaria McGuire, Daniel Atkinson, Zac Brooks
Goals: Daniel Atkinson 5, Josh James 1
Ipswich Jets (10)
Tries: Sam Langbein, Josh Henderson
Goals: Josh McCarroll 1
---
Souths Logan Magpies 30 Northern Pride 12
Venue: Davies Park
Date: Sunday 28 July 2019 at 11:30am
Souths Logan Magpies (30)
Tries: Jayden Thompson-Barchard 2, Caleb Evans, Cruise Ten, Jett Trembath
Goals: Hayden Ryan 5
Northern Pride (12)
Tries: Dantoray Lui, Connor Rothery
Goals: Jai Doherty 2
---
Tweed Seagulls 12 Mackay Cutters 16
Venue: Piggabeen Sports
Date: Sunday 28 July 2019 at 12:30pm
Tweed Seagulls (12)
Tries: Jaylan To'o, Harley Wood
Goals: Callum Boomer 2
Mackay Cutters (16)
Tries: Blake Paskins, Garrett Smith, Hayden Pace
Goals: Brendan White 2
---
Easts Tigers 12 Wynnum Manly Seagulls 38
Venue: Langlands Park
Date: Saturday 3 August 2019 at 11:30am
Easts Tigers (12)
Tries: Tom Kenny, John Vairoa
Goals: Luke Self 1, Dray Ngatuere-Wroe 1
Wynnum Manly Seagulls (38)
Tries: Will Parslow, Jake Simpkin 2, Eliott Vincent, Blake Pyle, Nofoasa Malutoa, Shannon Gardner
Goals: Reece Hoffman 5
---
Townsville Blackhawks 42 Western Mustangs 6
Venue: Jack Manski Oval
Date: Saturday 3 August 2019 at 2:20pm
Townsville Blackhawks (42)
Tries: Hamiso Tabuai-Fidow 2, Curtis Dempsey, Wiremu Greig, Michael Bell, Griffin Nearne, Adam Cook, Brodie Chaffey
Goals: Adam Cook 5

Western Mustangs (6)
Tries: Kavaua Neliman
Goals: Sam Thompson 1
---
Sunshine Coast Falcons 22 CQ Capras 16
Venue: Sunshine Coast Stadium
Date: Saturday 3 August 2019 at 3:20pm
Sunshine Coast Falcons (22)
Tries: Nick Ellems, Tom Dwan, Rowan Jardine, John McLaughlin
Goals: Tom Dwan 2, Tyson Smoothy 1
CQ Capras (16)
Tries: Harrison McIndoe 2, Ethan Jackson
Goals: Blake Moore 2
---
Burleigh Bears 46 Redcliffe Dolphins 12
Venue: Pizzey Park
Date: Sunday 4 August 2019 at 9:50am
Burleigh Bears (46)
Tries: Alofiana Khan-Pereira 2, Jayden Campbell 3, Cameron Brown, Lochlyn Sheldon, Shallin Fuller
Goals: Jayden Campbell 4, Lochlan Turnbull 3
Redcliffe Dolphins (12)
Tries: Isaiah Lealiiee, Jesse Jennings
Goals: Dylan Briggs 2
---
RELATED: Click here to view the current Hastings Deering Colts ladder.