Results and Scorers:
RESULTS: 2019 Intrust Super Cup Round 19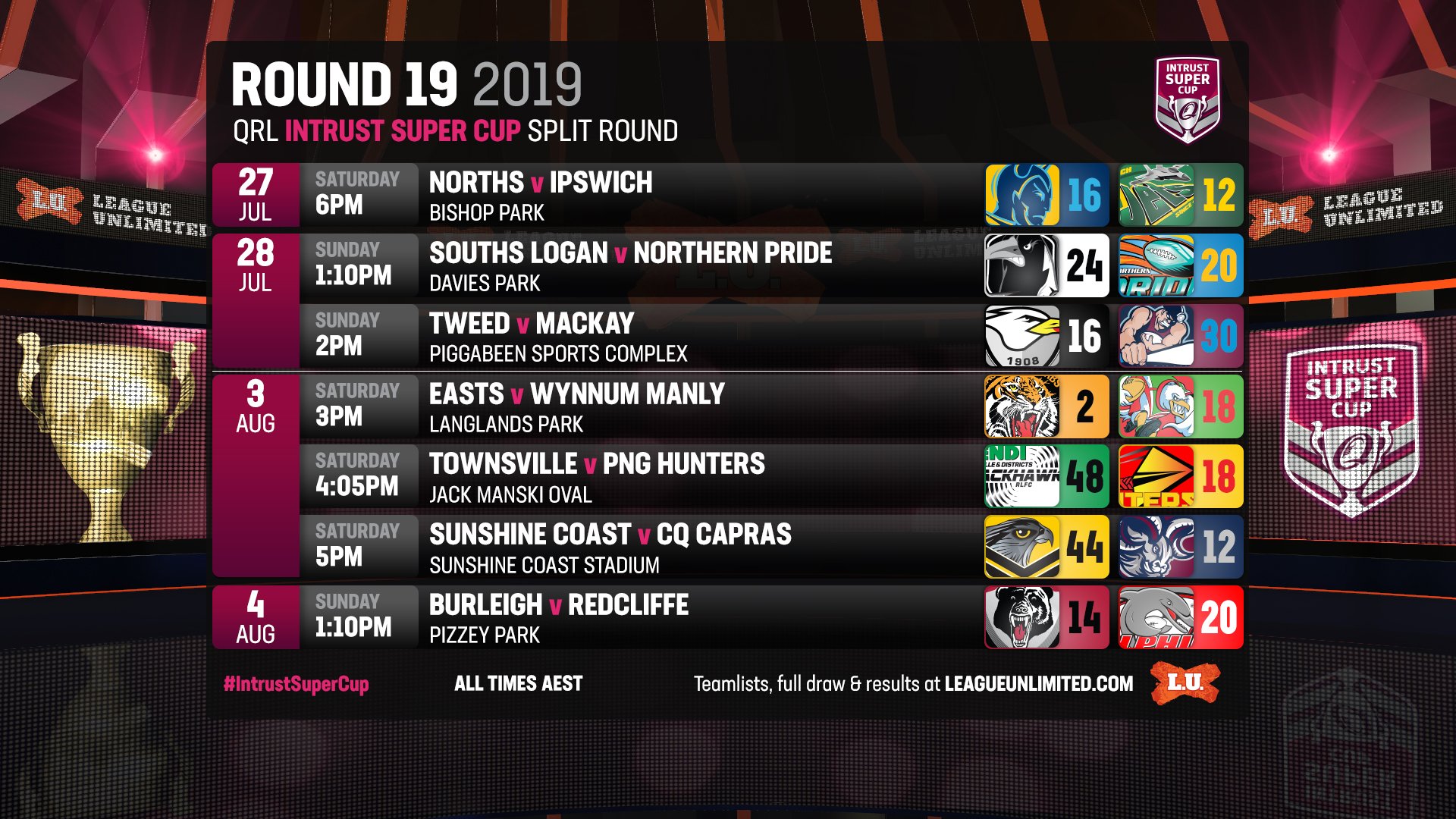 All the results and scorers from the 19th round of the QRL Intrust Super Cup.
All listed times are AEST (NSW/QLD/VIC/ACT).
---
RELATED: See the full list of 2019 Intrust Super Cup Draw and Results.
---
Norths Devils 16 Ipswich Jets 12
Venue: Bishop Park
Date: Saturday 27 July 2019 at 6:00pm
Norths Devils (16)
Tries: Paul Ulberg 2, Brendan Frei
Goals: Herbie Farnworth 2
Ipswich Jets (12)
Tries: Marmin Barba, Mitch Carpenter
Goals: Marmin Barba 2
---
Souths Logan Magpies 24 Northern Pride 20
Venue: Davies Park
Date: Sunday 28 July 2019 at 1:10pm
Souths Logan Magpies (24)
Tries: Manaia Cherrington, Luke Burton, Fanitesi Niu, Matt Soper-Lawler
Goals: Guy Hamilton 4
Northern Pride (20)
Tries: Enari Tuala, David Murphy, Gideon Gela-Mosby
Goals: Jordan Biondi-Odo 4
---
Tweed Seagulls 16 Mackay Cutters 30
Venue: Piggabeen Sports
Date: Sunday 28 July 2019 at 2:00pm
Tweed Seagulls (16)
Tries: Kody Parsons, Lindon McGrady, Treymain Spry
Goals: Lindon McGrady 2
Mackay Cutters (30)
Tries: Sheldon Roberts, Alex Gerrard, Marcus Jensen, Jordan Kenworthy, Reuben Cotter
Goals: Marcus Jensen 5
---
Easts Tigers 2 Wynnum Manly Seagulls 18
Venue: Langlands Park
Date: Saturday 3 August 2019 at 3:00pm
Easts Tigers (2)
Goals: Bill Cullen 1
Wynnum Manly Seagulls (18)
Tries: Matiu Love-Henry, Edene Gebbie, Pat Templeman
Goals: Pat Templeman 3
---
Townsville Blackhawks 48 PNG Hunters 18
Venue: Jack Manski Oval
Date: Saturday 3 August 2019 at 4:00pm
Townsville Blackhawks (48)
Tries: Bacho Salam, Temone Power, Kalifa Faifai Loa, Zac Santo, Jake Marketo, Cade Maloney, Nathan Traill, Kyle Laybutt
Goals: Shaun Nona 8
PNG Hunters (18)
Tries: Nick Hasu, Kevin Appo, Terry Wapi
Goals: Ase Boas 3
---
Sunshine Coast Falcons 44 Central Queensland Capras 12
Venue: Sunshine Coast Stadium
Date: Saturday 3 August 2019 at 5:00pm
Sunshine Coast Falcons (44)
Tries: Cory Parker 2, Trent Schaumkel 2, Sam Burns, Caleb Daunt, Siti Moceidreke, Nat McGavin
Goals: Siti Moceidreke 6
Central Queensland Capras (12)
Tries: BJ Aufaga-Toomaga 2
Goals: BJ Aufaga-Toomaga 2
---
Burleigh Bears 14 Redcliffe Dolphins 20
Venue: Pizzey Park
Date: Sunday 4 August 2019 at 1:10pm
Burleigh Bears (14)
Tries: Jesse Arthars, Tyronne Roberts-Davis
Goals: Jamal Fogarty 3
Redcliffe Dolphins (20)
Tries: Izaia Perese 2, Aaron Whitchurch
Goals: Tyson Gamble 4
---
RELATED: Click here to view the current Intrust Super Cup ladder.