Results and Scorers:
RESULTS: 2019 Hastings Deering Colts Round 20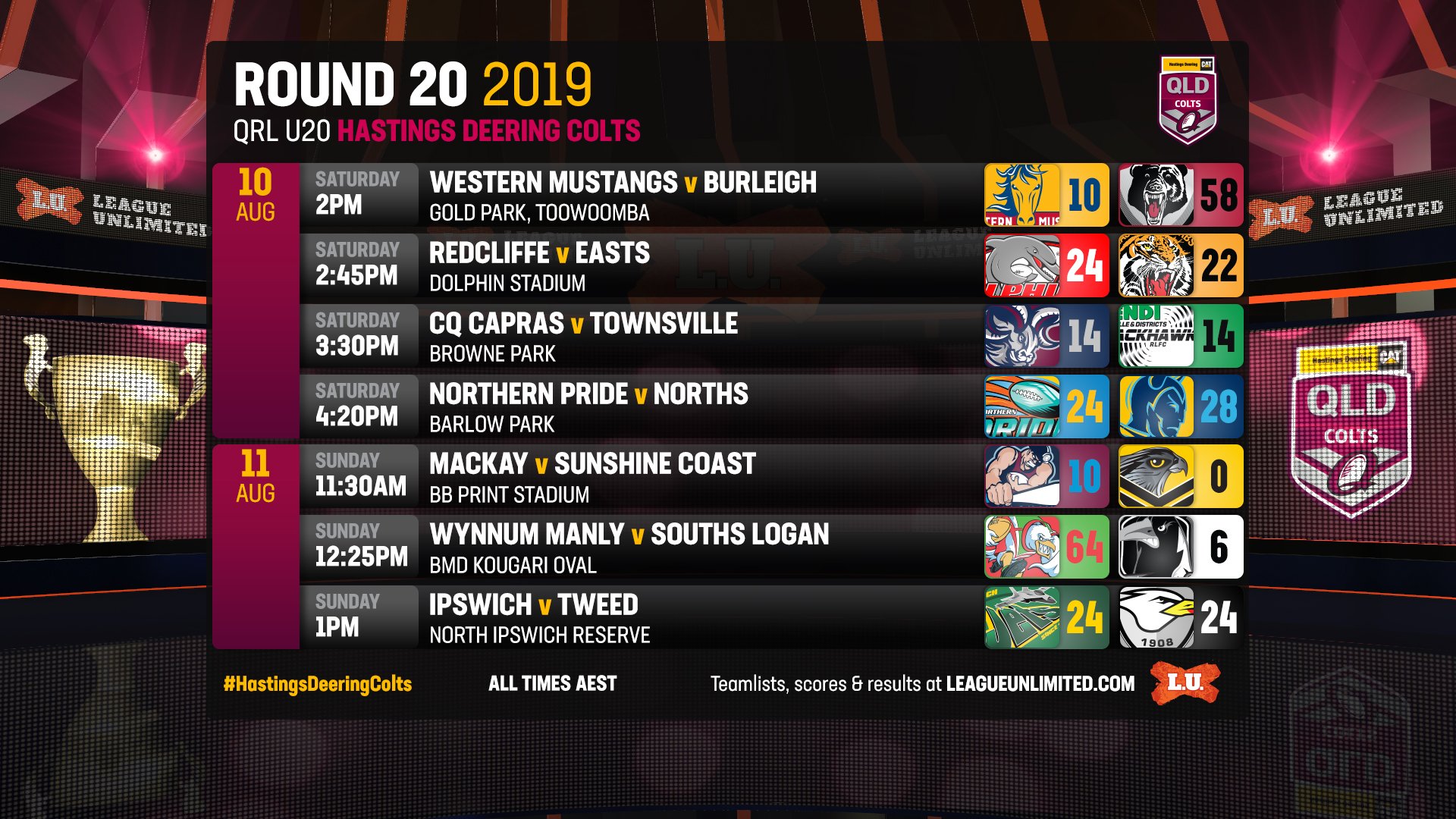 All the results and scorers from the 20th round of the QRL's U20 Hastings Deering Colts competition.
All listed times are AEST (NSW/QLD/VIC/ACT).
---
RELATED: See the full list of 2019 Hastings Deering Colts Draw and Results.
---
Western Mustangs 10 Burleigh Bears 58
Venue: Gold Park
Date: Saturday 10 August 2019 at 2:00pm
Western Mustangs (10)
Tries: Richard Murray, Austin Jennings
Goals: Sam Thompson

Burleigh Bears (58)
Tries: Jayden Campbell 2, Alofiana Khan-Pereira, Cameron Brown, Allan Lockwood, Thomas Berkers, Trey Peni, Daniel Shannon, Zachary McCormack, Samuel Shannon, Larryon Tevita
Goals: Jayden Campbell 7, Lochlan Turnbull 1


---
Redcliffe Dolphins 24 Easts Tigers 22
Venue: Dolphin Stadium
Date: Saturday 10 August 2019 at 2:45pm
Redcliffe Dolphins (24)
Tries: Jayden Newbould, Kyle Barnwell, Will Cahill, Jesse Jennings
Goals: Dylan Briggs 4
Easts Tigers (22)
Tries: Dario Takitaki 2, Joel Hughes 2
Goals: Joel Hughes 3
---
CQ Capras 14 Townsville Blackhawks 14
Venue: Browne Park
Date: Saturday 10 August 2019 at 3:30pm
CQ Capras (14)
Tries: Travis Turnbull, Harrison McIndoe
Goals: Travis Turnbull 3
Townsville Blackhawks (14)
Tries: Zin Zan Martin 2, Daniel Rigano
Goals: Adam Cook 1
---
Northern Pride 24 Norths Devils 28
Venue: Barlow Park
Date: Saturday 10 August 2019 at 4:20pm
Northern Pride (24)
Tries: Dantoray Lui, Beau Berg, Matti Moyle, Jacob McCarthy
Goals: Jai Doherty 4
Norths Devils (28)
Tries: Terrell Sala, Michael McGrath, Daniel Atkinson, Jake Strasser, Sosefo Filipine
Goals: Josh James 4
---
Mackay Cutters 10 Sunshine Coast Falcons 0
Venue: BB Print Stadium Mackay
Date: Sunday 11 August 2019 at 11:30am
Mackay Cutters (10)
Tries: Rayden Burns 2
Goals: Brendan White 1
Sunshine Coast Falcons (0)

---
Wynnum Manly Seagulls 64 Souths Logan Magpies 6
Venue: BMD Kougari Oval
Date: Sunday 11 August 2019 at 12:25pm
Wynnum Manly Seagulls (64)
Tries: Braden Whittaker 2, Jacson Lott 2, Jake Simpkin, Lachlan Perry, David Quinlin, Liam Jones, Harrison Graham, Eliott Vincent
Goals: Reece Hoffman 9, Shannon Gardner 1
Souths Logan Magpies (6)
Tries: Thane Kellermeyer
Goals: Hayden Ryan 1
---
Ipswich Jets 24 Tweed Seagulls 24
Venue: North Ipswich Reserve
Date: Sunday 11 August 2019 at 1:00pm
Ipswich Jets (24)
Tries: Kyle Petersen, Josh Williams, Lisite Hafoka, Josh Johnson
Goals: Josh McCarroll 4
Tweed Seagulls (24)
Tries: Callum Boomer, Nash Geyer, Aidan Kennedy, Ben Thomas
Goals: Callum Boomer 4
---
RELATED: Click here to view the current Hastings Deering Colts ladder.