Results and Scorers:
RESULTS: 2019 Ron Massey Cup Round 21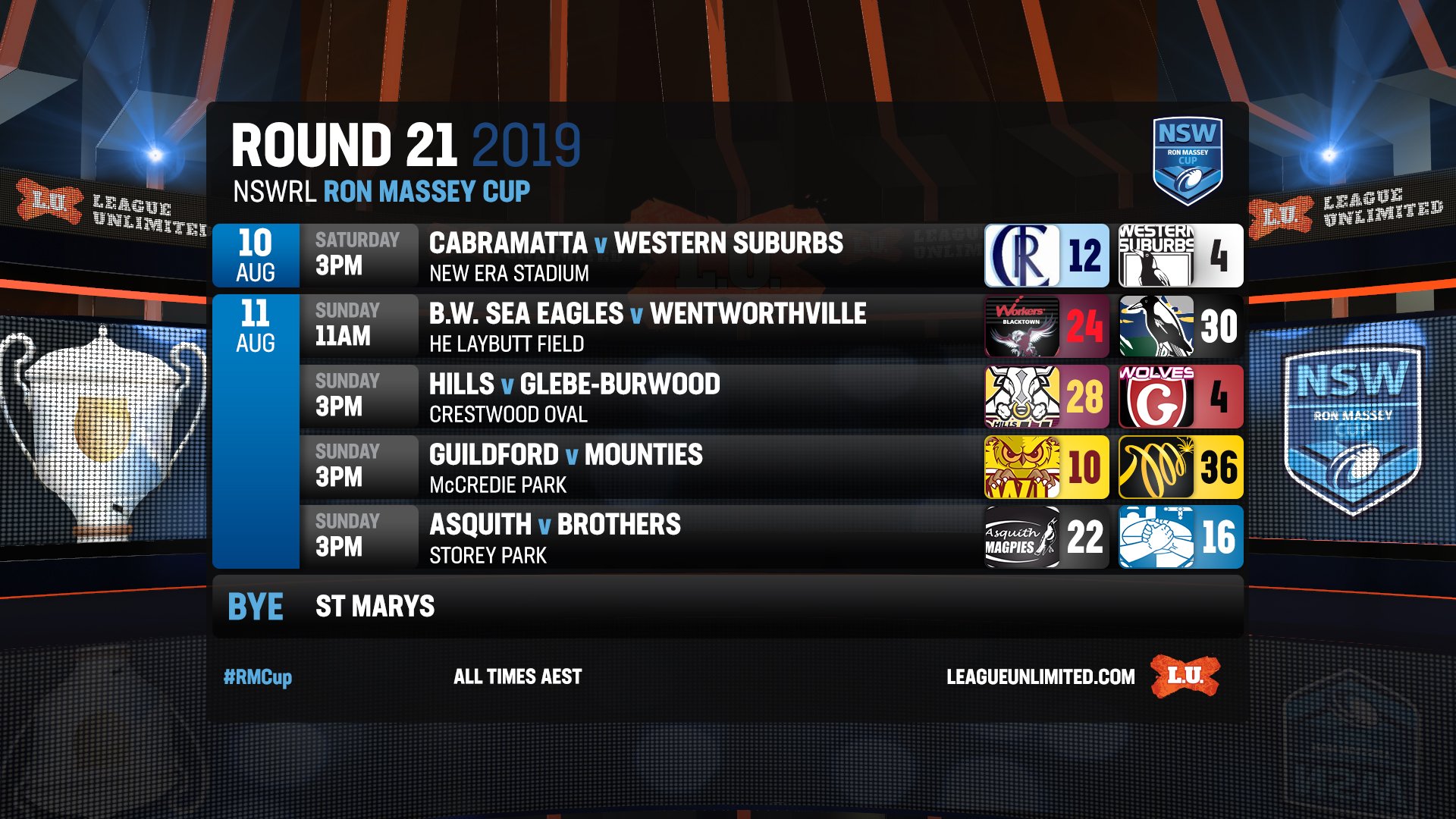 All the results and scorers from the 21st round of the NSWRL Ron Massey Cup.
All listed times are AEST (NSW/QLD/VIC/ACT).
---
RELATED: See the full list of 2019 Ron Massey Cup Draw and Results.
---
Cabramatta Two Blues 12 Western Suburbs Magpies 4
Venue: New Era Stadium
Date: Saturday 10 August 2019 at 3:00pm
Cabramatta Two Blues (12)
Tries: Brandon Finnegan, Falakiko Manu
Goals: Brandon Finnegan 2

Western Suburbs Magpies (4)
Tries: Isaac Rabuatoka

---
Blacktown Workers Sea Eagles 24 Wentworthville Magpies 30
Venue: HE Laybutt Sporting Complex
Date: Sunday 11 August 2019 at 11:00am
Blacktown Workers Sea Eagles (24)
Tries: John Tohi, Jermaine Mati-Leifi, Denzal Tonise, Maile Li
Goals: Kamren Cryer 4
Wentworthville Magpies (30)
Tries: Eparama Navale, Blake Cook, Danny Howard, Beau Henry, Eli Roberts
Goals: Beau Henry 4, Brad Keighran 1
---
Hills District Bulls 28 Glebe Burwood Wolves 4
Venue: Crestwood Oval
Date: Sunday 11 August 2019 at 3:00pm
Hills District Bulls (28)
Tries: Lachlan Walmlsey 2, Daniel Harrison, David Baumann, Corey Kurnoth
Goals: Lachlan Walmsley 4
Glebe Burwood Wolves (4)
Goals: Liam Taylor 2

---
Guildford Owls 10 Mounties RLFC 36
Venue: McCredie Park
Date: Sunday 11 August 2019 at 3:00pm
Guildford Owls (10)
Tries: Taniela Lasalo, Mason Farrell
Goals: Matt Woods 1
Mounties RLFC (36)
Tries: Eddie Aiono 2, Lazarus Brown, Roman Ioelu, Daniel Roberts, Sam Duggan, Steve Tavita
Goals: Sam Duggan 4
---
Asquith Magpies 22 Penrith Brothers 16
Venue: Storey Park
Date: Sunday 11 August 2019 at 3:00pm
Asquith Magpies (22)
Tries: Riley Travers 2, Jordan Remfrey, Josh Fraser, Zach Nicholls
Goals: Mike Pearsall 1
Penrith Brothers (16)
Tries: Matt Whyte, Jokatama Dokonivalu, Arthur Crichton
Goals: Ryan Foaese 2
---
St Marys had a bye this round.
---
RELATED: Click here to view the current Ron Massey Cup ladder.