Team Lists:
TEAMS: QRL U20 Hastings Deering Colts - 2018 Round 9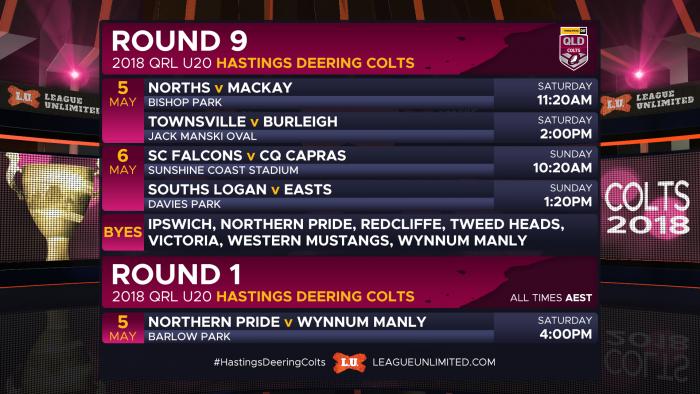 It's Teamlist Tuesday for Round 9 of the 2018 QRL U20 Hastings Deering Colts! Every Tuesday, the full teams for each #HastingsDeeringColts round will be posted right here!
The round includes a catch-up match from Round 1 when Cairns' Barlow Park was unavailable due to cyclonic weather. The Pride-Wynnum clash will be played this Saturday.
All times are listed in AEST (NSW/QLD/VIC/ACT) unless otherwise noted.
Twitter: Follow @LeagueUnlimited
Facebook: Like LeagueUnlimited - NRL & Rugby League News
---
---

1. Kegan Tuhega 2. David Fauid 3. Elliot Vincent 4. Ethan Quai-ward 5. Michael Mcgrath 6. Gerome Burns 7. Thomas Best 8. Eddie Blacker 9. Kobe Hetherington 10. Joseph Mcguire 11. Jack Peoples 12. Jacob Chambers 13. Zane Jones 14. Liam Horne 15. Lionel Johnson 16. Matthew Sila 17. Jake Strasser


1. Jayden O'shannessy 2. Walter Lauenstein 3. Jacob Schill 4. Michael Bell 5. Will Paki 6. Matt Vessey 7. Brendan White 8. Harrison Black 9. Samuel Murphy 10. Blake Faull 11. Ryan Schill 12. Jye Anderson 13. Luke Schulte 14. Tom Irelandes 15. Aiden Beard 16. Garrett Smith 17. Ryan Molloy 18. Harry Green 19. Luke Campbell 20. Leeroy Parter
Match Officials | Referees: Isaac Freeman;Sideline Officials: Jake Stanton, Jack Klein;
---


1. Marshall Hudson 2. Lindsay Kirk 3. Thomas Mccagh 4. Lachlan La Rosa 5. Jake Riley 6. Samuel Martin 7. Adam Cook 8. Solomon Vasuvulagi 9. Sean Mulaney 10. Logan Bayliss-brow 11. Campbell Duffy 12. Thomas Gilbert 13. Jack Glossop 14. Jack Althaus 15. William Fox 16. Lachlan Taylor 17. Jayden Stephens


1. Jaxson Paulo 2. Harley Wood 3. Mikey Williams 4. Reece Tapine 5. Tom Berkers 6. Taine Tuaupiki 7. Harry Fitzhugh 8. Tyler Szepanowski 9. Brodie Hannon 10. Lochlyn Sheldon 11. Kai O'donnell 12. Darius Farmer 13. Sean Garner 14. Te Aranui Doyle 15. Lewis Barnett 16. Arron Shelford 17. Ben Valeni 18. Callum Boomer 19. Reihana Marsh 20. Apiata Noema-matenga 21. Cameron Brown
Match Officials | Referees: Jack Ebert;Sideline Officials: Taylor Worth, Zeke Hansen;
---


1. Augustus Rangihuna 2. Rueben Olive 3. Jack Cornford 4. Hayden Lewis-boyer 5. Dakota Tolhurst 6. Riley Moore 7. Jack Wright 10. Jayden Bishop 9. Caleb Daunt 18. Kyle Waller 11. Rowan Jardine 12. Nicolas Edwards 13. Stephen Buckley 14. Damian Forde-hurrell 15. Matt Moessinger 16. Coby Gibbs 21. Liam Taylor 22. Zac Greene 23. Robert Barwick


1. Blake Moore 2. Wes Sisifa 3. Eli Noovao 4. Zaine Hammond 5. Elijah Anderson 6. Will Neven 7. Jack White 8. Roarke Christensen 9. Jack Pattie 10. Will Mohr 11. Derome Mafi 12. Chalice Atoi 13. Lawson Storey 14. Lachlan Hubner 15. Matt Wilson 16. Z. Tupuono-pomare 17. Ricky Mchugh
Match Officials | Referees: Jake Stanton;Sideline Officials: James Harbridge, Alex Holmes;
---


1. Bj Oates 2. Thane Kellermeyer 3. Tommy Sau 4. Jacob Allick 5. Aaron Watson 6. Kye Oates 7. Dray Ngatuere-wroe 8. Kobe Tararo 9. Blake Scott 10. Rory Ferguson 11. Broughton Clark 12. Amosa Aumua 13. Clayton Mack 14. Alan White 15. Sam Tolu 16. Bruce Ten 17. Jayden Thompson


1. Lorenzo Mulitalo 2. Luke Self 3. Sebastian Winters-chang 4. Nathan Brown 5. James Price 6. Anthony Meleisea-murray 7. Joel Hughes 8. Tiui Misi 9. Bailey Court 10. Jaiyden Hunt 11. Unga Wolske 12. Luke Kisaloff 13. Zac Teevan 14. Jack Stock 15. Bailey Macdonald 16. Joseph Gilmour 17. Brayden Young
Match Officials | Referees: Nik Inthout;Sideline Officials: Jackson McKellar, Isaac Freeman;
---
Round 1

1. Mark Rosendale 2. Lui Lockington 3. Marc Naleba 4. C. Patrick 5. Joshtel Charlie 6. Even Child 7. Jack Campagnolo 8. Wiremu Grieg 9. Patrick Gallen 10. Connor Luhan 11. Ewan Moore 12. T. Casey-douglas 13. Peter Hola 14. Quinlyn Cannon 15. Lee Kennedy 16. Elijah Simpson 17. Dillon Jones 18. Beau Berg 19. Matt Klowss 20. Brandon Jackonia


1. Reece Mckenzie-o'brien 2. Rashaun Denny 3. D. Mcgee 4. Brad Spicer 5. Jalen Tangiiti-turner 6. Shannon Gardiner 7. David Quinlin 8. Brayden Daly 9. Jack Callow 10. Sam Ballinger 11. Lachlan Perry 12. Payden Porter 13. Mitipere Tuatai 14. Zane Wallace 15. Brock Richardson 16. Zayne Holleran 17. Dom Wynyard Te Awa
Match Officials | Referees: Jordan Morel;Sideline Officials: Giulian Fichera, Jay Hardie;