Team Lists:
NSWRL Ron Massey Cup - 2017 Finals Week 1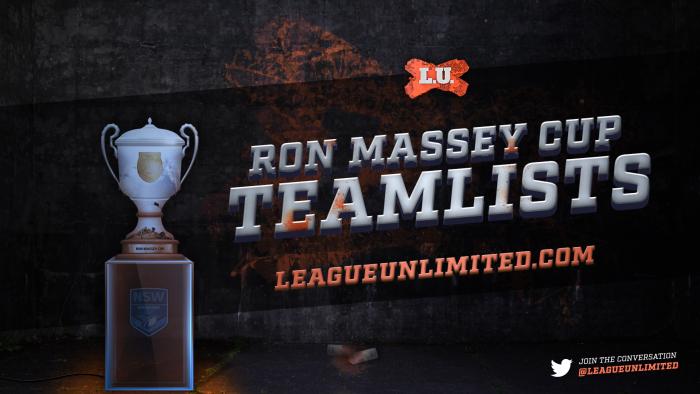 It's Teamlist Tuesday for Week 1 of the 2017 NSWRL Ron Massey Cup Finals Series! Every Tuesday, the full teams for each #RMCup weekend will be posted right here!
All times are listed in AEST (NSW/QLD/VIC/ACT) unless otherwise noted.
Twitter: Follow @LeagueUnlimited
Facebook: Like LeagueUnlimited - NRL & Rugby League News
---
2nd Qualifying Final (2nd v 3rd)

1. J. Rafferty-butfield 2. Danny Barakat 3. James Gammidge 4. Josh Minhinnick 5. Jordan Martin 6. Zac Nicholls 7. Jake Walsh 8. Kurt De Luis 9. Josh Tangitau 10. Taniela Lasalo 11. Jack Morris 12. Atina Gaffa 13. Jordan Latham 15. Craig Field 16. Rhys Armstrong 17. Chris Ve'e 18. Nicholas Kassis 19. Ayden Carling
1. Tom Perrin 2. Danyon Barnes 3. Joshua Fraser 4. Sean Walpole 5. Jayden Horo 6. Feleti Mateo 7. Chad O'Donnell 8. Jamel Hunt 9. Heath L'Estrange 10. Tim Robinson 11. David Baumann 12. Tom Young 13. Jaz Flavell 15. Steve Bristow 16. Mike Filimona 17. Rhys Walpole 19. Lochlan Piper
Match Officials
Referees: Darian Furner;Sideline Officials: Phil Sung, Ben Teague;
---
1st Elimination Final (5th v 8th)

1. Shane Hunt 2. Leslie Ngaualafe 3. Joshua Camroux 24. Harmony Hunt 5. Jayden Wheelhouse 6. Netane Masima 7. Lazarus Brown 8. Dylan McKeown 9. Daniel Vasek 10. Eden Syme 22. Mitch Achurch 12. Matthew Ryan 23. Jarred Farlow 14. Caleb Paiaka Hunt 15. Jaydn Field 16. Treyvon Leuluai 17. Dominic Timoteo 18. Joseph Gardiner 19. Chris Saab

1. Kelepi Manu 2. Shaun Fitzgerald 3. Byron Fruean 4. Amanaki Manu 5. Pattyloma Aupaau 6. Ben Fritz 7. M. El Boustani 8. Brendon Luamanu 9. Shane Kiel 10. Edward Maiava 11. George Tsikrikas 12. Sarafu Fatiaki 13. Jordan Hall 14. Cody Mcniece 17. Skippy Lipano 18. Alan Niulesa 24. George Lolo
Match Officials
Referees: Keiren Irons;Sideline Officials: Patrick Mackay, Lyndsay Packer;
---
1st Qualifying Final (1st v 4th)

1. Mason Cerruto 2. Ratu Tuisese 3. Geoff Daniela 4. Jesse Jackson 5. John Tuliatu 6. Mathew Place 7. Adrian Davis 8. Thomas Romer 9. Shannan Wood 10. Dean Zammit 11. Sonny Tuigamala 12. Joe Vaegaau 13. James Hill 14. Peter Nay 15. Veta Lilomaiava 17. John Faiumu 19. A. Tauiliili Pelesasa

1. Jake Steadman 2. Christopher Taripo 3. Fou Tagilima 4. Henry Raiwalui 5. Shannon Chapman 6. John Kennedy 7. Dylan Izzard 8. Maurice Kennedy 9. Jarrod Brackenhofer 10. Jacob Mayer 11. Steven Tavita 12. Winstone Asotasi 13. Alec Susino 14. Daniel Dole 15. Kurt Robinson 16. Topiese Taufa 17. Matthew Whitehouse 18. Willie Mataka
Match Officials
Referees: Daniel Olford;Sideline Officials: Cameron Mitchell, Nathan Loveday;
---
2nd Elimination Final (6th v 7th)

1. Omar Slaimankhel 2. Matt Utai 4. Addison Demetriou 3. Josh Bergamin 5. Justin Gasovski 6. Matthew Long 7. Manaia Rudolph 21. Will Solway 9. Jamie Clark 10. Mitchell Mamary 16. Ahmad Ellaz 11. David Minute 8. Visesio Setefano 12. David Minute 13. Adrian Haangana 17. Elias Sukkar 18. Siaopo Tagaloa

1. Latrel Schaumkel 2. Samiu Latu 3. Joseph Rokoqo 4. Raymond Leosa 5. Harrison O'toole 6. Scott Williams 7. Ryan Millard 8. Jokatama Dokonivalu 9. Kurt Aldridge 10. Charlie Faingaa 11. Kemueli Seru 12. Jacob McCudden 13. Nathan Leatigaga 14. Jackson Garlick 15. James Mirceski 16. Jesse Offen 20. Francis Laloua-Tui 24. Maverick Tweedie 25. Jeremy Safi
Match Officials
Referees: Damien Briscoe;Sideline Officials: Phil Sung, Jimmy Oliveira;
---