Team Lists:
NSWRL Ron Massey Cup - 2017 Preliminary Finals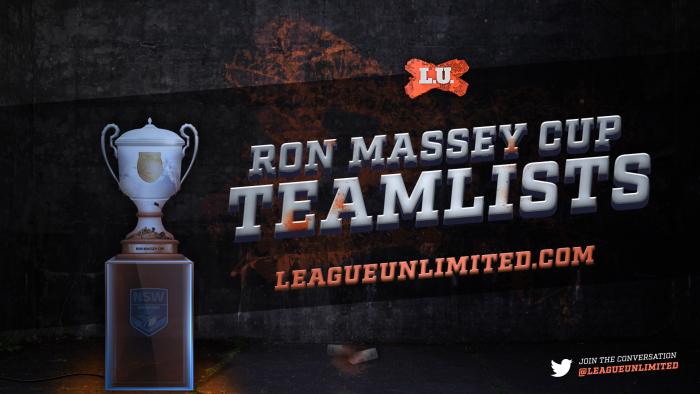 It's Teamlist Tuesday for Preliminary Finals of the 2017 NSWRL Ron Massey Cup! Around 5pm AEST every Tuesday, the full teams for each #RMCup clash will be posted right here!
All times are listed in AEST (NSW/QLD/VIC/ACT) unless otherwise noted.
Twitter: Follow @LeagueUnlimited
Facebook: Like LeagueUnlimited - NRL & Rugby League News
---
Second Prelimimary Final

1. J. Rafferty-butfield 22. Danny Barakat 3. James Gammidge 4. Josh Minhinnick 5. Jordan Martin 6. Zac Nicholls 7. Jake Walsh 8. Kurt De Luis 9. Josh Tangitau 10. Taniela Lasalo 11. Jack Morris 12. Atina Gaffa 13. Jordan Latham 14. Nicholas Kassis 15. Blake Cook 16. Rhys Armstrong 17. Chris Ve'e 18. Craig Field

1. Shane Hunt 2. Nicholas Okladnikov 3. Joshua Camroux 24. Harmony Hunt 5. Jayden Wheelhouse 6. Netane Masima 7. Lazarus Brown 8. Dylan McKeown 9. Daniel Vasek 10. Joseph Gardiner 22. Mitch Achurch 12. Matthew Ryan 23. Jarred Farlow 14. Treyvon Leuluai 15. Jaydn Field 16. Dominic Timoteo 17. Eden Syme 18. Jake Carlaw
Match Officials
Referees: Ryan Jackson;Sideline Officials: Darren Burtenshaw, Ben Teague;
---
First Preliminary Final

1. Alan Eisenhuth 2. Ratu Tuisese 3. Geoff Daniela 4. Jesse Jackson 5. John Tuliatu 6. Mathew Place 7. Adrian Davis 8. Thomas Romer 9. Shannan Wood 10. Cowen Epere 11. James Hill 12. Joe Vaegaau 13. Nathan Smith 15. Veta Lilomaiava 16. Aaron Pene 19. A. Tauiliili Pelesasa 22. Sonny Tuigamala

1. Omar Slaimankhel 2. Matt Utai 4. D'Rhys Miller 3. Josh Bergamin 5. Rabieh El-zbaidieh 6. Addison Demetriou 7. Manaia Rudolph 10. Mitchell Mamary 9. Jamie Clark 8. Visesio Setefano 12. Ahmad Ellaz 11. David Minute 13. Adrian Haangana 14. Henry Ah Sam 15. David Minute 16. Siaopo Tagaloa 17. Elias Sukkar 21. Will Solway 23. Jack Hawkins
Match Officials
Referees: Damien Briscoe;Sideline Officials: Mitchell Stone, Joseph Eid;
---