Team Lists:
TEAMS: NSWRL Sydney Shield - 2018 Round 4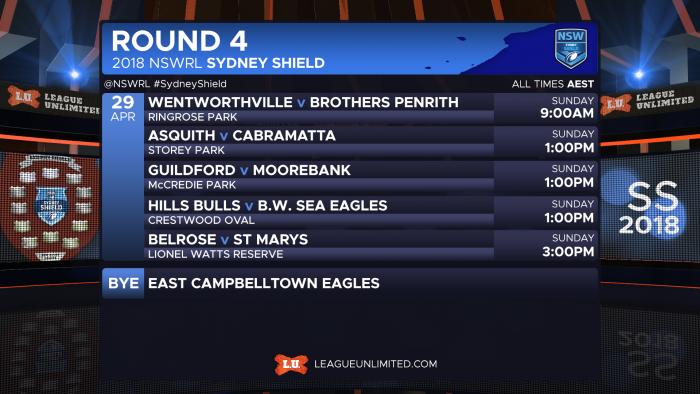 It's Teamlist Tuesday for Round 4 of the 2018 NSWRL Sydney Shield! Every Tuesday, the full teams for each #SydneyShield round will be posted right here!
All times are listed in AEST (NSW/QLD/VIC/ACT) unless otherwise noted.
Twitter: Follow @LeagueUnlimited
Facebook: Like LeagueUnlimited - NRL & Rugby League News
---
---


Team list not yet announced.


1. Masi Paulo Fidow 2. Jordan Finau 3. Nicholas Betar 4. Michael Tuavao 5. Joshua Kirin 6. Brendan Hands 7. Liam Devlin 8. Eddie Ene 9. Nathan Douet 10. Josiah Tulua 11. Henry Tuiafiso 12. Reece Manning 13. Jack Lucas 14. PJ Vaigalepa-Tevaga 15. Bradley Graham 16. Jason Cookson 17. Thomas Sewell 18. Joshua Norton
Match Officials | Referees: Nathan Loveday;Sideline Officials: Dean Tyler, Mitchell Stone;
---


1. Hayden Mcwilliam 2. Brandon Janjic 3. Sam Shepherd 4. Liam Walker 5. Eric Ruka 6. John Dunn 7. Brock Pelligra 15. Alex Laboulet 9. Joel Bradford 10. Pati Eni 11. Jp Hannawe 12. Matthew Morgan 13. Jacob Curran 14. Andres Rossini 16. Mark Alford 17. Ben Mitchell 25. Dakota Cooke-martin


1. Jackson Whitby 2. Sione Pelea Folau 3. Kyle Saunders 4. Skippy Lipano 5. Peter Scanlan 6. Caibryn Keating 7. Debraska Rikiriki 8. Anson Naati 9. Luke Chalkley 10. Edward Maiava 11. Sione Kaiveleta 12. Matthew Hammond 13. Kalausa Leha 15. Thomas Menzies 19. Nick Lisoff 20. Mark Griffiths 21. David Nurthen 26. Boneventura Litara
Match Officials | Referees: Bradley Kiehne;Sideline Officials: Joseph Eid, Andrew Gilchrist;
---


1. Ngangarra Barker 2. Jale Seninawanawa 3. Lester Enoka Time 4. Jack Goode 5. Jeremy Marshall 6. Gibson Popoali'i 7. Riley Travers 18. Niko Apelu 9. Shae Jarvis 13. Robert Tuliatu 11. Vinni Ngaro 15. Tuki Jackson 10. Mike Filimona 12. Awishkar Gnyawali 16. Robert Williams 21. C. Browne-higginbotham 24. Feao Lavemai


1. Jason Jana 2. Jaimon Wormleaton 25. Anthony Raheb 4. Auzzie Tuwhangai 5. Siaosi Keates 6. Tyler Seymour 7. Liam O'brien 3. Rayne Horrigan 9. John Martin 23. Tesimoni Taliauli 22. Kurt Atkinson 15. Ben Whitehouse 13. Kisi Taulani 14. Jayden Yates 16. Cameron Davis 20. Logan Gladdish 21. Josh Maree
Match Officials | Referees: Tom Cambourn;Sideline Officials: Luke Heckendorf, Cameron Mitchell;
---


1. Cameron Eyles 2. Tyler Leuluai 4. Yahia Masri 3. David Oxley 5. Jeremy Faleono 6. Nathan Masima 7. Robert Longbottom 30. John Leapai 9. Alec Bush 10. Caleb Kasiano 11. Mason Mccarthy 12. Caleb Paiaka Hunt 13. Julian King 14. Leslie Ngaluafe 15. Samuel Eisenhuth 16. Irie Brosnahan-papuni 17. Jake Sleiman


2. Alvin Maungatti 3. Amosa Manu 4. Corey Matthews 5. Malachi Morgan 6. Jake Horton 7. Nikau Williams 8. Jason Tuuala 9. Brad Nolland 10. John Salatielu 25. Jake Kamire 12. Jacob Winterstein 13. Daniel Sakisi 14. Christian Tarabey 15. Pule Sua 16. Spike Teio 17. Jack Gordon 18. Jayden Aramoana 19. Logan Hauff
Match Officials | Referees: Tim Hannon;Sideline Officials: Stephen Bourke, Patrick Mackey;
---


1. Richie Goodwin 2. James Morgan 3. Isaac Kassis 4. Beau Abrahams 5. Charlie Buttrose 6. Daniel Paterson 7. Nick Ferris 8. Nicholas Bilsborough 9. Andrew Layton 10. Andrew Halstead 11. Daniel Martin 12. Cody Abrahams 13. Marcel Ferris 14. Chris Williams 15. John Downes 18. Damien Lawler 23. Marvin Slavin


1. Marlon Ritchie 2. Ben Ernest 3. John Tuliatu 4. Leviticus Burgess 5. Allan Fitzgibbon 6. Isaac Thompson 7. Jake Toby 8. Thomas Romer 9. Meni Luke 10. Peter Betros 11. Jesse Abbott 12. Alan Niulesa 13. Shannan Wood 14. Ray Maroun 15. Antonio Faguuaea 16. James Owen 17. Ben Cartwright 18. Ryan Jeffery
Match Officials | Referees: Cameron Paddy;Sideline Officials: Lyndsay Packer, Mathew Treneman;
---