Team Lists:
The Qualifiers Super 8s - 2017 Round 1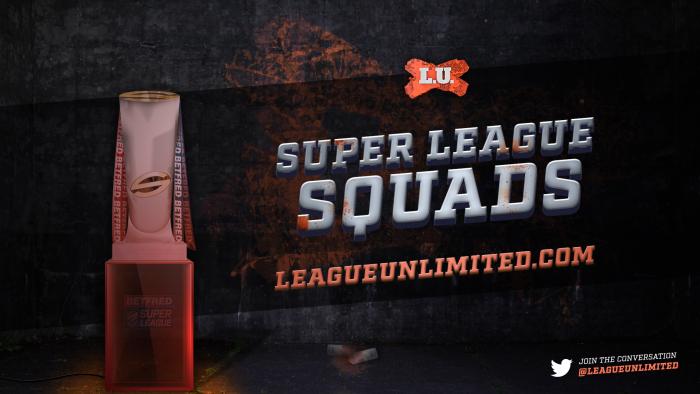 Get the 19-man squad lists and match officials for the first round of the 'middle eight' - The Qualifiers Super 8's which kicks off this weekend in the UK.
The top three clubs after seven rounds in this group qualify for the 2018 Super League season, with 4th and 5th playing off for the final spot in next year's competition on October 1 in the "Million Pound Game".
All times are listed in AEST (NSW/QLD/VIC/ACT) unless otherwise noted.
Twitter: Follow @LeagueUnlimited
Facebook: Like LeagueUnlimited - NRL & Rugby League News
---

3. Chris Bridge 10. Jack Buchanan 18. Greg Burke 13. Hep Cahill 23. James Chapelhow 40. Rangi Chase 32. Danny Craven 15. Gil Dudson 1. Rhys Hanbury 11. Chris Houston 31. Jordan Johnstone 20. Manase Manuokafoa 17. Stefan Marsh 6. Joe Mellor 25. Tom Olbison 4. Charly Runciman 2. Corey Thompson 9. Lloyd White 12. Matt Whitley

4. Ryan Atkins 6. Kevin Brown 9. Daryl Clark 14. Mike Cooper 17. Dom Crosby 15. Brad Dwyer 35. Peta Hiku 8. Chris Hill 12. Jack Hughes 24. Benjamin Jullien 16. George King 2. Tom Lineham 22. Declan Patton 23. Joe Philbin 1. Stefan Ratchford 5. Matty Russell 18. Andre Savelio 10. Ashton Sims 27. Morgan Smith
Match Officials
Referees: Phil Bentham;Sideline Officials: Warren Turley, John McMullen;
---

10. Andrew Bostock 7. Anthony Thackeray 15. Brad Tagg 31. Connor Farrell 27. Daniel Igbinedion 8. Darrell Griffin 14. Frankie Mariano 1. Ian Hardman 21. James Lockwood 12. John Davies 23. Josh Hardcastle 9. Keal Carlile 6. Kyle Briggs 5. Luke Briscoe 19. Matty Wildie 4. Misi Taulapapa 13. Richard Moore 30. Sam Brooks 18. Scott Turner
16. Antoni Maria 17. Atelea Vea 20. Ben Reynolds 11. Cory Paterson 33. Daniel Mortimer 15. Danny Tickle 12. Glenn Stewart 35. Greg Richards 18. Greg Mcnally 13. Harrison Hansen 7. Josh Drinkwater 29. Lachlan Burr 21. Liam Hood 31. Matty Fleming 5. Matty Dawson 9. Micky Higham 1. Mitch Brown 34. Samisoni Langi 23. Sam Hopkins
Match Officials
Referees: James Child;Sideline Officials: Clint Sharrad, Gareth Jones;Video Referees: Phil Bentham;
---

1. Tony Gigot 3. Krisnan Inu 4. Brayden Wiliame 6. Luke Walsh 7. Richie Myler 8. Sam Moa 9. Paul Aiton 10. Remi Casty 11. Louis Anderson 12. Justin Horo 13. Greg Bird 14. Julian Bousquet 15. Ben Garcia 17. Jason Baitieri 21. Iain Thornley 22. Lucas Albert 25. Thibault Margalet 32. Romain Navarrete 33. Lewis Tierney

14. Andy Ackers 7. William Barthau 15. Eddie Battye 34. John Boudebza 20. Michael Channing 22. Matt Davis 18. Ben Evans 23. Matty Gee 3. Ben Hellewell 10. Mark Ioane 1. Elliot Kear 13. Jay Pitts 19. Api Pewhairangi 16. Junior Roqica 6. Jarrod Sammut 8. Tom Spencer 24. Alex Walker 36. Sam Wilde 2. Rhys Williams
Match Officials
Referees: Chris Kendall;Sideline Officials: David Sharpe, Paul Marklove;
---
3. Thomas Minns 4. Liam Salter 5. Ryan Shaw 7. Jamie Ellis 8. Nick Scruton 9. Shaun Lunt 11. Maurice Blair 13. Danny Addy 18. Zach Dockar-clay 19. George Lawler 20. Matty Marsh 21. Robbie Mulhern 22. Andrew Heffernan 32. Kieren Moss 33. Ben Kavanagh 36. Justin Carney 37. Lee Jewitt 38. Chris Atkin 39. Mose Masoe

16. Ed Barber 14. Ryan Boyle 38. Will Calcott 8. Mitch Cahalane 37. Brandon Douglas 11. Shane Grady 12. Simon Grix 4. Ben Heaton 1. Ben Johnston 9. Ben Kaye 26. Alex Mammone 17. Brandon Moore 20. Elliot Morris 6. Scott Murrell 2. Will Sharp 39. Michael Sio 3. Steve Tyrer 21. James Woodburn-hall 23. Rob Worrincy
Match Officials
Referees: Liam Moore;Sideline Officials: Jack Smith, Geoffrey Poumes;
---