St George Dragons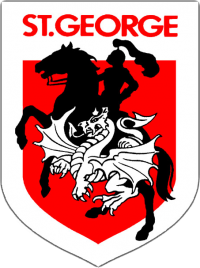 Players
Latest Club News

April 14th 2011 08:00pm by Paul Mitry
LEAGUEUNLIMITED'S Paul Mitry reckons Monday Night Football will be a walkover when the Rabbitohs host the Dragons. Who'll trample who?

April 7th 2011 07:45am by Catalans Dragons Media
THE Dragons, who only won away games since the season start, look ahead a second major win in a row this Friday.
March 31st 2011 04:27pm by NSWRL

March 27th 2011 01:49pm by Hallatia
ON the back of their upset at the hands of perennial cellar dwellers Cronulla, the Dragons came out to MtSmart Stadium with intent to upset the New Zealand faithful, taking down the Warriors 25 - 12.

June 4th 2010 12:01am by Paul Mitry
LEAGUEUNLIMITED'S newest regular columnist previews this weekends clash between the Panthers and the Knights
Subscribe to our eNewsletter
Keep up to date with all the happenings in the world of Rugby League with our free eNewsletter!
Facebook
FULL TIME at Pirtek Stadium, with the Eels defeating the Sea Eagles 22-12.

See how it all unfolde...

20 hours ago - 2 Likes

HALF TIME at Pirtek Stadium, and the Sea Eagles lead the Eels 12-0.

Follow all the action in our ...

21 hours ago

KICK OFF in just a few minutes at Pirtek Stadium in the clash between the Eels and Sea Eagles.

Jo...

22 hours ago

FULL TIME at ANZ Stadium, with the Bulldogs defeating the Tigers 30-10.
CROWD: 9,877

See how it ...

2 days ago

HALF TIME at ANZ Stadium, and the Bulldogs lead the Tigers 24-0.

Follow all the action in our liv...

2 days ago - 1 Likes