Auckland Rugby League
Click here to view Auckland Rugby League 2016
The Auckland Rugby League (ARL) is the governing body for the sport of rugby league in the Auckland Region of New Zealand. It is responsible for rugby league in the region, including both club and school rugby league.
The Auckland Rugby League was once recognised by England's Northern Rugby Football Union as New Zealand's governing body for the game of rugby league.
In 2009, the ARL celebrated its centenary.
Contents
1

Club competitions

1.1

Junior clubs

1.2

Clubs

1.3

Defunct or merged clubs

1.4

Senior club trophies

1.5

Roope Rooster

2

National competitions

2.1

Lion Red Cup

2.2

Bartercard Cup/Premiership

3

Representative team

4

Auckland Warriors

5

Auckland Vulcans

6

See also

7

References

8

External links
Club competitions
For a full list of all past winners go to Auckland Rugby League club trophies.
Auckland's premier competition is the Fox Memorial Shield, competed for by Premier One teams. This has been contested since 1910. There is a division below the Fox Memorial named the Sharman Cup which is fought for by Premier Two teams. The winner of the Sharman Cup is promoted to the Fox Memorial for the following season, which the last placed team from the Fox Memorial is relegated.
The winner of the round robin in the premier One division wins the Rukutai Shield. Other key trophies include the Roope Rooster, which has been competed for since 1915, while a Champion of Champions was also awarded from 1925 until recent decades. Since 2006 the Roope Rooster has been contested as a Challenge trophy.
Junior clubs
Other clubs only run junior programmes. These include Kaipara Lancers, Rodney Rams, Pukekohe Pythons & Tuakau, Waiheke Rams and Waiuku.
Clubs
Bay Roskill Vikings, East Coast Bays Barracudas, Ellerslie Eagles, Glenfield Greyhounds Glenora Bears, Hibiscus Coast Raiders, Howick Hornets, Kaipara, Mangere East Hawks, Manukau Magpies, Manurewa Marlins, Marist Saints, Mount Albert Lions, Mount Wellington Warriors, New Lynn Stags, Northcote Tigers, Northshore/Navy, Otahuhu Leopards, Otara Scorpions, Pakuranga Jaguars, Papakura Sea Eagles, Papatoetoe Panthers, Point Chevalier Pirates, Ponsonby Ponies, Pukekohe Pythons Richmond Bulldogs, Rodney Rams, Te Atatu Roosters, Tuakau, Waiheke Rams, Waitemata Seagulls, Waiuku.
Defunct or merged clubs
City and Newton merged in the early 1900s. City Newton later merged with Pt Chevalier to become 'City-Pt Chevalier'. Later the two clubs separated again, and since then City Newton folded in 2004, while Pt Chevalier have turned their fortunes around and won the Fox Memorial in 2014. Ponsonby and Maritime merged to become Ponsonby-Maritime (now known simply as Ponsonby Ponies). Navy merged with North Shore to become 'Navy/North Shore'. Other teams to cease include Grafton, Devonport, Western United, Eastern United, Southern Districts and Northern Districts.
Senior club trophies
The Fox Memorial is awarded to the grand final winner in Premier One. In 2015 it is a two-round, 10 team Premiership culminating in a top 4 play-off series. The Sharman Cup is awarded to the winner of the 'second division'. In 2015 it will be competed for by 15 teams and played over 18 weeks, culminating in a top eight play-off series.
For a list of the major trophies awarded for in Auckland club Rugby League go to Auckland Club Rugby League Trophies (this includes player awards as well as team awards).
Fox Memorial
Roope Rooster
Sharman Cup
2009
Mt Albert
Mt Albert, Northcote, Otahuhu
Howick
2010
Otahuhu
Otahuhu
East Coast Bays
2011
Howick
2012
Mt Albert
2013
Pt Chevalier
2014
Pt Chevalier
Otara Scorpions
Roope Rooster
In 2006 the Roope Rooster was successfully defended eleven times by the Mt Albert Lions.
| Year | Holders |
| --- | --- |
| 2006 | Mt Albert (11) |
| 2007 | Te Atatu (3) (17 March - 9 June), Richmond (3) (9 June - 8 July), East Coast Bays (8 July - 2008) |
| 2008 | Northcote, Mt Albert |
| 2009 | Mt Albert, Northcote (? - 16 August), Otahuhu (16 August - present) |
National competitions
Lion Red Cup
When the Lion Red Cup was started in 1994 Auckland was originally represented by four teams. The Auckland City Vulcans, The Waitakere City Raiders, The Counties Manukau Heroes and the North Harbour Sea Eagles. In 1995 the Vulcans were replaced by the Auckland Warriors Colts. In 1996 Auckland City did not compete.
North Harbour won the competition in 1994 & 1995.
Counties-Manukau won the competition in 1996 and was runner up in 1994.
Auckland was runner up in 1995 & Waitakere was runner up in 1996.
Bartercard Cup/Premiership
Previously Auckland has had a large representation in the Bartercard Cup, however in its final seasons before it ceased to run Auckland was represented by the Auckland Lions, Waitakere Rangers, Harbour League, Counties Manukau Jetz and the Tamaki Titans.
The Mt Albert Lions won the competition in 2002, 2004 & 2005.
The Hibiscus Coast Raiders won the competition in 2001.
The Auckland Lions won the competition in 2006 & 2007.
With the folding of the Bartercard Cup, Auckland rugby league team was awarded a place in the new six-team Bartercard Premiership, beginning in 2008.
Representative team
Main article: Auckland rugby league team
Auckland has played against several touring teams over the years though once the Auckland Warriors started playing in 1995 it diluted the standard of the side and they have not played against full international sides in recent years.
Auckland famously beat Australia, England and France in the space of 21 days in 1977. A feat which the New Zealand Warriors commemorated by wearing replica strips in their Round 24 clash with the Manly Sea Eagles on 26 August 2007, when the Warriors won 36-14 in front of a packed Mount Smart Stadium.
Auckland also beat the touring Australian side in 1989 by 26 points to 24 at Carlaw Park.
Auckland represented New Zealand for most years in the Australian midweek competition (see Amco Cup) in the 1970s and 1980s. Central Districts, Canterbury, Wellington, and South Island also fielded teams [1].
Auckland representative sides traditionally wear a blue jersey with a white double 'V', in the same style of the New Zealand Kiwis jersey but with blue instead of black, this is still the jersey worn by the Auckland Vulcans NSW Cup team (see below).
Auckland Warriors
Auckland Rugby League originally owned the Auckland Warriors (now known as New Zealand Warriors) when they were entered into the 1995 Winfield Cup, run by the Australian Rugby League. The club is based at Ericsson Stadium. By 1998 the club had yet to experience any success and so was sold to a consortium including the Tainui tribe.
Auckland Vulcans
Run by the Rugby League Development Foundation, the Auckland Vulcans participate in the NSW Cup. In 2007 they were known as the Auckland Lions.
See also
National Rugby League
New Zealand Rugby League
Rugby league in New Zealand
References
External links
Rugby league in New Zealand

Federations
Representative teams

Men's ("Kiwis")
Women's ("Kiwi Ferns")
Junior
Māori
Residents

New Zealand Kiwis
Zones

Northern
Auckland
Counties-Manukau
Upper Central
Mid-Central
Wellington
Southern

Districts

Auckland (team)
Bay of Plenty (team)
Canterbury (team)
Coastline (team)
Gisborne Tairawhiti (team)
Manawatu (team)
Northland (team)
Otago (team)
Southland (team)
Hawke's Bay (team)
Taranaki (team)
Tasman (team)
Waikato (team)
Wellington (team)
West Coast (team)

Australian competition teams

New Zealand Warriors (NRL)
Auckland Vulcans (defunct)
Auckland Lions (defunct)

Competitions

National Competition
Rugby League Cup
Bartercard Premiership (defunct)
Bartercard Cup (defunct)
Lion Red Cup (defunct)

New Zealand
domestic seasons

1908
1909
1910
1911
1912
1913
1914
1915
1916
1917

1918
1919
1920
1921
1922
1923
1924
1925
1926
1927

1928
1929
1930
1931
1932
1933
1934
1935
1936
1937

1938
1939
1940
1941
1942
1943
1944
1945
1946
1947

1948
1949
1950
1951
1952
1953
1954
1955
1956
1957

1958
1959
1960
1961
1962
1963
1964
1965
1966
1967

1968
1969
1970
1971
1972
1973
1974
1975
1976
1977

1978
1979
1980
1981
1982
1983
1984
1985
1986
1987

1988
1989
1990
1991
1992
1993
1994
1995
1996
1997

1998
1999
2000
2001
2002
2003
2004
2005
2006
2007

2008
2009
2010
2011
2012
2013
2014
2015
2016

2017
Representative Teams

Akarana Falcons (NC)
Counties Manukau Stingrays (NC)

2016 Fox Memorial Teams:

Glenora Bears
Papakura Sea Eagles
Mangere East Hawks
Howick Hornets
Northcote Tigers
Mount Albert Lions
Marist Saints
Otahuhu Leopards
Point Chevalier Pirates
Richmond Rovers

2016 Sharman Cup/
Phelan Shield Teams:

Otara Scorpions
Manukau Magpies
Te Atatu Roosters
East Coast Bays Barracudas
Hibiscus Coast Raiders
Bay Roskill Vikings
Manurewa Marlins
Papatoetoe Panthers
Ellerslie Eagles
New Lynn Stags
Mount Wellington Warriors
Navy/North Shore Dolphins
Pakuranga Jaguars
Ponsonby Ponies
Pukekohe Pythons
Glenfield Greyhounds
Waitemata Seagulls

Defunct Teams:

NSW Cup: Auckland Vulcans
BCC: Auckland Lions
Waitakere Rangers
Harbour League
Counties Manukau Jetz
Tamaki Titans
Marist Richmond Brothers
Eastern Tornadoes
LRC: Auckland City Vulcans
North Harbour Sea Eagles
Waitakere City Raiders
Counties Manukau Heroes
Other: City Newton Dragons

Other:

Auckland Warriors
Carlaw Park
Auckland Rugby League club trophies
Professional sports teams based in Auckland

Association Football

NZFC

Auckland City
Waitakere United

Basketball

ANBL

New Zealand Breakers

NBL

Auckland Pirates
Harbour Heat
Super City Rangers

Cricket

NZC (Men)

Auckland Aces

NZC (Women)

Auckland Hearts

Netball

ANZ Championship

Northern Mystics

Rugby League

NRL / NYC

New Zealand Warriors

Albert Baskerville Trophy

Akarana
Counties Manukau

Rugby Union

Super Rugby

Blues

ITM Cup

Auckland
Counties Manukau
North Harbour
Competition Teams
Latest Competition News
COAL & Allied Newcastle Knights Head Coach Rick Stone has named his team to take on the Fiji Bati at EnergyAustralia Stadium on Sunday 13 February.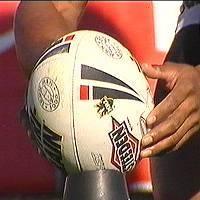 WINGER punted after failing to report for duty...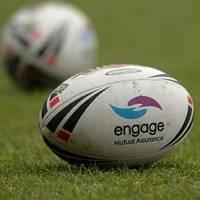 ALL the action from Round 26 in the UK.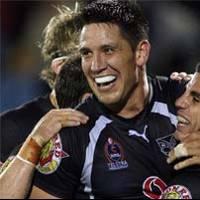 THE New Zealand Warriors have defeated the Penrith Panthers 24-20 at CUA Stadium this evening.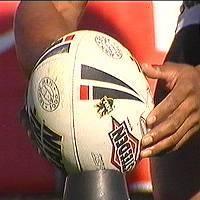 ALL the news ahead of tonight's games in Sydney and Newcastle...