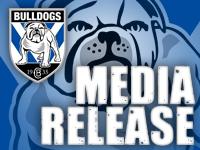 All Club Members Invited to Farewell Bobcat

The Canterbury-Bankstown Bulldogs are inviting all NRL Club Members to join in the farewell for long serving Bulldogs captain Andrew Ryan this Sunday at ANZ Stadium.

Members of all 16 Clubs will be allowed entry to Sunday's match against the Canberra Raiders, which kicks off at 2pm and doubles as the final NRL match for Canberra skipper Alan Tongue.

Earlier this month, Ryan announced that he will be retiring at the conclusion of the 2011 season, with Sunday's match to be his last home game for the Bulldogs and the 291st match of his highlight-laden career.


---