Australia hang on to beat New Zealand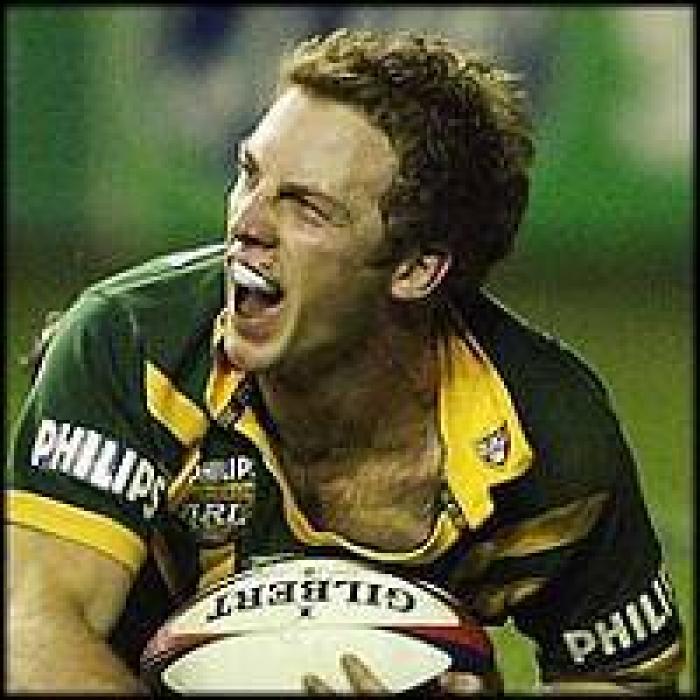 AAMI Park has opened up in amazing fashion with Australia holding on to gain a respectable 12-8 victory over a fighting New Zealand outfit. Far from the usual lob-sided matches that come this time of year, the two sides fought out a physical contest in rainy weather, scoring two tries each. Even though the match ended in sloppy circumstances, nobody can deny it was great to see a close Test to start the representative season.

The match began with the usual expectation of the two sides going physically at each other. Neither side let up for the opening twenty, with big shots combining with some silly penalties. The performance of referee Richard Silverwood wasn't the prettiest, but the two sides were able to control their destiny.

After Adam Blair conceeded a 32nd minute penalty, Jamie Lyon opened the scoring with a penalty goal, giving Australia a 2-0 advantage. Right before the break, Dragon Brett Morris took a Lockyer grubber to score yet another representative try, putting Australia in a 6-0 half-time lead.

The second half started with slop as the mistakes and penalties came flowing. A highlight came roughly ten minutes into the half with a mercurial Thaiday offload sending Morris over for his second.

The New Zealand side stayed positive and continued to fight. Following a Nightingale try that was lead on by a series of long passes, Sa'u went over, setting up an exciting finish. Two missed conversion attempts by Isaac Luke cost the New Zealanders dearly, as it remained the final margin.

The New Zealanders set themselves up a chance of scoring in the final set, but a mistake from Perrett ended the match, Australia getting away with the first win of the season.




Match Details
Australia 12 defeated New Zealand 8
International - Test Match - Friday May 7, 2010 8:00pm
Venue: AAMI Park, Melbourne
Referee: Richard Silverwood
Video Referee: Bill Harrigan and David Pakieto
Touch Judges: Paul Holland and Adam Burns
Crowd: 29,442
Halftime: Australia 6 New Zealand 0


Leagueunlimited.com players of the match:
3 Points - Greg Inglis
2 Points - Bronson Harrison
1 Point - Sam Thaiday


AUSTRALIA (12)
Tries: Brett Morris (2)
Conversions: Jamie Lyon (1/2)
Penalty Goals: Jamie Lyon (1/1)

NEW ZEALAND (8)
Tries: Junior Sau, Jason Nightingale
Conversions: Isaac Luke (0/2)


LeagueUnlimited.com Live Commentary Well, welcome to the International Season for 2010. Australia will battle New Zealand tonight in the annual one-off match. Australia are going in as heavy favourites.
We're about to get underway.
The anthems have been beautifully sung, the Haka is following.
Players taking their positions, here we go!
Kick-off, Rapira with the first run.
1 min: Early penalty to Australia.
4 min: Both sides involves in some fierce opening minutes.
6 min: A run from Nightingale lights up the crowd, Luke attempting some razzle dazzle in this set too.
7 min: Six more to come, the Kiwis are 10 metres out.
7 min: Keiran Foran with a beautiful short ball which sadly went forward.
10 min: New Zealand making plenty of metres, Matai getting up crook from a tackle.
10 min: A bomb goes high, Hayne misses it, knocks on and it seems that Benji Marshall has done the same in attempting to ground it.
11 min: Hohaia spills it on the first.
15 min: Fifteen down. Can the Kiwis keep up the intensity, or will this be another sad one-off?
15 min: As I speak, Inglis makes a big break. A chip goes into the in-goal, turns into a line drop out.
18 min: Slater trying his hardest to get out of the in-goal, following a chip that literally landed in the corner. Line drop out on it's way.
20 min: New Zealand lose it, scrum to Australia, quickly, another error from Australia! New Zealand on the attack again!
27 min: Multiple sets near the line and Australia are unable to get over. They now concede a penalty.
29 min: Cameron Smith is down, as the weather continues to look horrid.
29 min: Smith coming off, Gidley going on.
31 min: Hohaia with another simple error.
32 min: Blair concedes a penalty, Australia will take two here.
32 min: PENALTY GOAL
No mistake here. Zeb Taia off with injury.
Australia 2-0
36 min: Kiwis with numerous raids near the line here, spreading the ball.
37 min: Harrison taken into touch, great work from Australia.
39 min: Now Billy Slater is down, following a massive Matai hit.
39 min: Matai on report from that one. So Australia with a set of six coming up, since the tackle was high and late.
39 min: TRY
No surprise who scores first here. A lovely kick from Lockyer finds the magical finisher, and Australia finally have the first try.
Australia 6-0
40 min: There's the break!
40 min: Second half underway.
48 min: Australia with a possible try, helping by a splendid Thaiday offload.
48 min: TRY
Trytime! A great set of passing saw Thaiday take two defenders on. Whilst going over the sideline, he offloaded, Morris putting the ball down to score.
Australia 12-0
50 min: Australia with another set of six, Nightingale diffusing the situation in his own way, toeing the ball in-goal before grounding it out.
54 min: New Zealand close to the line, Harrison getting close!
54 min: Foran missing the pass, going back to retrieve it and is tackled. Bad end.
57 min: New Zealand still in this, putting pressure on.
57 min: New Zealand still in this, putting pressure on.
61 min: Australia's raid comes to an end, thanks to Hohaia taking a bomb. Thank goodness he held on this time.
65 min: After the referee held a scrum, changing his mind, Australia knock on close to the line. New Zealand, coming off a penalty, making good ground.
67 min: TRY
The Kiwis reaping the efforts with their opening try. Great long passes from about three players set Nightingale on his way.
Australia 12-4
71 min: That kick will haunt Luke, Kiwis still eight behind.
73 min: New Zealand penalised for putting Billy Slater in-goal after being tackled.
74 min: New Zealand through, near the line, Perrett kicks through but Slater saves the day. New Zealand will get it back near the line. Here we go!
75 min: Another penalty putting further pressure on Australia, they'll be loving that lead.
76 min: Left-to-right from the Kiwis.
77 min: TRY
And it works, Sa'u finding a gap, squeezing through to put New Zealand within touch. Strong work! Luke missing a fairly easy kick.
Australia 12-8
80 min: The Kiwis making plenty of metres, here they come...wait...Perrett has put his foot over the touchline whilst stepping. An unfortunate way for the game to end. Australia up 12-8, full time.


Click Here to view the live update of the game. | To discuss the game with 1000s of other fans, please click here.