Electric Eels conjure stunning comeback to topple Panthers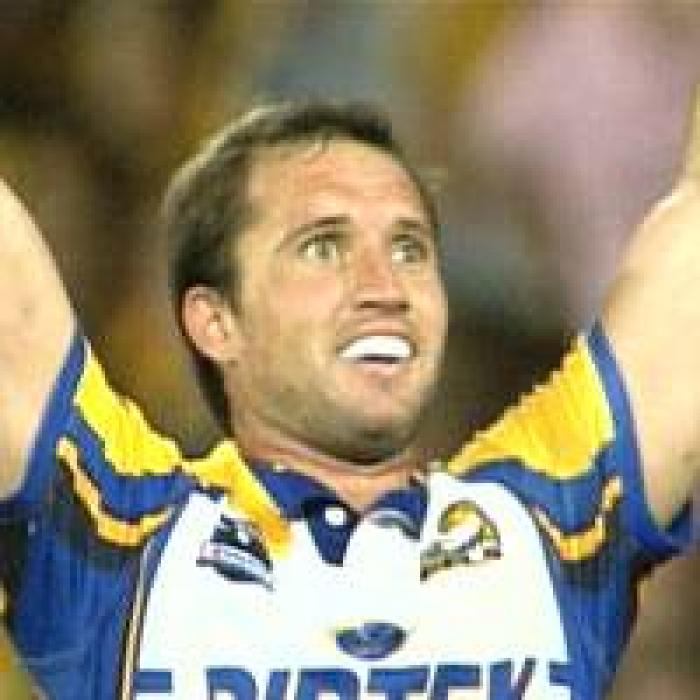 A Jarryd Hayne inspired Parramatta Eels have turned on the fireworks to overcome a twenty-two point deficit and record a remarkable 34-28 win over Penrith Panthers in front of a ground record crowd at CUA Stadium.

Despite trailing 22-0 after a Panthers' onslaught in the opening twenty minutes, the Eels held strong and crossed for two tries before the break to wrestle back some momentum at halftime.

They continued their surge in the second stanza thanks to some magical touches from Hayne. The mercuial fullback provided the grubber for Krisnan Inu to lock the game up at 22-all before Luke Burt added an extra two points from the sideline to give his side the lead.

Hayne then did it all on his own when he beat four defenders in the space of five metres with some remarkable footwork before a burst of speed sent him 50 metres downfield under the posts. That try gave the Eels a 30-22 advantage but it wasn't over by any means.

With ten minutes remaining, Penrith scored through five-eighth Wade Graham via a pinpoint Luke Walsh kick to give a vocal home crowd some hope of a comeback of their own.

Needing another try to win, the Panthers had one final opportunity with a scrum feed in the final minute but their attempts to keep the ball alive were thwarted by Feleti Mateo, who snaffled an intercept before finding Justin Horo in support to put a stunning finish on a stunning game.

Earlier, Penrith came flying out of the blocks with four tries in the opening quarter of the contest, Brad Tighe touched down in the corner before fellow winger Michael Gordon did the same in the 9th minute - both tries were sparked by attacking kicks from Walsh.

The NRL's leading try scorer, Lachlan Coote, added another to his list when he pounced on a Michael Jennings grubber. Only moments later, it was Jennings who crossed for a four-pointer of his own when he picked up a loose ball and streaked away to score untouched, increasing the lead to 22-0.

But it was to no avail, as a resurgent Parramatta treated the largest ever crowd at CUA Stadium to a performance that revives memories of their 2009 late season surge.

The win moves the Eels into tenth spot on the ladder while, despite losing, Penrith remain at second. However, after two losses in succession, they'll need to find some form in the remaining seven games before the finals series.



Match Details
Penrith Panthers 28 were defeated by Parramatta Eels 34
National Rugby League - NRL - Round 19 - Saturday July 17, 2010 7:30pm
Venue: CUA Stadium
Referee: Ben Cummins and Brett Suttor
Video Referee: Russell Smith
Touch Judges: Jeff Younis and Ricky MacFarlane
Crowd: 22582
Halftime: Penrith Panthers 22 Parramatta Eels 12


Leagueunlimited.com players of the match:
3 Points - Jarryd Hayne (1 Try)
2 Points - Fuifui Moimoi (1 Try)
1 Point - Lachlan Coote (1 Try)

Penrith Panthers (28)
Tries: Brad Tighe, Michael Gordon, Michael Jennings, Wade Graham, Lachlan Coote
Conversions: Michael Gordon (4/5)

Parramatta Eels (34)
Tries: Fuifui Moimoi, Jarryd Hayne, Krisnan Inu, Jonathan Wright (2), Justin Horo
Conversions: Luke Burt (5/6)

LeagueUnlimited.com Live Commentary A very good evening and welcome to tonight's coverage of the clash between the Penrith Panthers and the Parramatta Eels - it's the battle of the bogan 'burbs.. I mean, Sydney's West tonight!

The Panthers lost last weekend, while the Eels returned to the winning circle after overcoming North Queensland. According to the rugby league media, the Hayne-train is back but there's a few more stops between here and September action for the Eels.

Parramatta claimed the Under 20s 30-18.

A few changes for both sides..
Panthers: Frank Puletua starts with Sam McKendry on the bench.
Eels: Matt Keating is out with injury, his spot has been taken by brother Kris Keating. Poore starts with Moi Moi on the bench and Lee Te Maari is the new man on the interchange.
1 min: We're underway at CUA Stadium in front of a full house - the fans sense this will be a cracker and so do I. Panthers kick off!
2 min: Video referee - possible Panthers try..
2 min: TRY
Penrith Panthers TRY
Luke Walsh bombs high on the last tackle, the ball hits the deck before Frank Pritchard picks up the scraps and flicks it out to Michael Jennings who then finds Brad Tighe in the corner. Michael Gordon converts from the sideline.
Penrith Panthers 6-0
4 min: What a start for Penrith - the Eels look a little sluggish early on.
6 min: Nathan Cayless is hit in a solid low tackle from Nathan Smith, plenty of starch in the Panthers' defence at the moment.
7 min: Luke Walsh finds touch, Eels to work the ball of their own line.
8 min: We've still got fans coming into the stadium, good luck finding a spare seat..
9 min: Video referee - possible Panthers try, one of the tries of the season if they've got it..
9 min: TRY
Penrith Panthers TRY
Luke Walsh shapes to kick long but dummies and instead chips over the top, Lachlan Coote gets the perfect bounce and passes out to Adrian Purtell. The centre sucks in the defence and then grubbers for a flying Michael Gordon, who just gets to the ball before the dead ball line. Gordon converts.
Penrith Panthers 12-0
12 min: Luke Burt drops it cold taking a hitup - Penrith with the scrum feed on the Eels line.
13 min: Petero Civoniceva with a surge towards the line and Parramatta are in all sorts of trouble.
14 min: TRY
Penrith Panthers TRY
Michael Jennings kicks along the ground on the fifth tackle, Jarryd Hayne looks to have it covered but slips over and can only watch as Lachlan Coote flies through and scores. Michael Gordon fails to convert.
Penrith Panthers 16-0
16 min: Penrith are vicious tonight - the Eels are getting hammered in defence.
19 min: Feleti Mateo gets an offload out and a subsequent penalty for accidental offside has the Eels on the attack for the first time.
20 min: TRY
Penrith Panthers TRY
Well you didnt read it wrong, the Eels were on the attack but a wayward pass doesn't find the mark and Michael Jennings swoops on the loose ball and runs 80 metres to score - he's brilliant to watch in full flight! Michael Gordon converts.
Penrith Panthers 22-0
23 min: Penrith come up with an error to release some pressure but the Eels are rightfully shell-shocked at the moment.
24 min: Time is called off for a very groggy Feleti Mateo - he was hit across the mouth but no penalty.
26 min: A semi-spark for Parramatta as Hayne sticks his nose through the line before offloading to Joel Reddy, who gets too excited and kicks it dead.
30 min: The match starting to find a rhythm, Penrith are directing most of their attack up the middle third of the field.
31 min: On the other hand, the Eels are throwing it wide with abandon but it doesn't work as Luke Burt can't hold the pass.
33 min: TRY
Parramatta Eels TRY
Fui Fui Moi Moi hits a hole up the middle, strides through the line and steps Coote at the back to score under the posts. Luke Burt converts.
Penrith Panthers 22-6
35 min: That try has given the Eels a spring in their step as they score again!
36 min: TRY
Parramatta Eels TRY
They're in again! Jarryd Hayne puts Johathan Wright into a gap, before the centre sells a dummy to the fallback and races away untouched. Luke Burt converts.
Penrith Panthers 22-12
37 min: Well this game has just turned on its head, even Brad Fittler's mumblings in commentary make more sense that what's going on at the moment..
40 min: The Eels throw it from one sideline to the other as the siren sounds for halftime.
Halftime: What an action packed 40 minutes! The Panthers raced to a 22 point lead but the Eels have rocketed back into contention with two tries in the last ten minutes. Despite still trailing, I think Parramatta have a slight edge when it come to momentum and I'm going to predict that they'll come back and win. Stay turned for the second half..
41 min: Eels kick off in the second half!
42 min: Composed first sets from both sides, looks like both coaches have settled things down at the break.
44 min: Eels get three penalties in a row, one for Penrith being offside, one for back chat and then another for being offiside from a quick tap.
45 min: Video referee - possible Eels try..
45 min: TRY
Parramatta Eels TRY
Great solo try there from Jonathan Wright, he got the ball drifting across field before stepping and finding a massive hole up the middle - the centre stretches out and scores. Luke Burt converts.
Penrith Panthers 22-18
48 min: The Eels looked to be away again through Burt but the final pass to put him in the clear was ruled forward. 50/50 call.
50 min: Lachlan Coote with an error in the play the ball and it's high fives all 'round for the blue and gold.
52 min: Panthers halfback Luke Walsh has left the field, he appeared to be limping too.
54 min: TRY
Parramatta Eels TRY
Jarryd Hayne has another try assist to his name, this time a grubber to winger Krisnan Inu who is ridiculously casual in picking up the ball and grounding it. Luke Burt converts from the sideline! Somehow the Eels have the lead after being down 22-0!!
Parramatta Eels 24-22
57 min: A sloppy play the ball from Cayless is pulled up, it took a while for the referees to notice - the home crowd definitely made them aware though.
58 min: Kevin Kingston goes down in agony and to add insult to injury he drops the ball - he seems to be alright though.
61 min: Kris Keating finds touch and the players get a rare breather, it's being played at a frantic pace this one.
63 min: Gavin Cooper limps off now - plenty of injury concerns for Penrith.
64 min: Brad Tighe makes a surge down the left flank but is dragged down inches short and Jennings fumbles on the next tackle.
66 min: TRY Media Mantarays
Parramatta Eels TRY
Jarryd Hayne is back in style!! The fullback fields fields a bomb, beats four defenders in the space of five metres with some remarkable footwork before a burst of speed sends him into the clear. He races 50 metres downfield and dots down under the posts. Wow! Luke Burt converts.
Parramatta Eels 30-22
68 min: The crowd of 22,582 is a ground record at CUA Stadium - what a game they've seen.
70 min: Panthers get a chance to attack after a Hindmarsh error, this might not be over just yet!
70 min: Video referee - possible Panthers try..
70 min: TRY
Penrith Panthers TRY
Luke Walsh bombs high and Lachlan Coote taps it back into the arms of Wade Graham, who only has to fall over the line. Michael Gordon converts.
Parramatta Eels 30-28
72 min: Eight minutes to go! Have Penrith got another try in them?
73 min: Walsh kicks high yet again but this time Hayne fields it on the full.
74 min: Frank Pritchard nearly breaks through and gets a penalty to give them a shot at the Eels line.
75 min: It's pain for the Panthers though! Trent Waterhouse drops it on just the second tackle.
77 min: Pritchard tries to hit a gap but it closes quickly - he gets smashed and comes up with an error.
78 min: Penrith field a kick but have to travel 80 metres to score but a penalty takes them into Parramatta's half!
79 min: Walsh grubbers but Krisnan Inu stays calm and saves the day, that should be the game for the Eels.
80 min: The Eels find touch, Penrith race to the scrum and have six seconds left to score.
80 min: TRY
Parramatta Eels TRY
The Panthers throw it around after the siren to try and find a miracle try but Feleti Mateo intercepts and streaks away before finding Justin Horo, who dives over in the corner! Stunning finish to a stunning match! Luke Burt fails to convert.
Parramatta Eels 34-28
Fulltime: Parramatta are back! The Eels were down 22-0 but have turned on the flamboyance in a remarkable comeback. To put it bluntly, that was the most exciting match I've seen all season - it was a rollercoaster ride and it looks like Parramatta are set for another 2009-style finish this season.


Click Here to view the live update of the game. | To discuss the game with 1000s of other fans, please click here.