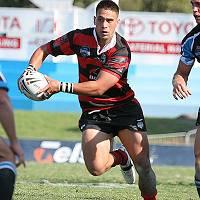 North Sydney 2006 Premier League hooker Ben Ellis, has impressed the rugby league community by making a record 1066 tackles for season 2006 despite not playing a full compliment of matches.

The massive effort tops the number of tackles made by Canberra's NRL lock Alan Tongue who this year has made 1040 to set the NRL record, overtaking former Melbourne hooker Richard Swain's tackle count of 1004 tackles set in 2001.

In what must surely be a new tackling record for rugby league over the home and away season, Ben Ellis has made his tackles in only 22 matches after missing 2 games with suspension. This means his average tackles per match sits at 48.45. While Alan Tongue has made his tackles over 24 matches.

While many believe a Premier League record is not up to the standard of the NRL, 2006 Bears coach Josh White believes Ben's efforts prove beyond a doubt his commitment as a player, "He was outstanding, it's an enormous effort. It's not even technique it's his ability to put in again and again. Some players have just got the talent to keep going and Ben Ellis has got it big time!".

But the mild mannered family man who last year was voted both Player of the Year and Players' Player for the North Sydney club and in 2006 Best Forward and Supporters' Player of the Year, has shown he is not just a defensive specialist by scoring 10 tries for the season to be the Bears leading try scorer. "When I'm in a position to make a tackle I do it. As the opportunities come my way I do my best. It's my role in the team" Said Ben.

PICTURED: New Zealand born Ben Ellis runs up the ball against the Sharks in round 1. Who would have guessed this would be a record breaking year for the hooker. PHOTO: Steve Little.

---