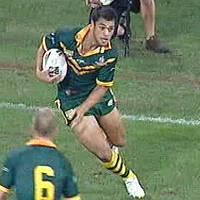 Our second fixture for this year?s Tri-Nations tournament sees the two Antipodeans arrive in our southern capital to recommence battle positions.

Last weeks encounter at Mt Smart Stadium got the pulse racing with an enjoyable fight, one massive hit by Kidwell and a bit of general argy-bargy by the Kiwis. Throughout this Australia managed to keep their composure and run out 30-18 victors, a score line that flattered New Zealand a little.

Things will be different this time around with all the early post-match banter focussing on Mason?s headaches and nose-bleeds with the Aussie?s complaining of Kidwell?s ?cowardice? in not running straight. It looked pretty straight to me ? I?d hate to see what kind of mess he would have made out of Mason if he came from the side!

The eligibility card has been thrown into the mix again with Fien making his debut for the Kiwis from the bench after Mason attacked Webb?s heritage. Apparently Stuart has told Mason to keep quiet during the haka this time around, but surely the slapping of the legs will still be resonating throughout Telstra Dome when the big prop opens the gob to apply a liberal dose of abuse towards the Cowboy-come-Warrior Fien.

There is a small shadow over Mason as well, but I can?t see him pulling out of this one otherwise he?ll suffer a serious credibility downgrade. He also needs to get involved early in the game to show he?s not intimidated by Kidwell or the rest of the Kiwi pack who will no doubt niggle him over the course of the match. My tip is that someone other than Kidwell will line Mason up and have a crack, possibly Wiki or Blair. I?ve been having visions of Dowling v Tamati all week and will be foaming at the mouth if another stoush breaks out. It?s great to see a few blokes having a dig again and if we?re all honest with ourselves the fights are often the best part of the game.

Next the ref has come under fire and rightly so. He danced around the paddock like a camel on ice skates last week, clearly displaying he was well out of his depth at that level.

Moving on, one big positive for the game is the media attention it has been receiving, if not for the quality of the contest but for the controversy. The Melbourne sporting community cap off a remarkable year with this Test match, only the third to have ever been played in Victoria.

Previous Test Matches played in Melbourne:

Australia v New Zealand at Olympic Park in 1991
Australia v Great Brittain at Princes Park in 1992

But geez the TV coverage has been despicable. For once Melbourne could have had their cake and eaten it too with enough time to fit an entire hour of Australia?s Funniest Home Video?s before the coverage starts at 7.30 in the northern states. Instead Victorian viewers will be treated to Scooby Doo before having salt rubbed into the wounds with the unsurpassed comedic wit of Bruce Willis in The Whole Nine Yards at 9.30.

Considering Channel 9 owns part of the game you would think they might promote it in Australia?s second largest sports market, and with the Caulfield Cup on during the day it would have given fans a perfect way to wind down the evening. But the silver lining for League is that at least they have the opportunity to get out to the match, a rare event in Melbourne indeed.

First up, let?s take a butcher?s at the Kiwis?

New Zealand: Brent Webb, Shontayne Hape, Iosia Soliola, Steve Matai, Manu Vatuvei, Nigel Vagana, Stacey Jones, Ruben Wiki (c), Jerome Ropati, Roy Asotasi, David Kidwell, Tony Puletua, Simon Mannering
Interchange: Nathan Cayless, Adam Blair, David Fa'alogo, Nathan Fien

Hape comes in here for Tupou and Ropati replaces the injured Halatau at hooker with Fien onto the bench. Pritchard has been dropped for Fa?alogo in the only other change. I?m not jumping out of my skin at this whatsoever as I think McClennan has got it wrong with his selections, but I?m happy to be proven wrong.

I think they would have been better off pushing Vagana out into the centres and lobbing Soliola onto the wing. That would allow Ropati to play outside Jones and take a bit of pressure off him ? he had a really good finish to the season. This opens up the door for Fien, another late season star for the Warriors, to start at hooker giving New Zealand more options to attack across the ground. I think that?s what they lacked in the first game.

I?m surprised Mannering has held his position, particularly with Pritchard being punted. Fa?alogo will provide some impact and I was happy to see Blair go well in Game I.

Now for the Aussies?

Australia: Karmichael Hunt, Matt King, Mark Gasnier, Justin Hodges, Greg Inglis, Darren Lockyer (c), Johnathan Thurston, Willie Mason, Cameron Smith, Petero Civoniceva, Andrew Ryan, Nathan Hindmarsh, Luke O'Donnell
Interchange: Mark O'Meley, Shaun Berrigan, Anthony Tupou, Brent Kite.

The injury to Maitua sees Ryan promoted from the bench and into the second row with O?Donnell moving back to lock. Tupou comes in as a reserve as the only other change and makes his debut. I agree with the suggestion of favouritism with his decision here, making Thaiday one of the unluckiest players in the squad. He is on stand-by for Mason, but in the fair dinkum department, he ought to be in a toss-up for a starting position.

He had a great semi-finals campaign, culminating in a strong showing in the winning Grand Final team and he gets overlooked for a guy that has played only one game (PM?s XIII v the Kumuls) since 2nd September. It wouldn?t help that Stuart doesn?t get along with Bennett ? Thaiday?s club coach ? and I think such selections brings the position of Australian coach into disrepute.

In any case the team is still very strong and Tupou does add mobility and ball-playing to the forward pack, something they?re a bit short of.

The decision

Last week the Aussies showed they had plenty of finesse when it comes to the Greatest Game if All and I?d expect more of the same this week. They defended well, made constructive attack and pounced on the loose ball with urgency. I can?t really fault their game too much other than the observation that they didn?t dominate the Kiwis in the forwards ? it was very much two way traffic.

Australia?s backrow is by far better than New Zealand?s. I didn?t think Mannering was all that good and neither was Puletua, but both players are still there alongside Kidwell the Destroyer. Up against Ryan, Hindmarsh and O?Donnell they will struggle a bit and this should see the Aussie backs enjoy more of the ball.

For New Zealand, I?d like to see them use Webb at fullback a little wiser. He needs to sniff about in the middle of the ruck and try to link up with his forwards and create breaks. Ropati will offer more zip out of acting half than Halatau but I still prefer Fien in that position.

This game becomes even more crucial to New Zealand?s chances of defending their 2005 title as they host Great Britain at home twice in the coming weeks. They need to forget about what happened last week and play smarter footy. Given Jones has returned from the U.K. to play he might have been in need a hit-out to get back into rhythm. I hope this is the case because the two opening games last year were great to watch with Jones featuring heavily.

The backdrop of Kidwell?s hit last week should energise both forward packs and intensify the aggression in the game. We could be looking at a very fiery clash but it all depends on how far things go. As I said last week, if New Zealand can get under Australia?s skin and upset their game plan, then they may well jag a win. But if they?re going to do things the professional way then Jones, Webb and Fien need to be at their best.

I hope it?s a good contest and the standard of footy is better this time around. Both sides probably dusted out a few cobwebs so we should be treated to a better game. When it comes down to it picking a team I?m going to stick with the Aussies. Again I think neither forward pack will dominate the other but the Aussies should win on the fringes of the ruck through their backrow. And when you cast your eye over the Kangaroos backline it simply oozes skill, speed and size.

---