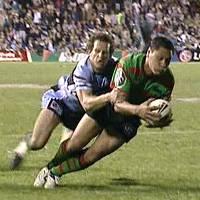 Kiwis' captaincy candidate David Kidwell injures ligaments and could miss rest of NRL season; major blow for ANZAC test
The Kiwis are set to lose South Sydney co-captain David Kidwell for the ANZAC league test in Brisbane after the second rower took a fall while at his home.
Rabbitohs' medical staff believe he has suffered medial and cruciate ligament damage and could miss the rest of the NRL season.
Kidwell's injury is a major blow to the Kiwis as he was considered a candidate to captain the team on April 20 for the ANZAC test against the Kangaroos in Brisbane.
---