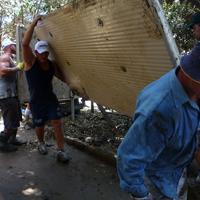 The NRL and the QRL announced today a series of major initiatives to assist junior clubs, and players and their families, affected by the recent floods and cyclones in Queensland.

The most significant is a waiver of registration fees for junior players who parents were impacted by the disasters. That is probably worth $200 for each player.

Right across Queensland dozens of rugby league clubs have suffered massive damage. The cost of repairing the fields/club house for one junior club I know of in Brisbane is in excess of $500,000.

Meeting junior player registrations helps the clubs.

Readers will know I am hardly the QRL's cheer leader - but this time they deserve applause.

David Gallop also announced that NRL clubs are being encouraged to "adopt" clubs in flood and cyclone affected communities.

The St George-Illawarra Dragons are leading the way - by adopting the magnificent lead set by the Kellyville Bushrangers in Sydney who have adopted the Theodore Roosters. If ever a town needed help, then it is Theodore...in Central Queensland.

The Dragons are adopting, wait for it, rugby league clubs in the town of St George (which has been hit by floods two years running) and in Dalby and Chinchilla.

The NRL hopes that all NRL clubs will adopt rugby league clubs in Queensland communities hit by disaster.

There are also further fundraisers planned to assist the rugby league community generally.

Today the NRL and the QRL have made announcements we as fans can all be grateful for - and they can be proud of.

-----


Rugby League fans are encouraged to visit www.nrl.com or contact the NRL or QRL for details of how they can register for the Adopt-a-Club program or take part in current and future fundraising activities.
---