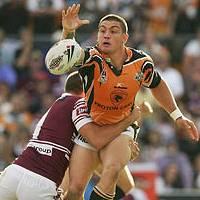 vs

09-07-2010 07:35PM at Campbelltown Sports Stadium
Referee: Jason Robinson and Alan Shortall
Touch Judges: Steve Carrall and Daniel Eastwood
Referee: Bill Harrigan

This match promises so much but will only deliver if both halfbacks actually do start. I implore Tim Sheens and John Cartwright to give the lovely people of Campbelltown the football exhibition they deserve and make
Robert Lui
and
Scott Prince
needle up as much as needed to take the field for their respective clubs. The Tigers played remarkably well to win without Lui last week and the Titans have not looked very good since Prince left the field against Canterbury 3 weeks ago.
So... they both play and it will be on. Match of the round for mine so tune in to watch the suddenly defensive minded Tigers host the disciplined Titans in a screamer.
Benji Marshall
and co will look to take advantage of the inexperienced right side defensive combination of
Bodene Thompson
and Will Zillman. This is where the home side will do the most damage and
Chris Law
rence could combine with
Lote Tuqiri
to have a field day. A great matchup of hookers here in a must-watch game of pure football.
My Man of the Match Prediction: Chris Lawrence
My Tip: Tigers 26-18
The Teams
Head to Head
DragonPunk
(Justin Davies)
Titans
Total Score
136
Non Terminator
(Josh Hill)
Titans
Total Score
132
Twizzle
(Kevin Brennan)
Titans
Total Score
124
CobyDelaney
(Coby Delaney)
Titans
Total Score
118
Willow
(Steve Williams)
Tigers
Total Score
108
Other Games this Round
Like