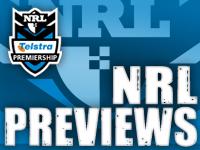 Canterbury v Parramatta

One week too late. There is no greater rivalry over the past 15 years and there was no bigger club football match in NRL history than the semi final played between these teams in 2009. Going back further for you historians out there, hard to argue against the fact that Canterbury and Parramatta hated each other more than anyone in the 80's except for maybe the US and Soviet Union.

Speaking of cold wars, the last meeting between these famous Sydney clubs was in round 6 this year and what a ferocious battle it was. Hindmarsh v Ennis, Payne v Hayne and another great chapter written in the Eels v Bulldogs rivalry. This Friday, when they meet again at Homebush, we might not see as much good football played with these teams sitting 12th and 13th on the ladder, but you will get plenty of effort and this is where Parramatta have been faultless in recent weeks.

My tip: Parramatta 24-12

---
Melbourne v Brisbane
1st versus 4th on the ladder and compared to the other Friday Night Football game to kick off round 20..... well, there is no comparison. The Storm have rebuilt from last year using discipline and defence whilst the Broncos continue to build for the future using a perfect balance of youth and experience. Soon-to-be superstars like
Josh Hoffman
,
Alex Glenn
and
Jack Reed
are learning from the best each week and coming into their own.
On paper, the hosts for this blockbuster at AAMI Park don't seem to have the same athletic ability as their opponents but they don't need to.
Cameron Smith
and
Cooper Cronk
have the highest Rugby League IQs in the NRL and this will prove the difference on the night. Home ground advantage and their resolute defence keep the Storm driving towards the finals in a cracker and easily the Match of the Round.
My tip: Melbourne 14-12
---
Gold Coast v North Queensland
A few weeks ago we tipped the smallest crowd in Rugby League history to turn out for a Roosters v Raiders Monday night game. If this Saturday's match between the Titans and the Cowboys will prove anything, it will be that records are meant to be broken. The over/under betting for attendance to this one must start at about 3000 people but the poor folk from the Gold Coast won't know what they are missing.
Beau Henry
gets his first start for the Titans and in an ominous sign for his future and for the new culture of footballers; this is his 3rd club in two years.
William Zillman
has been named to play centre for the home side in another effort by John Cartwright to turn the club around from a disastrous season. Finally,
Tariq Sims
starts for the Cowboys and that is enough for many to tune in and probably enough to get the Cowboys home.
My tip: North Queensland 24-18
---
Cronulla v Newcastle
Plenty of league commentators have predicted that only 4 teams can win the competition this year. If this is fact, nobody came to that realisation quicker the Knights and the Sharks last week. Both teams were crushed by competition heavyweights in rivalry round after putting in good performances in the weeks before. A harsh lesson for two clubs on the cusp of the top 8 and further proof that perhaps our post season structure needs an upgrade.
Before we do that though, it is still a sign of success if you can make the semi finals and winning this match at Toyota Park on Saturday night will help one of these teams do exactly that. It could be a cold, wet and windy welcome for the Newcastle boys and the toughness of the Sharks forward pack will make the task even harder for
Kurt Gidley
and his crew. Cronulla bounce back from last week to keep their season alive.
My tip: Cronulla 24-14
---
Wests Tigers v Sydney Roosters
Rugby League fans are generally a forgiving and loyal bunch. We can get over players leaving our clubs and the NRL treating us like fools, we can deal with all the off-field drama and salary cap issues... but when it comes to Leichardt Oval and the Tigers on a Saturday night, this forgiveness is thrown out the window. The place will be baying for blood with the memory of last year's semi finals still keeping them up nights.
On that occasion it was the Roosters who stole a win from the Tigers in extraordinary circumstances and the Leichardt faithful will not have forgotten. They will turn out in numbers and
Benji Marshall
and co will thrive on this atmosphere and deliver for the masses. On paper, this is essentially the home side's best 13 and they play like it to blow the visitors off the park early and cruise home to start their finals run.
My tip: Wests 40-14
---
South Sydney v Warriors
A credit to coach John Lang and South Sydney for still finding a way to compete after injury had annihilated their forward pack. They've played with purpose recently but, as expected from the bunnies, played with utter confusion at times as well. What they are not confused about anymore, it seems, is how to play with
Greg Inglis
.
Like