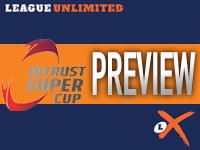 CQ CAPRAS v BURLEIGH BEARS
Browne Park, tonight, March 28 – 7pm
Referee: Peter Gough
Head to Head: Burleigh 28 Central 4
Twitter: #intrustsupercup #ISC #CQCvBEARS
The only two teams yet to register a win this season meet in a crucial clash tonight. The rare Thursday night showdown is expected to attract a bumper crowd to Rockhampton's Browne Park. The Capras enter the match buoyed by the announcement this week of a new partnership with Ian Weigh Toyota. They have also won two of their past three matches against the Burleigh Bears. The Capras have added Simon Gregory, Jeff Russell and Blake Wallace while Bears coach Carl Briggs has brought in Hayden Allsop, Blake Morrison and Brendan Hoare. Although yet to record a win this season, the Bears have shown plenty of promise and have scored the same number of tries as their opposition in their opening two games. Burleigh winger Jordan Atkins chalks up his 50th Cup match, having previously played for Ipswich, Toowoomba and Tweed Heads.
QRL Media tips: Burleigh Bears by 6. The short back up from last Sunday's game against the Pride along with the travel factor will test the Bears. But they haven't been far off the pace in the opening two weeks, and provided they match Central's enthusiasm, a breakthrough win could be coming their way.
NORTHERN PRIDE v SOUTHS LOGAN MAGPIES
Barlow Park, Saturday, March 30 – 6.30pm
Referee: Clayton Sharpe
Head to Head: Pride 9 Souths Logan 4
Twitter: #intrustsupercup #ISC #PRIDEvSLM
Fresh from a strong win over the Norths Devils, the Magpies will go on the hunt for their second major scalp this weekend when they travel to the Far North. The majority of punters will fancy the Pride, but it's worth remembering the Magpies have an encouraging recent record against the northern powerhouse. Mark Beaumont's team has won two of their past three matches against the Pride, including a shock win in Cairns in March last year. The Magpies' aggression and enthusiasm caught the Devils off-guard last weekend as they jumped out to an early 18-0 lead. Queensland Residents forward Mat Pitman led the onslaught and he'll again need to lead from the front this weekend. The Pride have won their opening two games but only just snuck over the line last week against the Bears following a late piece of brilliance from Robert Lui and Hezron Murgha. Lui's early season form has been particularly encouraging for fans of both the Pride and the North Queensland Cowboys.
QRL Media tips: Northern Pride by 10. With a new-look team, the Pride is yet to fully hit their straps in 2013. But if they get things right, they have the class to hurt the Magpies on the scoreboard.
IPSWICH JETS v EASTS TIGERS
North Ipswich Reserve, Sunday, March 31 – 2pm* (Live on Channel 9)
Referee: Robert Gallacher
Head to Head: Easts 17 Ipswich 16 Drawn 1
Twitter: #intrustsupercup #ISC #JETSvTIGES
The Easts Tigers made a major statement last weekend with a 24-10 victory over Redcliffe at Dolphin Oval. The win, albeit against a 12-man Dolphins side, would give Tigers fans plenty of reasons to believe that they are a genuine challenger for this year's Intrust Super Cup premiership. Riding high at the top of the table, the Langlands Park club will go in search of a third-straight win on Sunday. The Tigers have had it all over the Jets in recent times, having won the past three encounters. However, the spring is back in the step of the Jets following their 32-26 victory over the Sunshine Coast last weekend. It wasn't yet the clinical performance that coaches Ben and Shane Walker were looking for, but there were enough positives to suggest that Ipswich can match motors against the Tigers in Sunday's Channel 9 match. One encouraging sign was the performances from Intrust Super Cup debutants Nemani Valekapa and Tu'u Maori. Valekapa scored two tries while Maori crossed for a great solo try to announce himself on the big stage. The Jets have named an unchanged team while the Tigers have drafted powerful forward Leon Panapa back into their 17. It will be Panapa's 50th Cup match for Easts.
QRL Media tips: Easts Tigers by 8. The Tigers seem to have everything covered at the moment with supreme strike power throughout the forward pack and backline. Fullback Corey Thompson has been in sizzling touch.
WYNNUM MANLY SEAGULLS v MACKAY CUTTERS
BMD Kougari Oval, Sunday, March 31 – 2pm
Referee: Nick Morel
Head to Head: Wynnum 5 Mackay 4
Twitter: #intrustsupercup #ISC #WYNvMC
With both sides carrying the momentum of strong wins into this game – the signs point to an intriguing match-up at BMD Kougari. Head-to-head, the clubs are surprisingly even, with Wynnum winning five games to Mackay's four. However, the Seagulls have won the past four games played between the two sides. The Cutters' plan to upset that pattern has been made more difficult after forward Tyson Martin accepted an early guilty plea for a Grade 2 dangerous throw and was suspended for three games. The Cutters have five new players in the side all up this week, with their strong Cowboys contingent not named – however they are still a chance to return after not being named in the NRL side. For the Seagulls, Peter Gubb will return to the side with Matt Grieve not named. Wynnum winger Nathanael Barnes scored a hat-trick against his former club the Tweed Heads Seagulls last week, bringing his career tally to 108 tries. While he is still third on the highest try scorers list for the competition, the tally leaders (Ryan Cullen - 112, Nick Parfitt - 113) are well within his grasp. Mackay's Michael Comerford will play in his 50th Cup game on Sunday, with the centre having played all his games with the Cutters.
QRL Media tips: Wynnum Manly by 6. The Seagulls – buoyed by the support of the Chook Pen – will prove too strong at home for the Cutters who may take time for their team line-up to settle.
NORTHS DEVILS v SUNSHINE COAST SEA EAGLES
Bishop Park, Sunday, March 31 – 3pm
Referee: Chris Anderson
Head to Head: Norths 6 Sunshine Coast 2
Twitter: #intrustsupercup #ISC #NORTHSvSCSE
At home at Bishop Park for the first time since the ground underwent a major off-season refurbishment, the Norths Devils will be looking to bounce back from their surprise loss at the hands of Souths Logan last weekend. Norths have a strong record against this week's opponents the Sunshine Coast Sea Eagles, and have won the past four games played between the two sides. The Sunshine Coast have also struggled away from home in recent years, and have not won a game at an away venue since round 21 of 2010 – a run of 22 games. Having fought hard in going down to the Ipswich Jets last week, Sea Eagles coach Dave Cordwell has kept faith with his players and has named an unchanged side for the match. For the Devils, forward Natthan Cleaver moves from the interchange to the starting side, with Jarrod Wallace coming on to the bench. Centre Luke Samoa – who kicked five goals in the Devils FOGS Cup win last week – comes into the side in the place of Namila Davui.
QRL Media tips: Norths Devils by 8. The Devils would have been disappointed with their start last weekend and will look to come out firing against the Sea Eagles.
REDCLIFFE DOLPHINS v TWEED HEADS SEAGULLS
Dolphin Oval, Sunday, March 31 – 3pm
Referee: Nick Kalpakidis
Head to Head: Redcliffe 17 Tweed 6
Twitter: #intrustsupercup #ISC #PHINSvTHS
In a boost for the Dolphins – who suffered a 24-10 loss to Easts last weekend – halfback Luke Capewell is free to play against Tweed Heads after having his Grade 2 striking charge downgraded. The Charleville junior took an early plea to the lesser Grade 1 striking charge at the QRL judiciary. His inclusion is a vital one for a team which will look to out-muscle a young Seagulls outfit which dropped too much ball in their 42-22 loss against Wynnum Manly last weekend. Tweed found themselves down 20-0 to start the match, but found some form in the second half to bring into this game. Coach Aaron Zimmerle told the QRL after the match he was feeling upbeat about how his side would perform against last year's experienced grand finalists – saying they needed to improve their ball handling if there were to be a chance. Zimmerle has made only one change to the side that took to the field last week, with Marmin Barba down to play, while the Dolphins welcome back Troy Giess in the forwards and have added Moni Tikinau on to the bench. The incredible try-scoring run of Redcliffe winger Liam Georgetown – 19 games in a row – continued last week – and he now only requires 10 points to pass Reggie Cressbrook (1089) and move to third on the all-time highest point scorers list.
QRL Media tips: Redcliffe Dolphins by 10. The Dolphins will still be stinging from their loss at home last weekend and won't need much motivation against a relatively inexperienced Seagulls side.
---