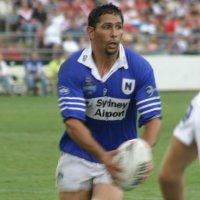 As part of the association between the Sydney Roosters and the Newtown Jets (two of Rugby League?s 1908 foundation clubs), the Jets recently hosted several Roosters officials and a large number of the Roosters Premier League squad to dinner at Newtown?s licensed club, the Jets Sports Club in Tempe. Many of the Roosters Premier League players will of course be turning out in Newtown?s famous royal blue colours this season, under the terms of the new partnership between the two clubs.

The evening was a very happy occasion, with the Roosters and Jets players mixing together on a friendly social basis, while Jets officials took the opportunity to make it a "get to know you night" for everyone involved. Roosters CEO Brian Canavan was in attendance, along with operations staff Tony Vella, Louis Lopes and Bobby Jones. Brian Canavan made reference to the fact that correspondence between the two clubs went back as far as 2001 concerning the possibility of a partnership, so the new agreement was most certainly a case of an idea whose time had come.

The night ended with the Roosters and Jets players (about 45 in total) giving rousing renditions of the Newtown Jets official club song "Thirteen Men All Dressed in Blue" (written by the late Ricky May) and also the Jets dressing room victory song. Prominent Roosters songsters included Charles Tonga, Lelea Paea, Mickey Paea, Daniel Dumas, Aidan Kirk and Nigel Plum. The entire evening was voted a great success in terms of further cementing good working relations between the officials and players of both clubs.

The Newtown Jets make their first appearance as part of this historic association next Sunday (March 12th) at Telstra Stadium, in the opening competition round of the VB Premier League against South Sydney kicking off at 12:30pm.

Photo caption:
Former Queensland State of Origin representative John Doyle makes his debut for the Newtown Jets this Sunday against South Sydney at Telstra Stadium.
Photo courtesy of Hugh Martel.

---