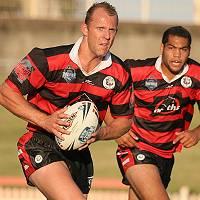 The inclusion of no less than seven Melbourne Storm players in the Bears line up has helped Norths defeat the Bulldogs at North Sydney Oval on Saturday. Scott Hill, Jamie Feeney, Ryan Shortland, Chris Walker, Adam Blair, Ben Scott and Mathew Bartlett all made an appearance in the famous red and black.
The forward pack lead by the Storms? Ben Cross and Adam Blair and superb involvement, direction and kicking by Scott Hill laid a foundation that allowed the Bears backline to show their worth.
Ben Cross with 23 hit ups and 26 tackles was impressive and inspired players such as Matthew Bartlett and Eddie Sua to have their best games of the season so far. Eddie Sua?s running in attack was devastating on the Bulldogs defence, knocking would be defenders down like tenpins.
?I told Scotty Hill to get involved, to go for it? said Premier League coach Josh White. And he did, exclaiming to his new team mates prior to the match that he did not care who has played for in the past, today his is part of the North Sydney team! His well judged grubber kicks and passing as he weaved from left to right of the field handed centre Filinga Filiga and winger Andrew Moodie their chance to play to their full potential. Filinga Filiga was a two try hero including one scored directly from dummy half and Andrew Moodie showed exciting pace to score and was solid under pressure of the bomb.
Ben Black, Ryan Shortland, John Russell and Ben Ellis also could not be faulted.
?Normally they [the Storm Players] would have to meld with us but this time we had to fit in with them? commented Josh White. Playing perfect footy for the first 60 mins scoring five tries and only allowing in two, the Bears dropped of in intensity in the last quarter allowing the Bulldogs to achieve a total of 6 tries to the Bears 7. The rock steady boot of Bears five-eighth Dan Russell kicking all 7 conversions kept the points difference to 10 points for a Bears win 42-32.
NORTH SYDNEY 42 (Filinga Filiga 2, Chris Walker, Jamie Feeney, Ben Ellis, Andrew Moodie and Matthew Bartlett, Daniel Russell 7 from 7) defeated CANTERBURY-BANKSTOWN 32
In the Jersey Flegg a lack of enthusiasm lead to a loss of 50-4 points. Pio Rokomaqisa was the Bears best.
[Pic: Scott Hill flanked by fellow Storm trooper Adam Blair, brought great experience to the Bears team on Saturday. Photo: Steve Little]
See all the action photos from the Bears V the Bulldogs in the Photos section of the Bears official website - click here
---