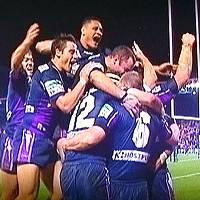 THINK back just 10 years.
Melbourne teams still dominated the AFL, there was no Melbourne Victory Soccer Club and rugby was that code played north of the border.
A decade ago a storm blew into Melbourne, one that in just two seasons would change the face of rugby league in Australia when it won the NRL premiership.
That team, the Melbourne Storm has turned 10 and the team will be on show at Olympic Park on Friday night for the opening round of the National Rugby League season when it faces Wests Tigers from 7.30pm.
For original Storm member and club games record holder Matt Geyer, Melbourne has become the home he didn't expect.
"There was no choice really," he said.
"Perth folded and it was basically a lottery between Melbourne, the (North Queensland) Cowboys and Adelaide.
"With Melbourne being a new club, I think four players went from Perth to Melbourne almost in a lottery.
"I was excited. I never really saw myself as having a career as such. I thought it's a great opportunity to see the country a bit, be a part of the new club."
Geyer, who has become the first and at this stage only Melbourne Storm player to play 200 games, revealed he nearly left after the first year.
"I asked for a release in 1998 and I had agreed to go to another club," he said.
"The assistant coaches said to (head coach) Chris Anderson to give me another chance. I got a man of the match game against the Canberra Raiders right at the end of the year.
"Basically after that game, they said I wasn't going to be released and from that I became a 10-year player."
In its nine seasons, the Storm has missed the finals only twice and last year was a runaway minor premier before losing the Grand Final to Brisbane.
Original Storm member Robbie Kearns admitted rugby league would never overtake AFL in Melbourne, but he hoped the new purpose-built rectangular stadium, to be built at Olympic Park, would build the popularity of the sport for the next generation.
"Last year rugby league in Victoria got a massive boost," he said.
"Firstly, the Melbourne Storm being so successful, secondly we had the state of origin down here.
"We also had the tri-series at the end of the year, which was another sensational game of football.
"While Olympic Park has been great, this stadium when it gets up and running, I can just see people jumping on board. You'll have state-of-the-art facilities. I think it's the last piece of the jigsaw puzzle that we need to be as good as we can be."
Storm chief executive Brian Waldron said he felt there was a far greater acceptance of the Storm in Melbourne than there was when the club first started.
"In my short time we've really pushed hard to be seen as Melbourne's team," he said.
"To have one million plus people watch the Grand Final in Melbourne last year shows we've been embraced by the city.
"The Government's commitment to the new stadium gives us that long-term future."
---