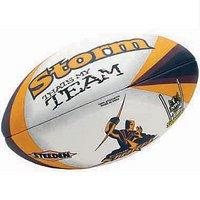 The Melbourne Storm has today announced it will be entering its own team in the New South Wales Premier League competition from 2010, thus ending its joint venture partnership with the Central Coast and the New South Wales Country Rugby League (NSWCRL).
The Melbourne Storm NSW Premier League team will be based in Melbourne from 2010, and play its home games at Olympic Park.
Storm CEO Brian Waldron is delighted at the prospect of the Storm having its own team in the NSW Premier League.
---