The Armchair Expert - NRL Round 3 In a new weekly feature for LeagueUnlimited, our Armchair Expert will run his lazy eye over the weekend that was. Each round he'll look at the happenings of the previous weekend, and keep you up to date with the big issues like refereeing, social media and the current controversies.
This week I look at a couple of surprise performances from Round 3, and line up a big name player for his behaviour around the Alex McKinnon incident. That, plus a wrap up of all the injuries and suspensions from the Round. Let's get into it.
---
Performance of the Round
The Parramatta Eels weren't really given a chance against the Manly Sea Eagles, both before the game from the punters, and during the game thanks to some dubious referee calls during the game. But try telling that to Semi Radradra. This bloke racked up three tries, 155 metres and 11 tackle busts. His opposite winger would still be having nightmares, after Radradra broke the line 3 times. And it was't a case of Radradra being the only bloke on his team doing anything right. His entire side played well above what was expected of them, with only a poor penalty in the dying minutes gifting the Sea Eagles the win.
The Paul Carige Award for Worst Performance of the Round
It's rare that this award goes to someone for their efforts off the ball, but that's exactly what is happening this week. Alex McKinnon had just been lifted in a tackle, driven into the ground head first, and was laying on the ground in visible distress. The trainers ran to his aid, and his teammates had looks of absolute shock on their face - disbelieving of what was happening in front of them. It took many minutes to stabilise McKinnon, and get him onto the stretcher and off the field - it was obviously not a minor injury. Two or three times while the trainers were working on McKinnon, Cameron Smith was in the referee's ear, trying to convince him that it shouldn't be a penalty, and trying to blame McKinnon for moving his head into the wrong position. Twice he was told to get back and they'd deal with it later, but he wouldn't listen. I understand he wanted to protect his teammates, and that he wanted to protect his team's position in the game, but there is a time and a place for it.
Surprise Packet
This one goes to the Newcastle Knights this week. It would have gone to the Eels, but I didn't want to give them a big head. Despite being penalised more in the first three minutes than most teams cop all game, the Knights still stuck with the Melbourne Storm. The Knights' line speed early in the game showed they were clearly up for the occasion, and it was only a quick couple of tries before half time that really took the game away from them. Considering the Knights were without Darius Boyd or Jarrod Mullen (arguably their two biggest attacking weapons), and lost McKinnon just prior to half time, the Knights turned in a performance that they can build on.
Ref Watch
Well, we've gone from scaring the referees away from making a decision in Round 1, to talking them into making decisions in Round 3. Numerous times over the weekend, the referees were goaded into making decisions and giving penalties based on players in their ear, or milking penalties by staying down. Probably the best example of this from Round 3 was in the Manly Sea Eagles vs Parramatta Eels game, where Daly Cherry-Evans was audibly instructed to stay down by Jamie Lyon to earn his team a penalty. The referee didn't look like he was going to penalise the Eels defender, but changed his mind when he noticed Cherry-Evans on the ground. Off the back of this, the Sea Eagles kicked downfield, and eventually scored a try in the dying minutes to win the game. I'll stop short of saying that the Referees lost this game for the Eels, but the result certainly could have been different without Cherry-Evans milking a penalty.
Bumps and Bruises
Raiders: Edrick Lee - Knee (Season)
Knights: Alex McKinnon - Neck (Indefinite - had emergency surgery on discolated C4 and C5 verterbrae)
Panthers: Brent Kite - Calf (Round 6-7)
Rabbitohs: Issac Luke - Shoulder (Round 7-13)
Rabbitohs: Greg Inglis - Concussion (Won't miss a game)
Titans: William Zillman - Hamstring (Round 6)
Warriors: Ben Henry - Knee (Round 13-15)
Wests Tigers: Chris Lawrence - Hamstring (Indefinite)
The Naughty Chair
Storm: Jordan McLean - Dangerous Throw (Referred straight to judiciary)
Wests Tigers: Jordan Gavet - Grade 1 Detrimental Conduct (0 weeks)
Rabbitohs: George Burgess - Grade 2 Careless High Tackle (Disputing grading)
Rabbitohs: Ben Te'o - Grade 2 Careless High Tackle (0 weeks)
Rabbitohs: Bryson Goodwin - Grade 2 Careless High Tackle (0 weeks)
Roosters: Kane Evans - Grade 2 Careless High Tackle (0 weeks)
Panthers: Adam Docker - Grade 1 Dangerous Throw (0 weeks)
Sea Eagles: Jason King - Grade 1 Shoulder Charge (1 week)
Around the Social Media Traps
It's impossible for me to list all of the tributes, thoughts and well wishes that have poured in from the Twitter world this week for Alex McKinnon. I've chosen one, but there are literally hundreds. From all of us at LeagueUnlimited, best of luck Alex, get well soon.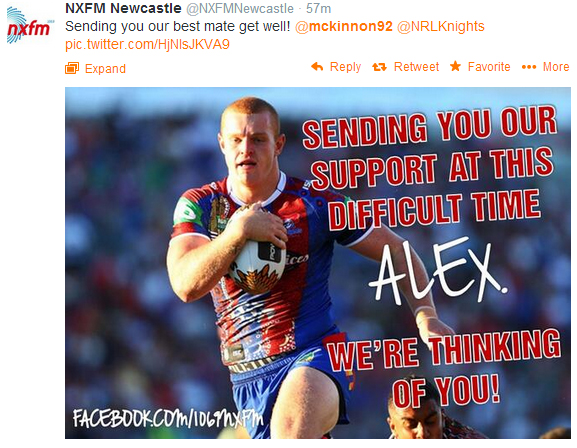 Check back next week for more expert analysis from the seat of my pants.
- The Armchair Expert