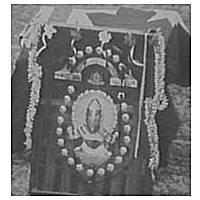 Since Mick Cronin and Ray Price last donned the blue and gold in 1986, Eels fans have had little to crow about. Perpetual failure to achieve the major prize has left a burning hole in our bellies. It?s reaching the point where the younger Parramatta supporters are almost able to sympathise with Sharks fans. Thankfully it hasn?t been all doom and gloom though. A procession of club championships, world sevens trophies, lower grade victories and a couple of minor premierships has helped to alleviate the hunger pains a little. Whilst nothing to get vocal about, we can now share a collective inward smile and somewhat lame ?yea team?.

We currently hold a trifecta of league?s ?best and fairest?, ?most improved? and ?encouragement? awards. The trophy cabinet is sitting pretty with the minor premiership, club championship and premier league cup, but there?s one big empty spot waiting to be filled. It?s a bit like spending several years planning an extravagant wedding, getting all dressed up on the big day and turning up to find three beautiful bridesmaids in position, only to be told that the bride is spending the day driving between churches in Balmain, Campbelltown and Ashfield.


NRL Minor Premiership - The JJ Giltinan Shield
With another year to sit and stare at this lopsided trophy cabinet, the mind starts to wander. The prize for the minor premiership is a big arse shield (and as The Colonel can attest,
heavy). Despite being emblazoned with the words ?The J.J. Giltinan Shield?, the number of people that remember the shield?s name may be even less than the number of people who care about the minor premiership which it represents, ie. almost negligible. Whilst some of the older crowd may recall that it was introduced in 1951 and represented the major prize for a long time, only a handful of diehard extremists could tell you that it is covered by the Protection of Movable Cultural Heritage Act 1986, requiring a temporary permit in 2002 for it to leave Australia and cross the ditch to Warriors HQ.

Despite the suggestion that nobody cares about the NRL Minor Premiership and by extension, the shield that it represents, it is a heritage item and was introduced to honour the memory of one J.J.Giltinan who died the previous year. This left me with one question: Who the hell is Jay Jay?





JJ Giltinan



An initial Google search brings up pages and pages on the man in question. Unfortunately, the vast majority of the articles are about his second love, sailing. Fortunately for league fans however, I can begin to answer the question by stating that James Joseph Giltinan was a guy with a bit of cash, a ship-load of guts and a rebellious streak stretching from Sydney Harbour, half way across the globe. Often referred to as the father of Australian Rugby League, he was the inaugural secretary of the NSWRL. Giltinan was an entrepreneur that ponied up the cash: for the first Kangaroo tour in 1908; and to establish the first professional football code in Australia with the Sydney based competition, breaking away from rugby union.

There was a fine line in terms of JJ?s progressive nature and where exactly it would leave the game of league. His vision was for a single professional code, amalgamated with Aussie rules. Fortunately for league traditionalists who have fallen in love with the game in the decades since, he dropped the ball so to speak. The Kangaroo tour was a financial disaster, rendering his suggestion of a combined code in ruins. His legacy however is the game that is now the pinnacle of domestic sport in Australia and has had a huge influence on the game internationally as well.

For most of his lifetime, Great Britain had a stranglehold on the international game, enjoying the kind of success that Australia has had in the last few decades. In fact, it was only several weeks before JJ?s death in 1950 that Australia finally broke through for its first Ashes series victory in 30 years. Aged 84, James died a happy man, this much is definitely known. He said so himself. Giltinan seems to have had a happy life which has left its mark on the generations which followed and those to come, but unfortunately, I?m not sure that I?m all that much closer to really knowing who the hell was Jay Jay.


Like