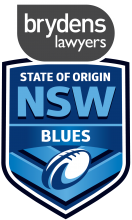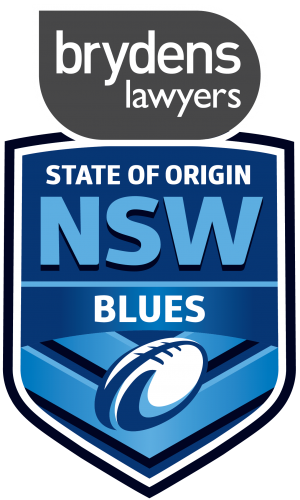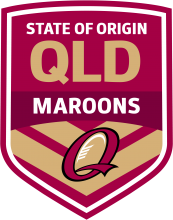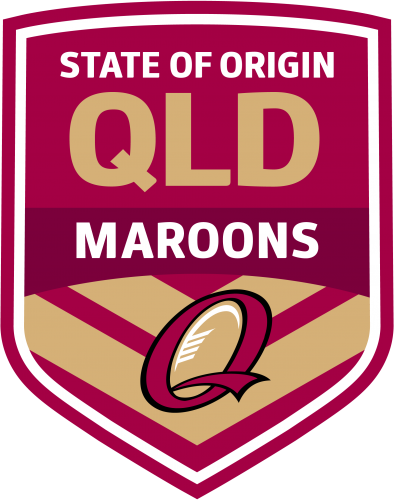 7:45pm Sun June 24, 2018
Series - ANZ Stadium - Crowd: 82223
They've done it! New South Wales withstand an onslaught from QLD in the final fifteen minutes, reclaim the Origin shield, 18-14.
Cook rolled a kick in, and the two chasing QLDers lose it! Blues can smell it now!
Roberts is back! Blues with the ball..
Slips catch from Tedesco. Holmes was away down the right, he tried to go infield but the fullback was right there. Then Blues get the whistle.
New South Wales romp it downfield, Maloney takes control on last and punches it over the sideline.
Queensland were surging, they shifted it left, right, left right, but the Blues didn't yield. On last, Chambers hammers it dead. Seven tackle set.
PENALTY MAROONS! Trip? and while we have a stoppage, Cordner is assisted from the field with a head knock. He won't see anymore action.
Cordner caught with it on last again, Queensland ball five out.
PENALTY BLUES! Maloney taken in a dangerous tackle. Blues shoot for touch, and take more time off the clock.
Queensland try to strip numbers left again, Holmes was in space and the young Cleary ropes him in, as the inside ball is intercepted. Blues ball.
Ben Hunt with a surprising kick on third, and it rolled dead. Let off for the Blues.
RED LIGHTS.. NO TRY! Obviously, but it is a sit down for Roberts. He clearly tugged at Cooper, so he'll be off for ten. Big moments for the Blues here.
Ponga slices through! the superstar fullback is taken just inside the line. QLD kicked it and Roberts seems to tug at the chaser.
It's been a wild ride for Latrell Mitchell in the last five minutes. At fault for the try, he bundled past his defender, tried to flick it to Addo-Carr, who wasn't ready for it.
Conversion: Maroons
Attempted by Valentine Holmes.
Holmes from the right side, hooks it.
Blues lead
Blues
18 - 14
Maroons
Try: Maroons
Scored by Will Chambers. Kick to come.
GREEN LIGHTS.. TRY! Quick check, Chambers was well inside. Back within four.
Blues lead
Blues
18 - 14
Maroons
BUNKER TIME! Chambers might have snuck one in.
Whoops! Hunt reefed a nothing kick that Mitchell snaffled. On trying to get the quick tap, the Roosters centre loses it. Queensland back on the attack, and with a penalty restart.
Lovely cover defense from the Blues again. Ponga tried to skip on his outside, flicked it to Gagai, who is jammed directly by Addo-Carr. Changeover.
Queensland get some breathing space after the Blues go on with the tackle. Whole set coming within the Blues red zone.
PENALTY BLUES! Offside. Addo-Carr is denied a chance to tap quick, so they shoot for the line.
Queensland just forcing the passes now. Slater was rushed to get the ball away, then it floats forward then Latrell whispered some sweet nothings to Chambers.
PENALTY QLD! Too long in the tackle.
Now it's the Maroons turn for six more. Hunt tries to dribble a kick in, it takes a wicked deflection and Queensland ball.
Conversion: Blues
Kicked by James Maloney.
From the touchline, Maloney nails it.
Blues lead
Blues
18 - 10
Maroons
Try: Blues
Scored by Latrell Mitchell. Kick to come.
Eyes-up footy from Tedesco there. Maloney was caught in the previous tackle, the fullback swooped into the dummy-half and laid on the pass for an easy Mitchell four-pointer.
Blues lead
Blues
16 - 10
Maroons
More pressure for the Blues, QLD played at it. Six more incoming.
Dragon on Dragon violence there. Hunt is dumped by his two forward team-mates. loses the ball.
Lovely work from Slater on the return there, weaved across which gave Holmes space to make metres. Queensland again try the shift, but it trickles into touch.
Both sides got themselves into the grind early, trading sets.
Blues stride out looking to take the series, whilst Queensland want to take us to a decider, like last season.
Has everyone caught their breath? we're back for another thrilling forty minutes of Origin action!
It was helter skelter, the Blues almost missed it but they survive. HALFTIME! Blues hold a narrow 12-10 lead.
Queensland pile on some pressure, Munster drives a kick in-goal, and Cordner is taken. One more set for the Blues to defend before half. Could be huge.
Blues kicking game hasn't been sharp thus far. Cleary floats an effort that bounces back to a Blue, that gets muddled up. Whole set for the Maroons.
Klemmer like a man near the end of the night at a dance club, flung it out and lost it.
Conversion: Blues
Kicked by James Maloney.
Maloney with his first shot, nails it from in front.
Blues lead
Blues
12 - 10
Maroons
Try: Blues
Scored by Boyd Cordner. Kick to come.
GREEN LIGHTS.. TRY! The video referee looked it over, judged Hunt had obstructed him. So it will be a PENALTY try.
Tied up at
Blues
10 - 10
Maroons
BUNKER TIME! Could we have a penalty try? Referee says no, if not it's a sin bin.
Vaughan bursts quickly on fourth, catches the newly on the field, Ponga out. Penalty.
Queensland go to the edges again, this time though Gagai is taken in a fluid movement. Scrum Blues.
Good return set from the Blues. Maloney hung it high, but besides the Holmes fumble it is taken.
Conversion: Blues
Kicked by James Maloney.
From the left side, Maloney has a chance to bring the Blues back within four. The Penrith half takes his time with the decision, slides his effort inside.
Maroons lead
Blues
6 - 10
Maroons
Try: Blues
Scored by Josh Addo-carr. Kick to come.
Blues strike back! Maloney fired a lovely cut-out that left the winger mono e mono with his defender, stepped inside and slammed it down.
Maroons lead
Blues
4 - 10
Maroons
PENALTY BLUES! Some risky passing on their own line from the Blues, they get bailed out by an offside penalty though. Set starts inside the QLD half.
Conversion: Maroons
Kicked by Valentine Holmes.
From the left touchline this time, Holmes slides it inside the post.
Maroons lead
Blues
0 - 10
Maroons
Try: Maroons
Scored by Dane Gagai. Kick to come.
GREEN LIGHTS.. TRY! You won't deny him this time. Gagai tiptoed down the line, fended off Addo-Carr and slammed it down.
Maroons lead
Blues
0 - 8
Maroons
BUNKER TIME! Gagai again, checking the touchline for the second time.
Blues break free for the first time, but the flying fox trods on the line. Maroons scrum near halfway.
Gagai is under heavy fire again on last. He was brushed by the rushing Blues defense, and that is a penalty. Another piggyback for the QLDers.
Conversion: Maroons
Attempted by Valentine Holmes.
Holmes looks to convert his own effort from the sideline.Raining down boos, the winger strides in.. misses.
Maroons lead
Blues
0 - 4
Maroons
Try: Maroons
Scored by Valentine Holmes. Kick to come.
This time the sweep works! Slater starts it, the ball gets released fast out to Holmes, the Sharks winger strolls in.
Maroons lead
Blues
0 - 4
Maroons
Always beware the second kick! Munster basically kicked it to Gagai, the winger summed it up quickly and dabbed his own effort in-goal which trapped Tedesco.
PENALTY MAROONS! Now it's Queenslands turn to get the piggyback, as they shoot for touch.
Mitchell almost burst through earlier in the count. On last, a slight chip kick is gathered again by the Roosters centre, who can't offload. Changeover.
PENALTY BLUES! That is a help for the side as they get some easy metres.
RED LIGHTS.. NO TRY! That is a let off for the Blues. QLD found them stricken from the scrum, and some superb last ditch defense from Addo-Carr helped Gagai across the sideline.
BUNKER TIME! Dane "made for origin" Gagai might have his NINTH origin try.
Once again, Queensland sweep left and they almost created the overlap, Tommy Turbo needed to intervene.
Blues attack with their defense, and had Queensland pinned in their twenty. Roberts tried to do his best Tallis impression, the referee not one for tributes, calls a penalty.
Queensland sweep left on last, Tedesco goes kamikaze to smother the kick, and the Roosters custodian wraps up the tackler. Changeover.
Both sides have got through their first sets without hassle. Two defenses that are flinging themselves at each other early.
Let's get ready for some football! Dylan Napa is swamped on his first carry.
Lovely rendition of the anthem done! The captains have come together for the ceremonial picture and here we go! Blues line up on halfway, ready to kick-off!
Don't adjust your clocks, yes it is Origin on a Sunday night! Coming live from Stadium Australia, in Sydney Olympic Park, New South Wales look to capture their second series in a dozen attempts, the young side out-muscled the Queenslanders in the first game, now the wounded champions, head into an intimidating atmosphere, looking to take the series home! Strap in and let's finish representative weekend off right!
Referees & scorers:
Referees: Gerard Sutton, Ashley Klein
Touch Judges: Nick Beashel, Brett Suttor
Video Referee: Steve Chiddy, Ben Galea
NEW SOUTH WALES (18)
Tries: Josh Addo-carr, Boyd Cordner, Latrell Mitchell
Field Goals:
Conversions: James Maloney (3/3)
Penalty Goals:

QUEENSLAND (14)
Tries: Valentine Holmes, Dane Gagai, Will Chambers
Field Goals:
Conversions: Valentine Holmes (1/3)
Penalty Goals: