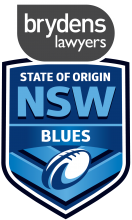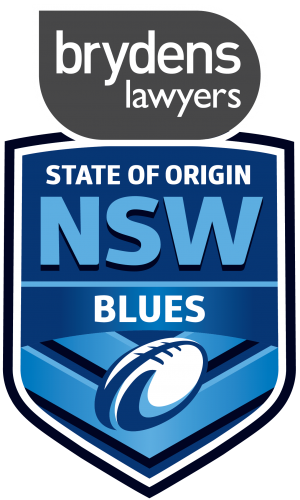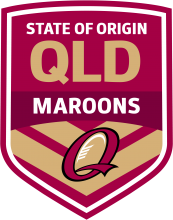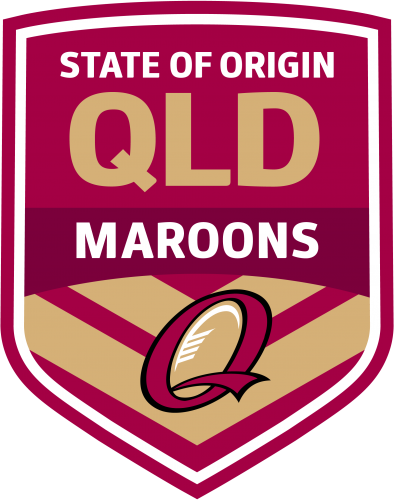 8:00pm Wed July 10, 2019
Series - ANZ Stadium - Crowd: 82565
Conversion: NSW
Kicked by James Maloney.
Hang on. Referees have made NSW take the kick. Everyone has stormed the field. Maloney has the ball now. The half can revel in this kick, everyone is ready to celebrate.. can he add the icing? Yes he can.
Kick was declined. FULLTIME.
Try: NSW
Scored by James Tedesco. Kick to come.
GREEN LIGHTS.. TRY! The Blues have won it! Wow! A chance down the right saw Ferguson tip-toe down the sideline, he somehow kept himself in.. gave Tedesco a wonky pass inside, the Roosters fullback positioned himself and won the series.
BUNKER TIME! Obstruction, sideline and everything else. Blues might have won this.
A hunt burrow got the Maroons in position but DCE decides to hoist it up and make the Blues work it out.
Conversion: QLD
Kicked by Ethan Lowe.
The man who started it all, Ethan Lowe has the chance to lock it up. From besides the post, the headbanded star strides in and nails it.
Tied up at
NSW
20 - 20
QLD
Try: QLD
Scored by Josh Papalii. Kick to come.
DCE then does the rest. He holds the ball up enough for Papalii to run onto and get the Maroons within two.
CHARGEDOWN! Maloney took too long for his kick and the Rabbitohs secondrower pounced! Queensland into the attacking half.
Into the final five. Hold your breath everyone, we're set for a grandstand finish.
Good set after points for Queensland. They marched downfield, probed right and forced Tedesco to take it on his ten metre line.
Conversion: QLD
Kicked by Ethan Lowe.
Lowe has us set up for a grandstand finish. He pilots it through.
Try: QLD
Scored by Josh Mcguire. Kick to come.
GREEN LIGHTS.. TRY! Bunker calls it momentum. He never lifted his elbow and it is a four-pointer.
BUNKER TIME! Has Josh McGuire shuffled over.
PENALTY MAROONS! DCE tries a cute kick near the sticks and the chaser was taken out. Clear penalty.
Counter from Queensland! Munster takes a great catch, steered the ball left and Oates has them over halfway.
Blues again on the march.Tedesco streamed through, looking to position his man. It went left, Addo-Carr and Wighton try to combine but the latter lost it.
Yep. Things are going to pot for the Maroons. Corey Norman had a chance to measure his kick but only put it over the sideline on the full.
James Tedesco has spiders on him currently. He went for a run similar to his try but was well covered this time. A tackle later a popped ball for him goes to ground.
The Maroons have lost their heads in this half. First try-scorer Felise Kaufusi spills it.
The Blues are on a rampage now! They stream through again, only to be denied by Munster knocking it down. Cam Murray started the break.
Conversion: NSW
Kicked by James Maloney.
Maloney near the posts slams it through.
Try: NSW
Scored by Damien Cook. Kick to come.
Damien Cook cut them to pieces! The hooker has poked through a few times, this time he got through and just put on the pace to get there.
Nope! Blues hand it right back.. The sides are just handing it back to each other. Wighton the latest to drop the ball. Reprieve for Queensland.
Wow! what a steal from Tommy T! He did a Munster on the Melbourne half.
Not been a happy start for Oates. He drops a simple inside ball.
Blues have woken up now. A shift opened up the space for Addo-Carr, he couldn't direct the kick well enough and Corey Oates countered.
Conversion: NSW
Kicked by James Maloney.
A sideline kick for Maloney. The veteran half pokes it through.
Try: NSW
Scored by James Tedesco. Kick to come.
GREEN LIGHTS.. TRY! James Tedesco kept the defense in limbo. He drifted across looking, looking then turns on the speed to slide over.
BUNKER TIME! Tedesco looks to have sliced through. Looking at the grounding.
PENALTY BLUES! Stretched it down the left to Ferguson who went back inside to Pearce, who draws the whistle.
Time off currently. Michael Morgan is down after collecting his teammates elbow. It has been a brutal start to this second half. Both teams are looking to prise the first chance.
Queensland have kicked it on the full! Morgan reefed it too long and Blues can exhale and hit back.
This half came to life quickly. Chambers stepped inside and suddenly, found himself in space.. he couldn't position DCE and loses it in the contact.
Here we go! Forty minutes left in the series. Locked at 8-all. Queensland kick us off.
HALFTIME :: It has been a breathtaking half of football. The two sides are locked at 8-all and McGuire had some words for the Blues boys as they head to the sheds.
Field Goal: QLD
Attempted by Daly Cherry-Evans.
DCE tries to go for a lead-grabbing field goal near the end but it faded wide.
The game has come to life now! NSW has found their attack game but went backwards on last. Queensland with a chance to strike again.
Conversion: NSW
Kicked by James Maloney.
Maloney converts.
Try: NSW
Scored by Paul Vaughan. Kick to come.
GREEN LIGHTS.. TRY! Paul Vaughan try machine. The Dragons prop knows his way to the line, steamed onto the ball and touched it down.
BUNKER TIME! Paul Vaughan might have crashed over. Checking if the Dragons prop has kept possession.
PENALTY BLUES! It all came from a Tedesco break. Blake Ferguson flung it inside for the fullback who cut across the field then raced down the left, linked with Jack Wighton to be tackled. Blues get another penalty two tackles later.
There has been a different energy about Queensland tonight. They have muscled up defense and have limited the space the Blues attacking core has had..
Penalty Goal: QLD
Kicked by Ethan Lowe.
Lowe makes it 2/2 for the night.
PENALTY MAROONS! We're into double figures. Blues caught offside. Queensland have a meeting then decide to shoot for the sticks.
PENALTY MAROONS! Our ninth penalty of the game. Some accidental knees from the Blues defense.
Best passage of play from the Blues. Dale Finucane with a slight inside ball to Paul Vaughan who flicked it to James Tedesco. The Roosters playmaker spilled it.
PENALTY BLUES! Bang! Josh Papalii hammers Tom Trbojevic in a tackle but the Blues get a repreive for a knee knocking the ball out.
PENALTY MAROONS! Blues try to get the crowd involved with some heavy defense, as they roll Mbye back in goal. Referee has a quick check then calls for a flop penalty.
PENALTY BLUES! Jack Wighton makes a tough catch and gets a whistle. Maloney quickly gets it downfield to get the game going.
PENALTY MAROONS! They have been rewarded for their hot start with another whistle. Right on top of the Blues here.
Conversion: QLD
Kicked by Ethan Lowe.
Ethan Lowe has the kicking duties for the visitors tonight. He takes his time over the kick with the headband and raises the flags.
Try: QLD
Scored by Felise Kaufusi. Kick to come.
Queensland strike first! Corey Norman took it to the line, stabbed it through and the rampaging Felise Kaufusi steams through to score.
Queensland again probe forward, Munster poked his nose through. On last, DCE lifts one that Jack Wighton had to down. GLDO.
Blues go to their right for the first time tonight - Tedesco and Trbojevic link up but the pass from Tommy goes to ground.
Queensland have looked much better in the opening ten of this game. Kicking has been on point and they have jammed NSW in their own half. That was before a penalty on Corey Norman. Now the Blues are over halfway.
PENALTY MAROONS! Dane Gagai makes a simple catch after the Blues chewed up a lot of metres in that set. They were too eagar though, caught offside.
Penalty Goal: NSW
Kicked by James Maloney.
Maloney from in front gets the first points.
PENALTY BLUES! Klemmer is held down in the tackle. Blues have their second. They opt for the sticks.
PENALTY BLUES! First whistle of the contest goes to the home side. Not getting off the player quick enough. Chance to attack.
Docile first set from each side, as they just get themselves into the contest.
Blues kick it high into the smokey Sydney sky. Here we go. The decider is on.
Both teams are on the field, Blues to a raptorous ovation while the Maroons were boourns as they made their way out. We pause for the anthem and the acknowledgement of country then finally.. game on!
All the pomp, all the circumstance is done! The Blues are making the long walk from the training field underneath ANZ Stadium then onto the turf. First out though, the visitors - Queensland undersiege and underdogs know this script well. Can they break Blue hearts again? We'll see.
Welcome to ANZ Stadium for tonight's Origin decider. The Blues thrashed Queensland when the series headed west, to create tonight's decider, now they seek to win their first series-ender for eight years. In the lead up, Queensland has been beset by injuries - so they're ready for a typical north of the border ambush. New South Wales have brought back Mitchell Pearce and David Klemmer - can the mercurial half guide NSW to victory? we'll see! Kick-off will be sometime around 810-815.
Referees & scorers:
Referees: Gerard Sutton, Ashley Klein
Touch Judges: Chris Butler, Nick Beashel
Video Referee: Jared Maxwell, Ben Galea
NEW SOUTH WALES (26)
Tries: Paul Vaughan, James Tedesco (2), Damien Cook
Field Goals:
Conversions: James Maloney (4/4)
Penalty Goals: James Maloney (1/1)

QUEENSLAND (20)
Tries: Felise Kaufusi, Josh Mcguire, Josh Papalii
Field Goals: Daly Cherry-Evans (0/1)
Conversions: Ethan Lowe (3/3)
Penalty Goals: Ethan Lowe (1/1)